Khloé's Pregnancy Announcement Follows The Kardashian Rumour Confirmation Tradition
Roll on the next few weeks.
Two weeks ago, Khloé Kardashian finally confirmed her pregnancy with this lovely photo.
The photo followed months of nonstop speculation about whether or not she was pregnant and when she would announce the news.
However, the speculation reached a climax when the new teaser trailer for the second half of Season 14 of Keeping Up With The Kardashians was released, including a scene which many people assumed was her pregnancy announcement.
Well, now Khloé has confirmed that her pregnancy announcement will be shown on KUWTK.
Taking to Twitter, Khloé told a fan that we would get to witness the moment she told her family the news.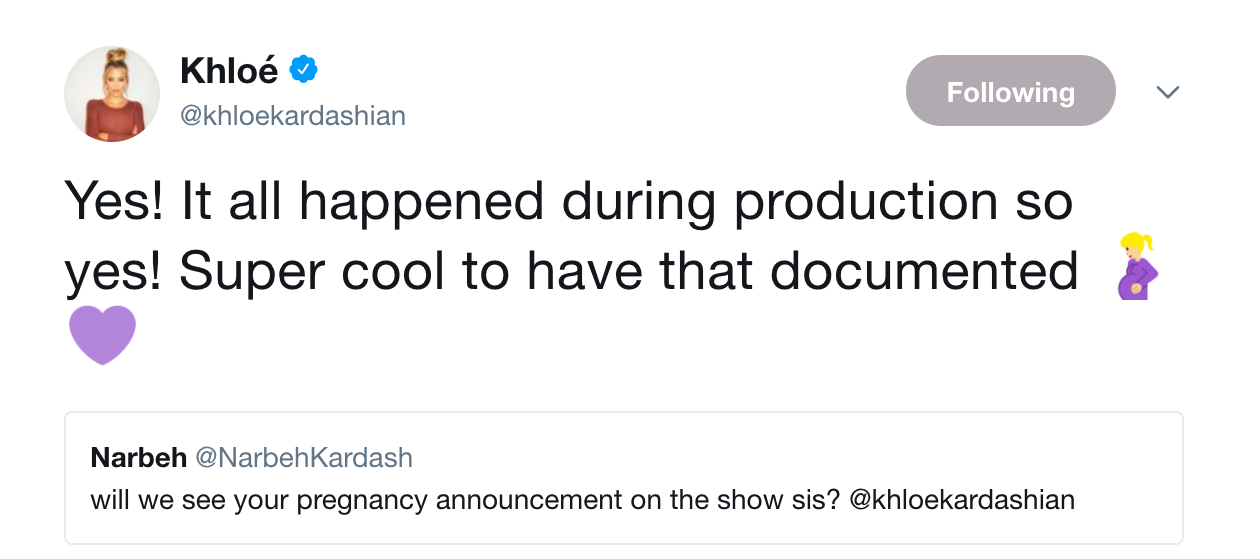 This of course is in keeping with the Kardashians' tried and tested method of teasing and sometimes confirming big news prior to KUWTK airs, before the drama unfolds in full on screen.
But we have a bit of waiting to do – KUWTK returns to our screens this Sunday, but the episode charting Khloé's pregnancy announcement won't air until 21 January – it's also the season finale.

Roll on the next few weeks!