Kanye West Proved He'd Be The Best Dad To A Son Four Years Ago
He's been thinking about this for a while.
Yesterday, on Father's Day, Kim Kardashian shared this adorable photo of Kanye West reading a book to their daughter, North.
And the cuteness just kept on coming, with Kim then revealing the sex of their new baby, who is due later this year. 👶 💙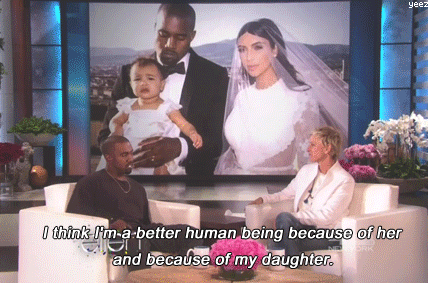 But if we rewind back to 2011, Kanye West recorded a track for his album with Jay Z, Watch The Throne, called "New Day".
The track is all about being fathers to future sons, and it pretty much sums up exactly the kind of dad Kanye will be to this impending bundle of joy. Who, by the way, will not be called South.
And I'll never let my son have an egoHe'll be nice to everyone, wherever we goI mean, I might even make him be RepublicanSo everybody know he love white people
And I'll never let him leave his college girlfriendAnd get caught up with the groupies in the whirlwind.
And I'll never let him ever hit a strip clubI learned the hard way, that ain't the place to get love.
See, I just want him to have an easy life, not like Yeezy lifeJust want him to be someone people likeDon't want him to be hated, all the time judgedDon't be like your daddy that would never budge.
Sorry junior, I already ruined you'Cause you ain't even alive, paparazzi pursuing youSins of a father make your life ten times harderI just wanna take you to a barber.
Bonding on charters, all the shit that I never didTeach you good values, so you cherish itTook me 26 years to find my pathMy only job is cutting the time in half.
No, I'm not crying, I just have something in my eye. Congrats Kimye.