This Celeb Gave A Batshit Speech About Her Cheating Husband At Their Vow Renewal Ceremony
"Yes, Kieran this is probably when you'll want to do the walk of shame and wish the ground would swallow you up."
You may be aware of Katie Price's turbulent relationship with her third husband, Kieran.
After therapy "transformed" him, Katie decided to renew their wedding vows nine months after news of Kieran's affair broke.
But because this is Katie Price we're talking about, obviously there was a twist. And that twist was playing the guests at the vow renewal ceremony, including her five children, a dramatic prerecorded message exposing the extent of Kieran's betrayal.
And, now that her new book is due for release, Katie has decided to reveal the full speech. And, predictably, it's batshit.
The speech begins with a dramatic build-up to the story in which she warns Kieran that throughout it he will "wish the ground would swallow him up".
Katie said:
Some of you are probably thinking, why are we doing our vows two years on. Some of you already know. Here's the long story shortened. Yes, Kieran this is probably when you'll want to do the walk of shame and wish the ground would swallow you up. But this is where you have to listen like a man and realise this is not what a man should have done. You shattered my heart into so many pieces. I can't find a number to define this, so here we go.
Katie goes on to reveal the timeline of Kieran's affair.
She said:
When Kieran and I met, it was such a whirlwind. We fell in love and after five weeks we were married and I was pregnant. Crazy, I know. But you only live once. I really thought Kieran was the man I wanted to spend the rest of my life with. But I never expected what was around the corner. Kieran started texting my best friends three months after our wedding. Then, shortly after that, he started a 10 month sexual affair with my best friend. And as a double blow, he started seeing another best friend.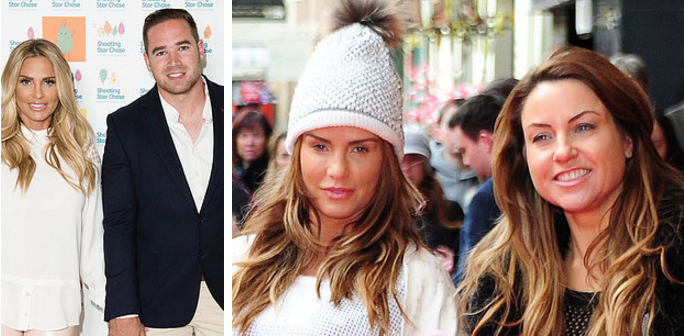 She then reveals that after finding out, she punched her friend in the face and knocked her tooth out.
She said:
So the whole time I was pregnant with Jett, until I was five months pregnant with Bunny, he was having an affair. I caught Kieran on the beach then, kissing my best friend. I watched them for 30 seconds before I pulled her, punched her and knocked her tooth out.
Katie then describes just how much the affair had affected her life and confidence, before saying that a lie detector test exposed a second affair.
She explained:
It was like I was about to die. My heart was shattered. My confidence instantly broke down. Not only did I lose my husband, he was my love, my best friend, my soulmate. I also lost two best friends. Later, Kieran admitted to another sexual affair after a lie detector test with another best friend of mine.
She ends the speech with her catchphrase, before condemning her former friends to a life of hell.
Katie said:
Never underestimate the Pricey. I believe in karma. I know their life is hell and long may that last.
One more time for the people at the back: Never 👏underestimate 👏 the 👏 Pricey.