Disbelief.
Which gave way to anger.
And complete devastation.
Some celebrities were genuinely fearful.
With Josh Charles saying he was afraid to raise his son in this new world.
Janelle Monáe said minorities had been failed.
And that she was ashamed of the result.
Joshua Malina said he had "overestimated the decency" of humanity.
Zendaya posted a picture of darkness, saying she felt "speechless" and "heartbroken."
Shonda Rhimes was in disbelief.
While Kate Walsh declared the result a "national disaster."
Octavia Spencer said we had taken Obama for granted. 😭
While Rashida Jones said it was a "dark day."
Before saying she wanted to "quit life."
And declaring that she would never consider Trump her president.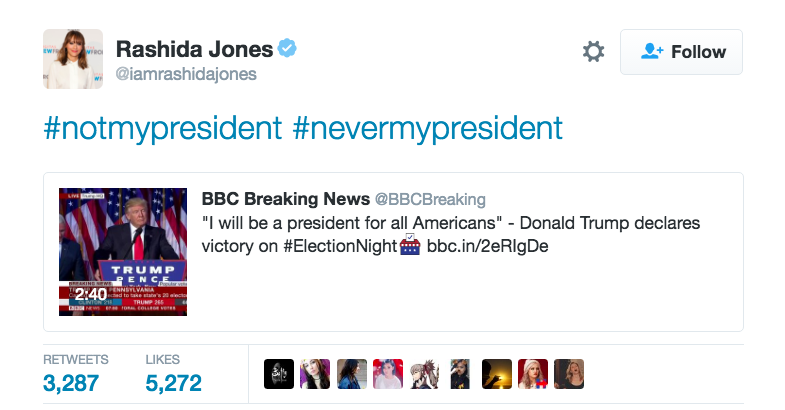 Chrissy Teigen said the "entire world" was laughing at the decision.

Before retweeting this tweet by Trump from 2012.

Christina Applegate told the world that many Americans were "heartbroken" at the result.
While Judd Apatow said even comedy couldn't make the situation better.
Cher wanted to leave planet Earth.
And Jaime King posted this emotional message, asking: "What have we become?"
Chelsea Peretti said she felt "demoralized."
While Zach Braff couldn't believe the whole thing wasn't a dream.
Amy Schumer vented her fury.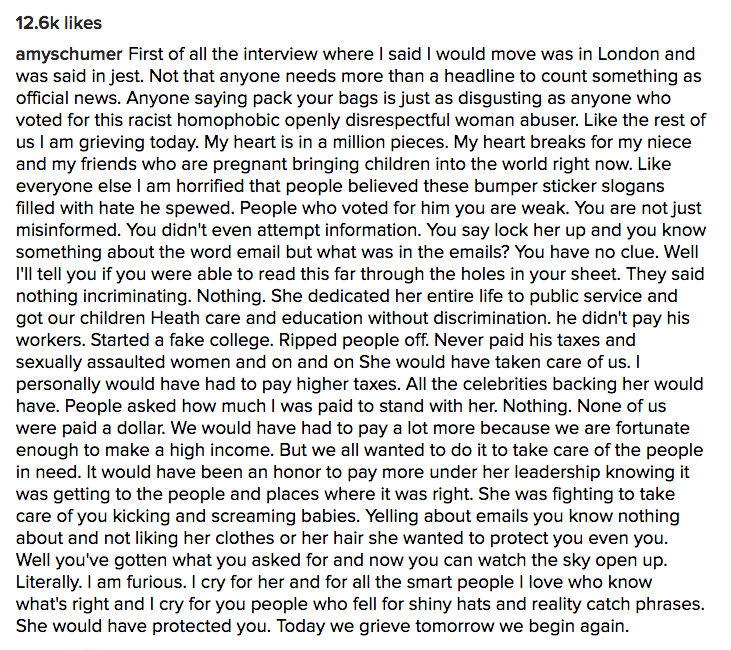 Emmy Rossum revealed just how personal the result felt.
Connie Britton said Trump was the "face of our darkest self."
While Cheyenne Jackson had this to say:
And Lorde just couldn't process the news.
But many celebrities used the result as a way to campaign for change.
And Jesse Tyler Ferguson saying he was mourning minorities in the wake of the result – but was ready to fight.
J.K. Rowling encouraged people to stick up for and defend one another in the face of bigotry and hate.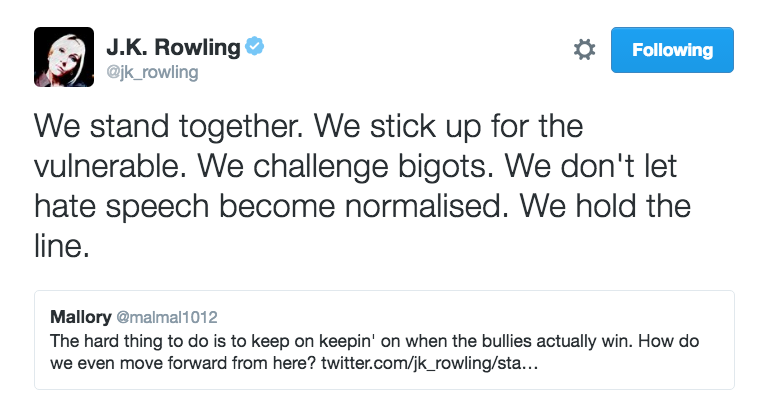 And challenge "racism, misogyny and hatred."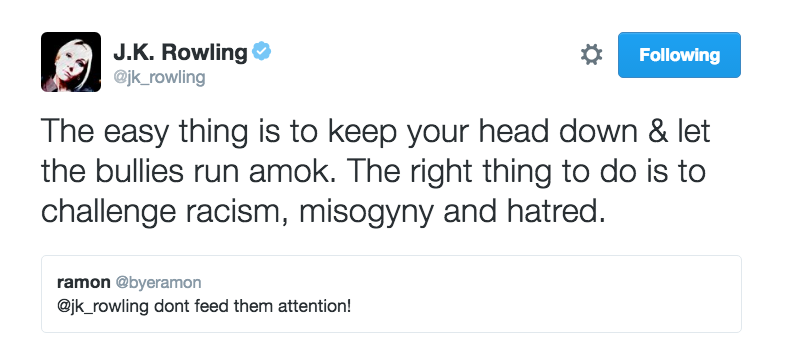 Jessica Chastain echoed the sentiment.
Ruby Rose said the result was "a change we didn't know we needed...to remind us we have work to do."
Before apologising "on behalf of America to the LGBT community, Women, Minorities, Veterans, Immigrants, Muslims... whoever our future president has offended."
Kris Jenner urged people to stay strong.
While Kerry Washington told everyone to take care of themselves and their loved ones.
And, finally, Connie Britton made this promise.