If you cast your mind back to 2010, you might remember the pretty shocking moment that then-23-year-old Heidi Montag revealed the results of the 10 cosmetic procedures she had carried out in one day.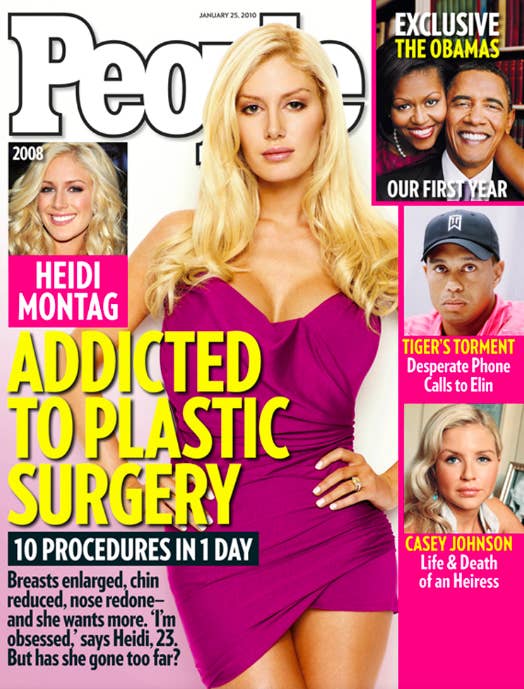 Then, last year, Heidi revealed that while her surgery was treated as something of a joke by the tabloid media, it was actually incredibly serious. In fact, her heart briefly stopped during her recovery.
Well, now that The Hills is back on our screens, of course the subject of Heidi's surgery has come up again. And, in a brand-new interview, Speidi have addressed the reasons for her electing to have so many procedures, and the effect it's had on her since.
Speaking to Cosmopolitan, husband Spencer Pratt revealed that Heidi decided to have surgery because of trolls and tabloid comments about her appearance — and even brought the surgeon printouts of the comments as a point of reference.
"Everyone's insecure," he continued. "But it's different when you're young and on TV and everyone's talking about you. And it's upsetting that you can go to a doctor and say, 'Here's what I hate about myself,' and he'll say, 'I can fix that. For free.'"
And Spencer added that while he and Heidi regret the "negativity" the surgery brought to their lives, he feels frustrated that other people in the public eye aren't as truthful about surgery as Heidi was.
Heidi went on to say that being on TV "amplified" all of her "perceived flaws," but that she believes she was too young to have made such a life-altering decision about her body.
And she also said that people should be taught to look beyond before-and-after photos of surgery, since they "glorify" the process.