1.
When Demi Lovato shared a clip from her powerful documentary.
And her former BFF Selena Gomez made a move to end their feud by sharing this message of pride and happiness.

And then this happened.

2.
When Paris Hilton wished Kris Jenner a happy birthday with this vintage gem.
And Kris could not have been happier.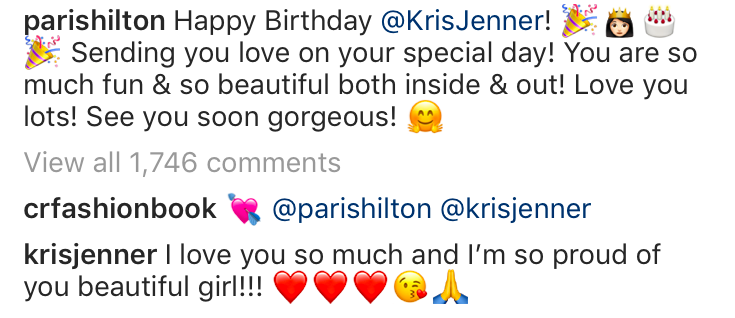 3.
When Blake Lively shared Ryan Reynolds' sorry attempt at Christmas cookies.
And he revealed his thought process.


And Heidi Montag gave us major The Hills nostalgia by offering her support.
5.
When Kylie Jenner visited her waxwork and revealed she'd FaceTimed all her family to freak them out.
And Kim thought it was hilarious, but Khloé was all left out.

6.
When John Legend wished Chrissy Teigen a happy birthday by sharing this photo and message.

But Chrissy was not here for his choice of photo.

7.
When Liam Hemsworth shared this snap of him and Miley hanging out.
But she wasn't pleased with his choice of photo either.
8.
Then there was also the time when he shared this artistic depiction of them.
And Miley's mum, Tish, loved it.

9.
When Jessica Simpson shared this photo of her family at Halloween.
And Chelsea Handler let her know this.

10.
When Brooklyn Beckham was rocking vintage Ralph Lauren.
But David Beckham let everyone know where it had really come from.
11.
When Paris Hilton revealed she'd met the love of her life.
And Demi Lovato approved.

12.
When Khloé Kardashian shared this photo of herself.
And her boyfriend Tristan Thompson couldn't resist expressing his pride.

And she then responded with this.

13.
When Ryan Reynolds trolled the hell out of Blake Lively.
And Hailey Baldwin made this solid point.

14.
When Brooklyn Decker shared a photo of her swollen pregnancy feet.
And Chrissy Teigen adopted the tone of a mom-shamer in the comments.

15.
When Ariana Grande shared this adorable festive snap.
And Bella Hadid couldn't cope.
16.
When Kourtney Kardashian was uncharacteristically sentimental.
And Kim was moved.

17.
When Brooklyn Beckham shared this photo of his new tattoo.
And both his girlfriend, Chloe Moretz, and his brother Romeo loved it.

18.
When Camila Cabello was shamelessly dropping hints about her new album.
And Niall Horan thought it was hilarious.
19.
When Kendall Jenner posed nude on Instagram.
And Khloé and Kim Kardashian lost their minds.

20.
When Jessica Alba announced the arrival of her baby boy.
And Reese Witherspoon couldn't wait to pass on her congratulations.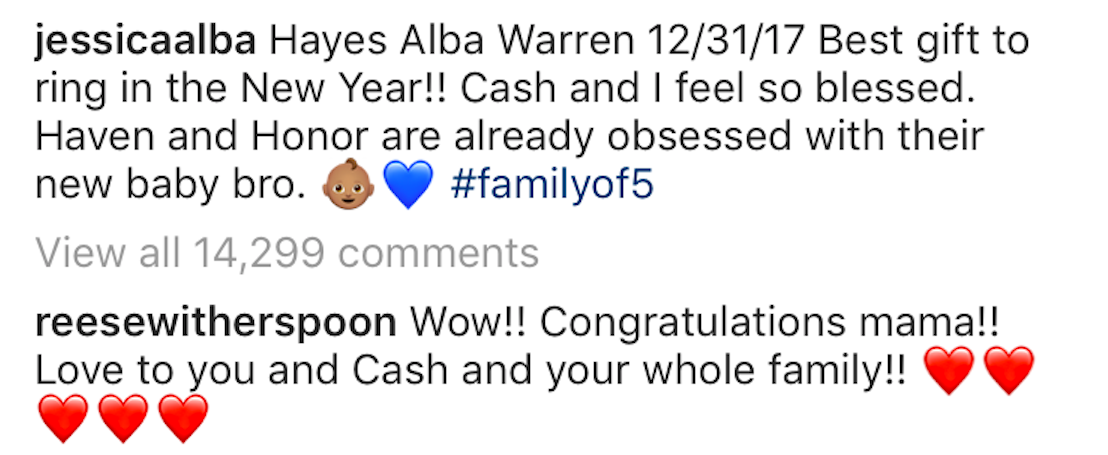 21.
When Karlie Kloss wished Taylor Swift a happy birthday with this snap.
And Gwyneth Paltrow was here for it.

22.
When Kourtney Kardashian was unable to round up her entire family for a Christmas photo.
And Khloé revealed there had been only one thing on her mind.

23.
When Cheryl made her first post-baby appearance.
And Khloé Kardashian complimented her abs.
24.
And finally, when John Legend shared this video of himself singing to Chrissy and Luna on the final night of his tour.
But Chrissy was mad.