In recent years, EastEnders has been top of its game.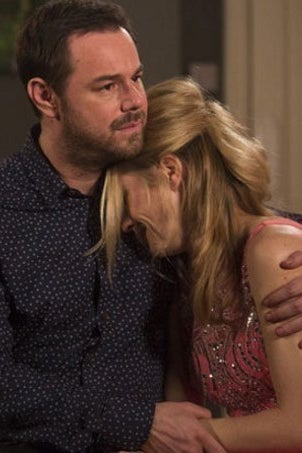 We've had the introduction of the Carter family, which led to the emotive rape storyline involving Linda Carter and Dean Wicks, as well as Stacey Slater's experience of postnatal psychosis. And we also had the mysterious death of Lucy Beale, with the murder inquiry going on for an ENTIRE YEAR and culminating with a spectacular week of live episodes.
However, there's been a distinct change in tone recently, with the introduction of the most fucking bizarre storyline in EastEnders' history. And that, ladies and gentlemen, is the fact that the residents of Walford have become obsessed with bins.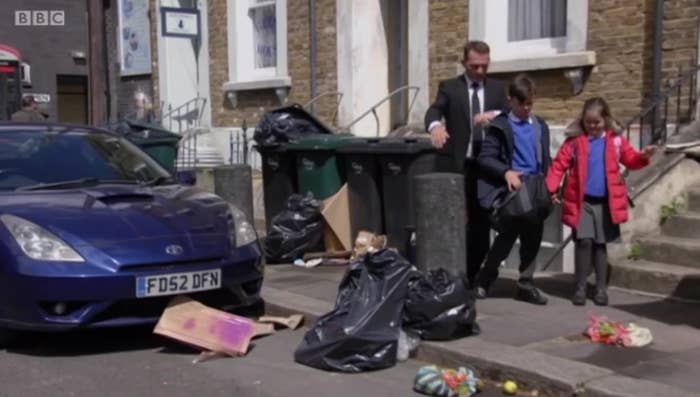 Yes, really. I wish I was joking.
The storyline began with the devastating news that Walford's bin collection schedule would be changing from weekly to fortnightly. And since then, there hasn't been a single goddamn episode where the bins haven't been mentioned.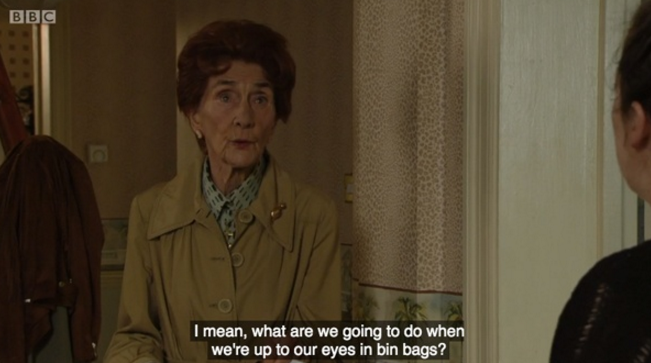 We've had discussions about the council failing to collect the bins on time.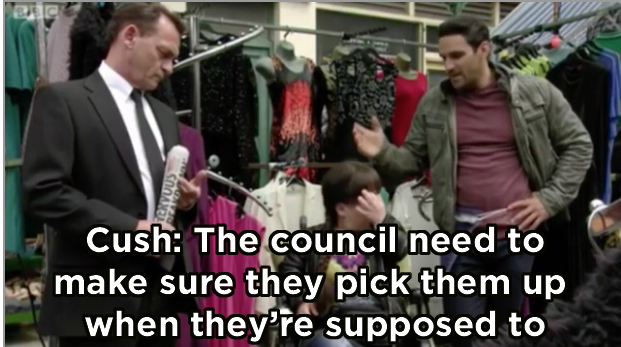 The fact that FOXES are causing CHAOS.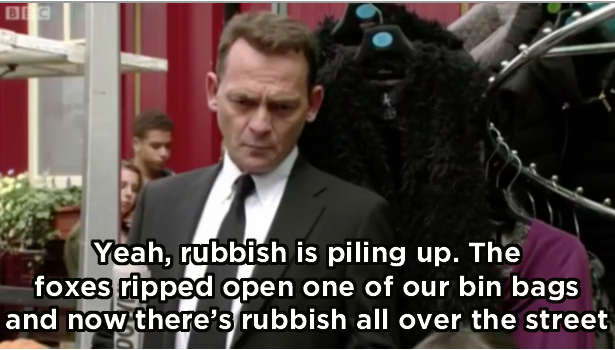 (No, seriously, the foxes are a real issue.)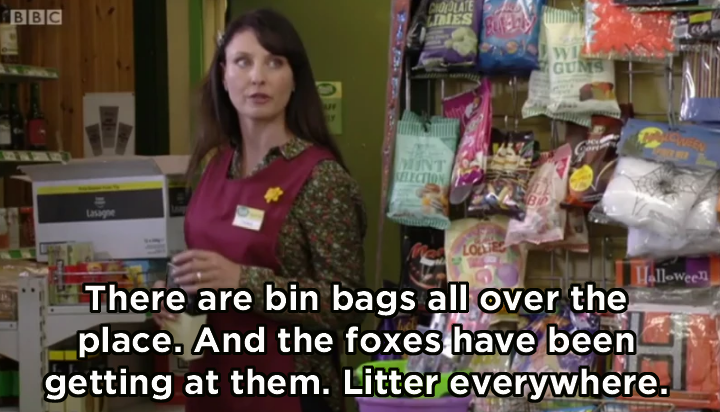 And the importance of separating your rubbish, food waste, and recycling.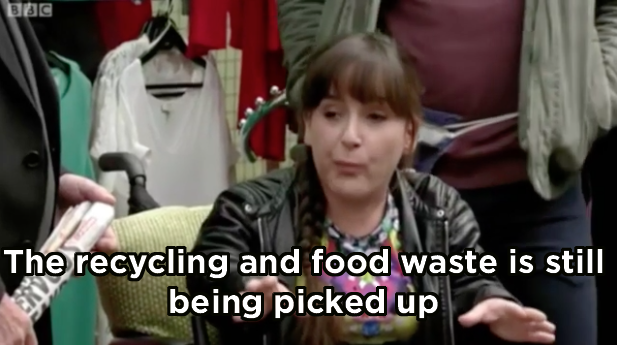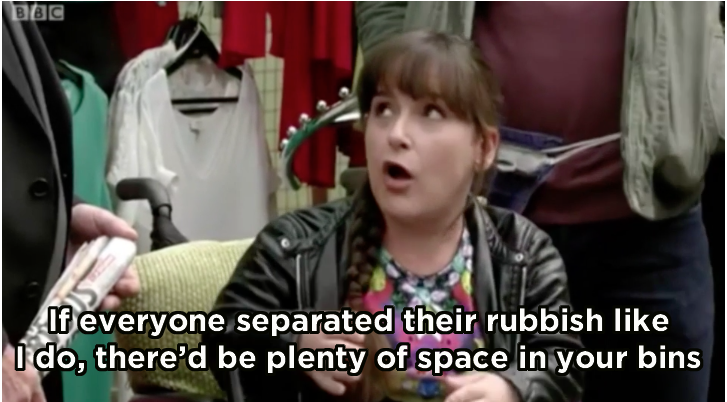 There have been actual bin wars between the Albert Square residents.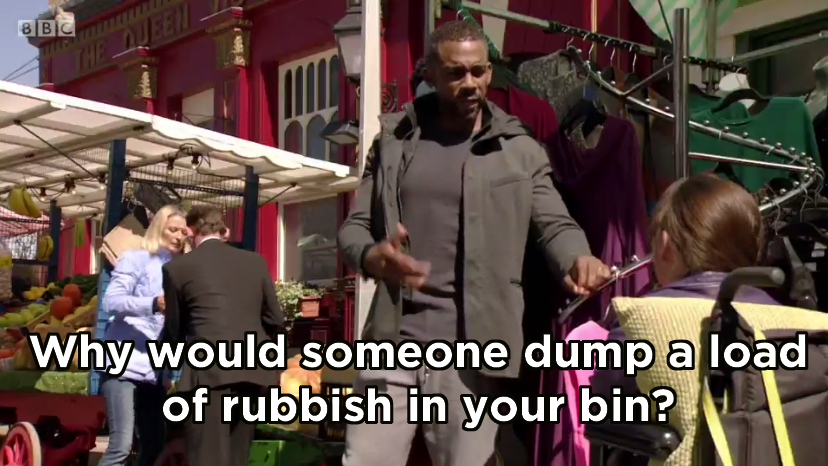 Which culminated in Vincent dumping the contents of the bin bag that was left in Donna's bin into the entrance of Billy Mitchell's flat.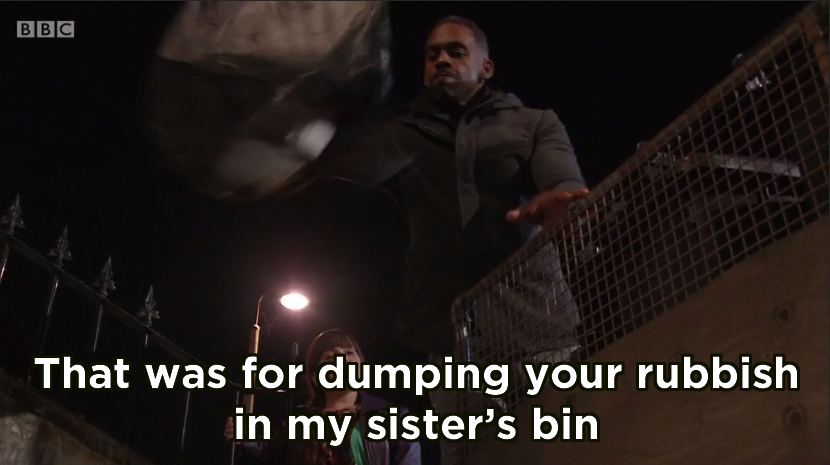 Which went down really well.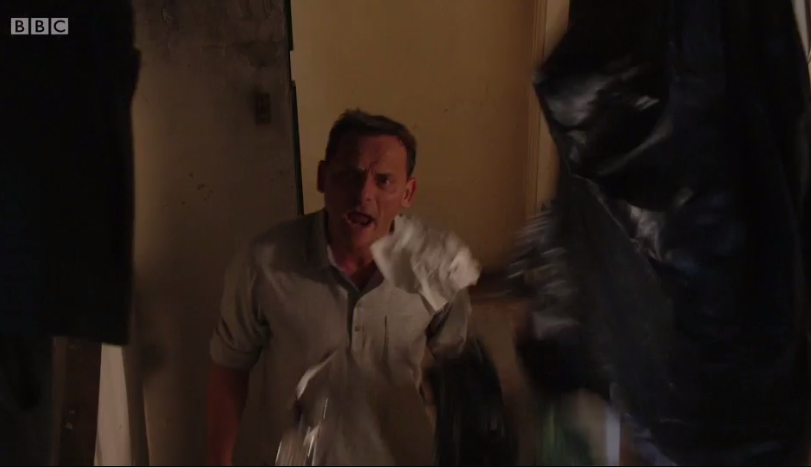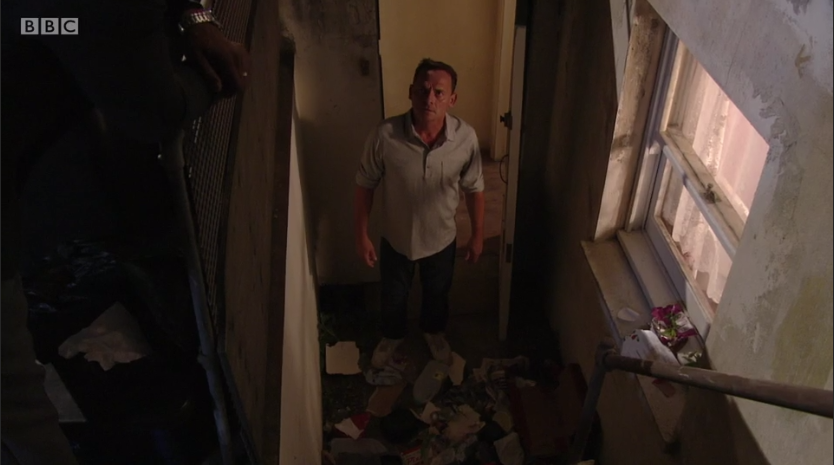 But at least Richard Blackwood got to utter this line, I guess?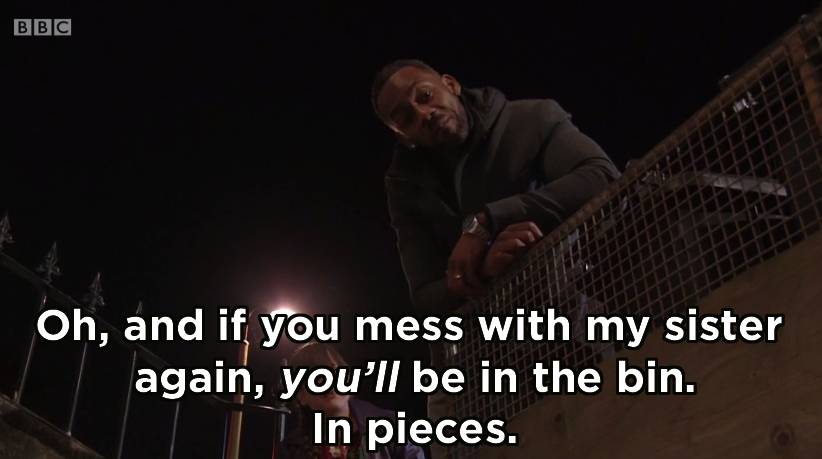 Other incidents have involved people STEPPING ON THE RUBBISH.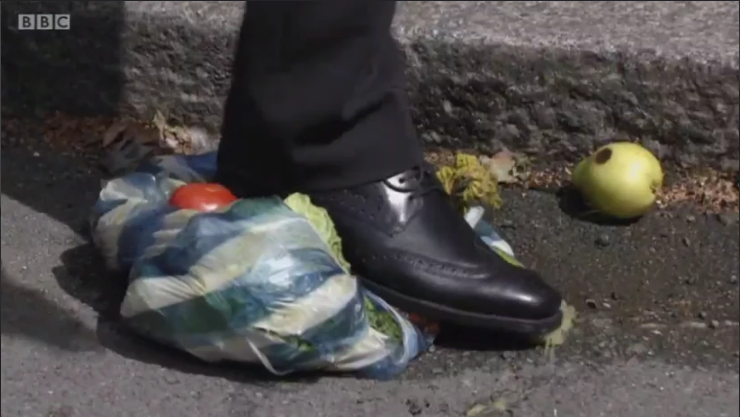 And just when you think you've made it through a scene without the bins being mentioned, someone like Sharon goes and says something like this.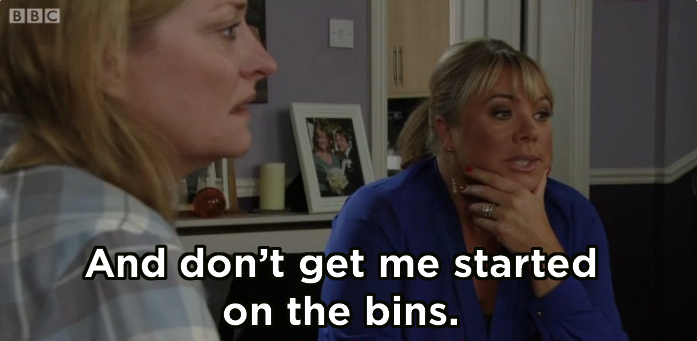 And then there are scenes like this, in which Lauren explains how stressed she feels about raising her toddler in the same house as her mother-in-law, whose son murdered his sister then beat her with a baseball bat and left her temporarily paralysed.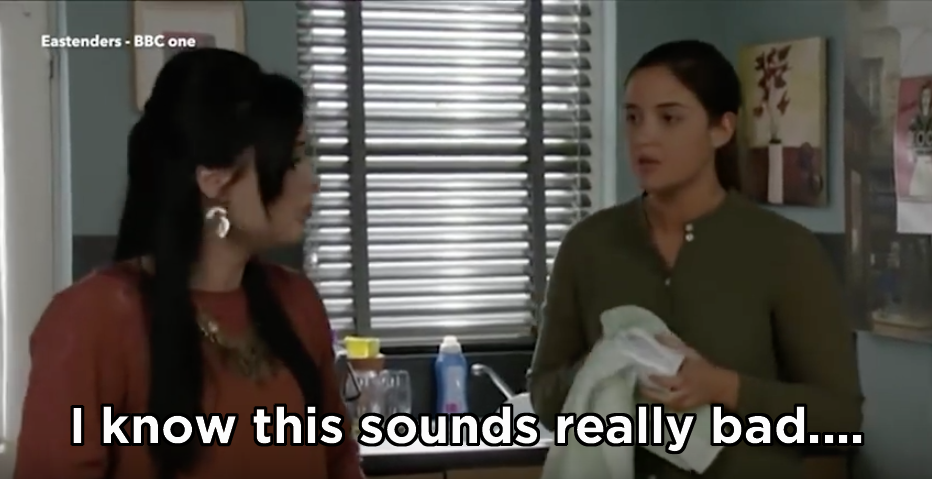 And you're like: "OH MY GOD, YES! Some actual drama!"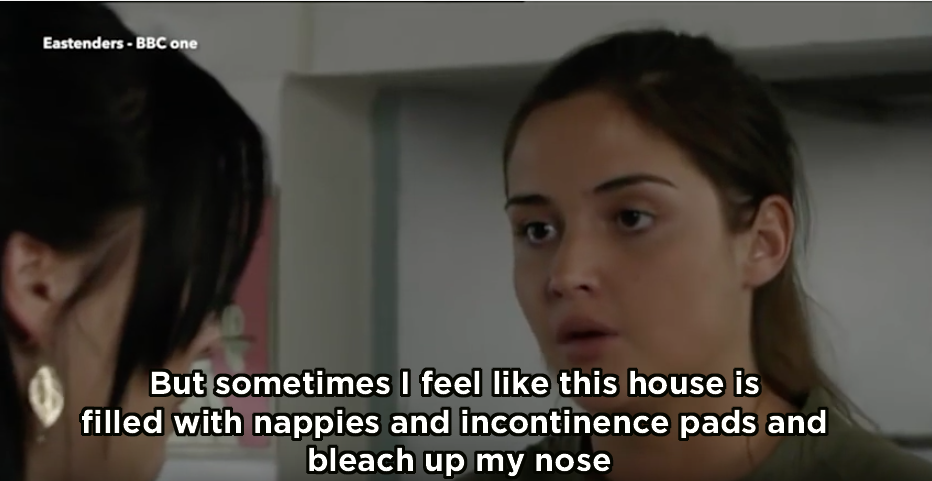 But then she says this and you're like: "Lauren, don't do it. Please don't do it."
But she did.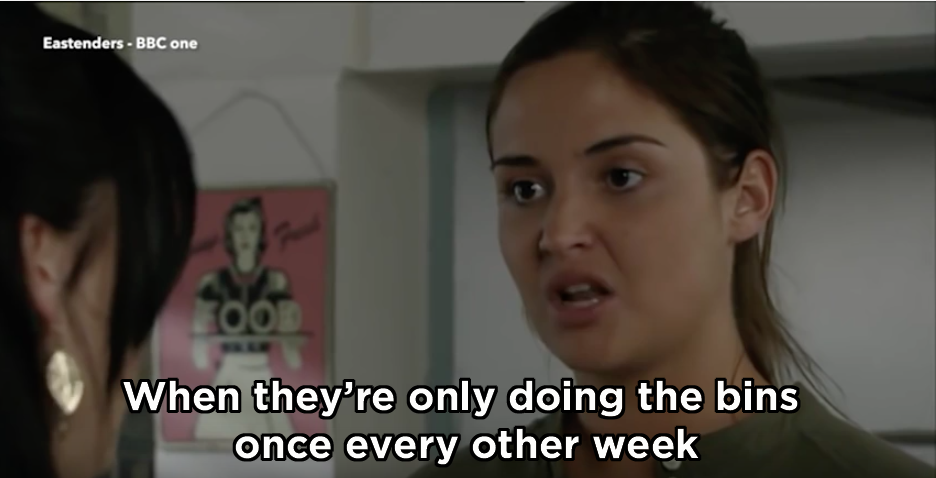 I'm about one more episode away from a complete meltdown.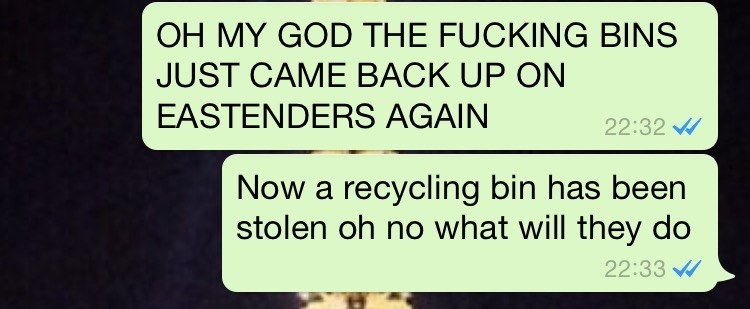 And it's not just me. The entire viewing population are also losing their goddamn minds.
People are offering to go and empty the bins themselves.
Some are debating whether the writers have got some form of bin-mentioning bet on.
While others have pointed out that the other ongoing storyline at the moment is whether Kim will pass her driving test.
And others are deploying sarcasm to deal with the pain.
Basically, this.
However, some people have noted that perhaps the constant mention of the bins is deliberate – because they're going to become part of a bigger, more important storyline.
With some even suggesting that maybe there'll be a good old Walford death as a result.
Let's just hope so, because it's safe to say, none of us can take any more.