Are Demi Lovato And Nicki Minaj Throwing Low-Level Shade At Each Other?
Well this is all very awkward.
On Monday night, Demi Lovato and Nicki Minaj both showed up to the Met Gala looking like the fire emoji come to life. 🔥 🔥
However, since then there has seemed to be some low-level shade being thrown around on Instagram and Snapchat.
Demi shared this photo of herself with designer Jeremy Scott and Nicki Minaj, who is giving the most spectacular side-eye.
At first, she shared the image alongside this caption, which not only referred to how "awkward" she looked, but the use of #whatsgood seemed to refer to Nicki – who famously used the line when she called out Miley Cyrus at the MTV VMAs last year.

When commenters began speculating about just what it all meant, Demi updated the caption.

Well, apparently no. Because shortly afterwards, Nicki shared this image on her Instagram. In the caption, she tagged Jeremy Scott and Moschino, but not Demi.
But some pointed out that perhaps Nicki just wanted to credit the designer of her dress in the caption.

But then things seemed to get messy, with Demi commenting on the photo with these seemingly sarcastic emojis.

She then switched to Snapchat, where she shared this image and caption – which seemed to be aimed at Nicki.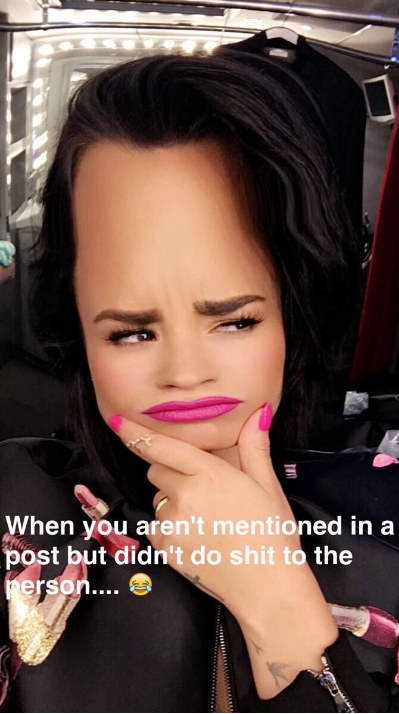 And THEN, within the same story and immediately after that image, she shared this rather NSFW video. ✊ 💦
It'd be a shame if they really have fallen out, because Demi has been very vocal about her love for Nicki Minaj on numerous occasions.
And earlier this year, Demi gave an interview in which she suggested that she and Nicki were part of only a handful of female celebrities who don't stand for any shit.
She said:
"There are a lot of girls in pop. They have badass lyrics, but I feel like I'm the only person other than Rihanna and Nicki Minaj who isn't afraid to say, "Try something on me and I'll fucking beat your ass." There are people who can dress up and play the part, but their music doesn't say it."