It's undeniable that Chrissy Teigen provided some incredible commentary about Donald Trump throughout his presidential campaign.
Her tweets about his inauguration were arguably even better.

Since then, she's only got more savage.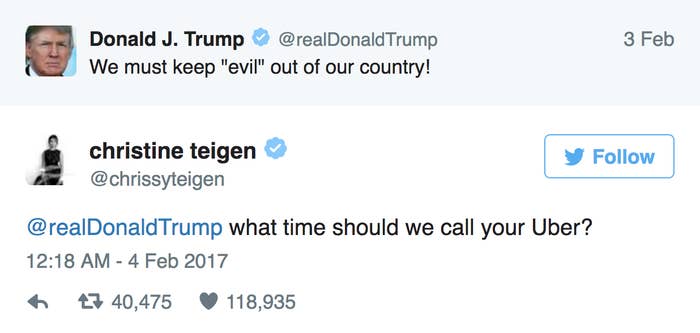 However, in a recent interview, Chrissy revealed that she has actually been trolling Trump for "about 5 to 7 years."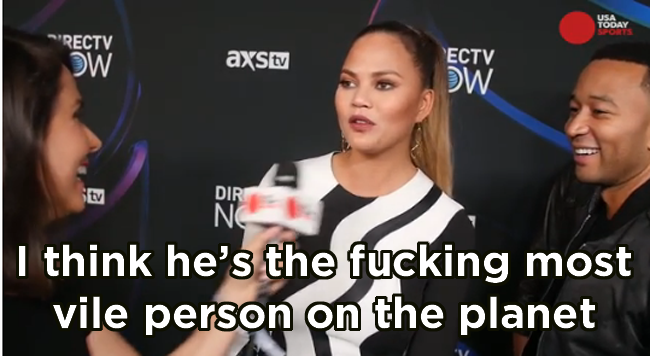 She said:
I've actually been a big Donald Trump hater for a long time. If you go back, I've been trolling him for about 5 to 7 years now. I've been doing this forever and I take pride in that. If you go back to my old ones [tweets] I was like: "You're the fucking worst" many years ago. I can't believe somebody could actually do this all day, every day, and still be president. It's insane. I think he's the fucking most vile person on this planet and if I mysteriously go missing in the next 4 years then that's what happened.
They truly were spectacular.
She had some excellent thoughts during the 2012 Miss USA pageant, which was owned by Trump.
Seriously.
But the following year she boycotted it altogether.
In fact, her disdain for him was so severe that she also boycotted Macy's.
She had some perfect thoughts back when he bowed out of the 2012 presidential race.
And summed up Trump's attitude toward literally everything.
When she saw this competition being advertised, she made her feelings very clear.
In fact, she's making us nostalgic for a time when we could just remove Trump from our Twitter feeds...
And never hear from him again.
But, the best tweet of all was definitely this.