We all know that Chrissy Teigen and John Legend are the epitome of relationship goals.
But that's not to say they haven't experienced blips in their relationship. In fact, Chrissy revealed last year that John tried to break up with her early on in their romance.
Speaking to Cosmopolitan, Chrissy said:
I was on tour with him and he'd gotten sick. He was feeling really bummed and stressed out. He was like, "I can't be in a relationship right now." That lasted for one day. I knew it came from a place other than us not working. I always joke, "Remember when you tried to break up with me? He's like, "Yes, sorry. Big mistake."
And now John has given his side of the story, explaining that Chrissy simply refused to accept his suggestion that they end the relationship.
Speaking to The Guardian, John said:
I was really stressed and busy. I was just, like: "I'd just be happier single right now," and she was like, "No."
He went on to say that the pair were back together within half an hour, before revealing the ways in which Chrissy has enhanced his life – and how he's happy with how they choose to share their relationship on social media.
John said:
She pushes me to be funnier. Not because she's trying to, I think it's just being around her. And to be bolder. I think it devalues paparazzi photos when you control your own narrative. Occasionally, we'll make a mistake but, generally speaking, I'm happy with what we've chosen to share, and I think it's generally better than the alternative of going through publicists and tabloids.
And, of course, Chrissy responded in true Chrissy fashion, retweeting the article and joking about the fact that 11 years on, they're still going strong.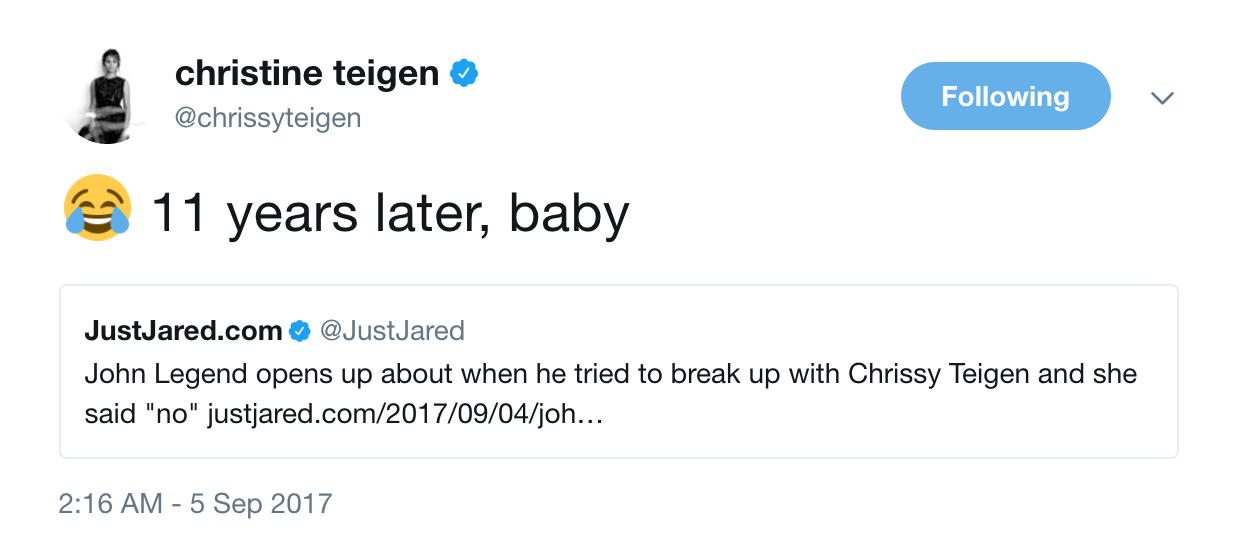 Before giving this A+ explanation for her reaction to the proposed breakup.
You guys.