OK, before we go any further I just need to preemptively apologise to Chrissy Teigen who earlier this week got kinda mad at journalists like me writing stories about her tweets.
OK, moving on to the main subject of this post: Kim Kardashian's new perfume bottle.
Ever since she launched her KKW beauty and fragrance companies last year, Kim has been coming up with innovative ways to brand and promote her products.
Well, it doesn't get more innovative than making a mould of your entire naked body in order to turn it into the receptacle for your new perfume, which is exactly what she's done.
Kim shared this news on Twitter.
And of course, Queen of Twitter herself, Chrissy Teigen was there to see it.
She and Kim are good friends, so Chrissy responded in the way any good pal would – by offering her support and encouragement through a gentle roasting.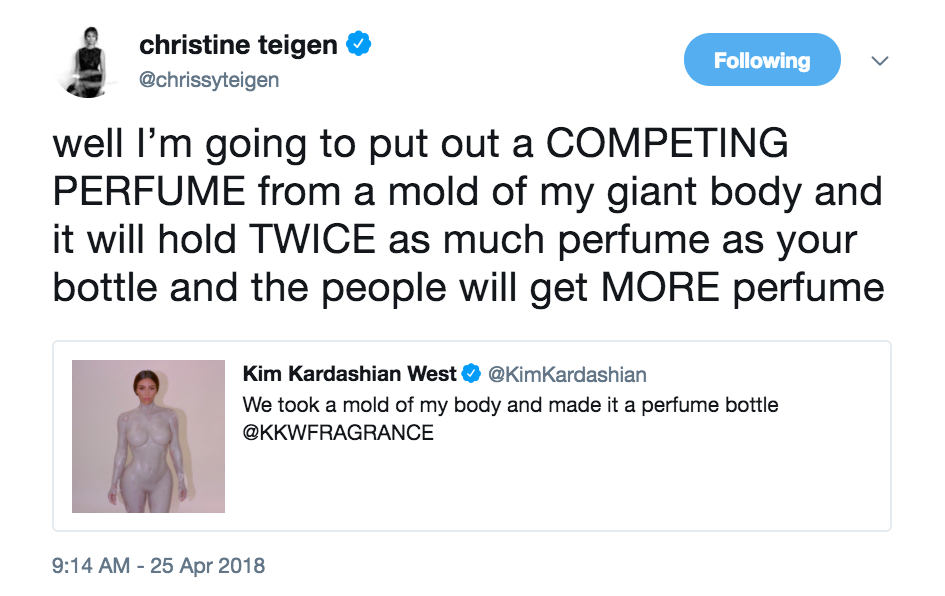 And, even though you probably hate me now for writing this, I'll say it anyway: Bravo, Chrissy.