Chrissy Teigen Roasted John Legend For Being Too Busy To See His Kids In The Most Savage Way
"Hi" — your kids.
John Legend is one busy man. Over the past few weeks he's released a Christmas album, recorded a festive TV special with Chrissy Teigen, performed at the Macy's Thanksgiving parade, acted as judge on The Voice, turned on the Rockefeller lights and is also currently touring the US.
All of which means he's spent a lot of time away from home, where Chrissy is holding the fort and entertaining their two kids, Luna and Miles.
However, when John tweeted to promote his live performances and TV show, Chrissy couldn't resist the opportunity to roast and jokingly shame him for spending so much time away from his family.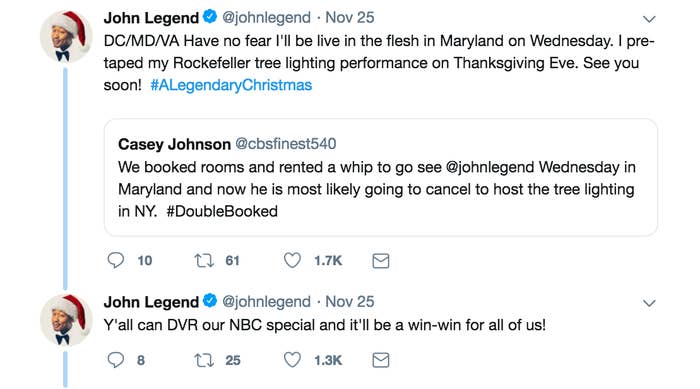 And people immediately lost it.
The tweet is actually even funnier since John and Chrissy have both acknowledged the fact that women are shamed for their parenting choices far more than men.
But despite John being super busy over the next couple of weeks, his tour schedule reveals he does have a few days off over the Christmas period, so the adorable Stephens family can look forward to lots of quality time then.