Cheryl Fernandez-Versini is sitting cosily in the corner of a plush London hotel sofa, looking at me with those huge Bambi eyes and explaining exactly how she finally reached a stage in her life where she gives zero fucks.
"You get to an age where you've been through so much crap that you feel like things are not so important any more," she says. "I just don't care. It's actually nice to feel that relief when you've cared so much for so long. I'm a really sensitive person so I care deeply about things. So when that's gone – and this is on whatever subject, by the way – it's a nice feeling."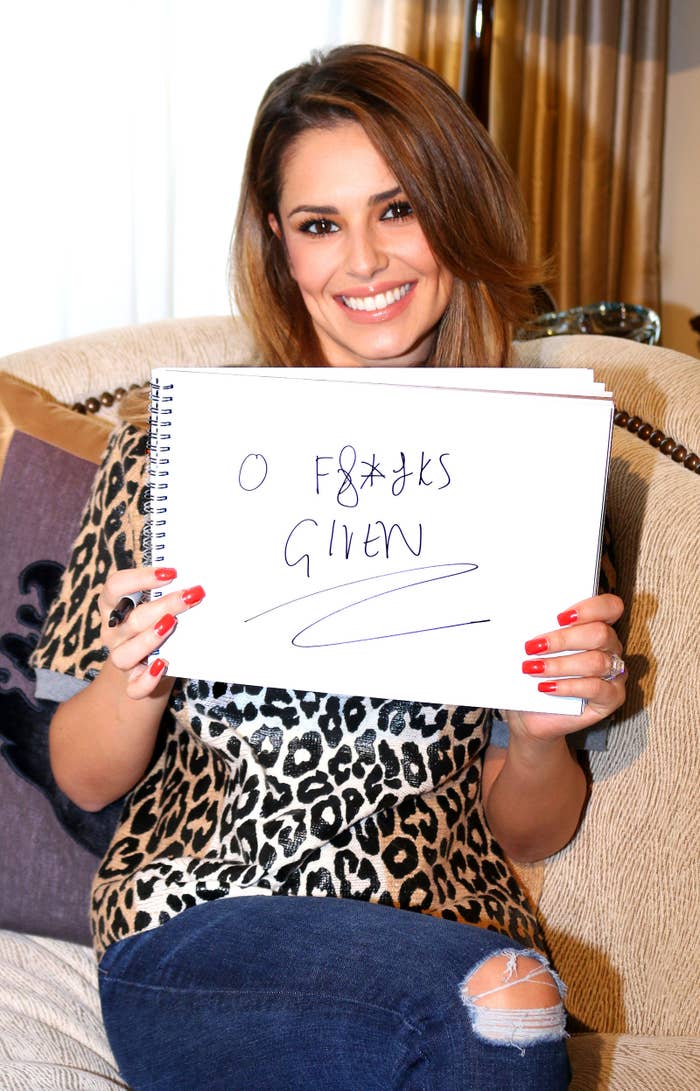 It's fair to say that Cheryl is back, and more confident than we've ever seen her.
Take the video for her new song, aptly titled "I Don't Care," for example. Filmed on a beach, with the star in minimal make-up and an oversized jumper, laughing at the camera and miming the words "Zero. Fucks. Given", it's arguably the best she's ever looked and sounded.
It seems the main reason for this new display of confidence is her two-year hiatus, during which she secretly married Jean-Bernard Fernandez-Versini and recuperated after a solid 10 years in the public eye.
"Since the age of 19 to 29 I didn't stop," she says. "I went from being known for singing pop songs and having a great time with my friends to being a judge on The X Factor. And until you experience that, you have no idea what it feels like. My life and career went on a whole new level. A lot happened. I needed a break."
During that break, she drew up a "bucket list" of sorts, which she called her Fuck It list. Perhaps the most famous item on that list was to "get a big tattoo".
A photo of that tattoo, which begins midway down her back and extends to the top of her thighs, was shared on Instagram by the tattoo artist, Nikko Hurtado. Within hours it had gone viral online, before appearing on the front pages of the national press.
Did she know Hurtado was going to post that image?
"It was a long, painful day and I don't think any of us were in the right frame of mind," Fernandez-Versini says. "It doesn't look anything like it did then. That was when it was brand, brand new. I love it. It wasn't for anyone else. And Nikko is an actual artist. He is seriously talented."
Between painful tattoo sessions, she ticked "swimming with dolphins" off the list, and says the experience was by far the most liberating thing she has ever done.
"There was about 200 of them circling round and showing off," she says. "One will backflip and the other one will backflip higher. They're playing. They're the most human-like mammals you can find. The lady who took us on the tour said they can sense good and bad energy, and not to worry if they don't come near you – it might just be because you're nervous.
"But I had one dolphin that just swam round and round me and he was looking at us with one eye. He'd swim towards us, like, 'Are you going to duck? Or are you playing? Can we play?' He was doing tricks all around us, and if I looked below there were schools of them swimming around in formations. It was magical."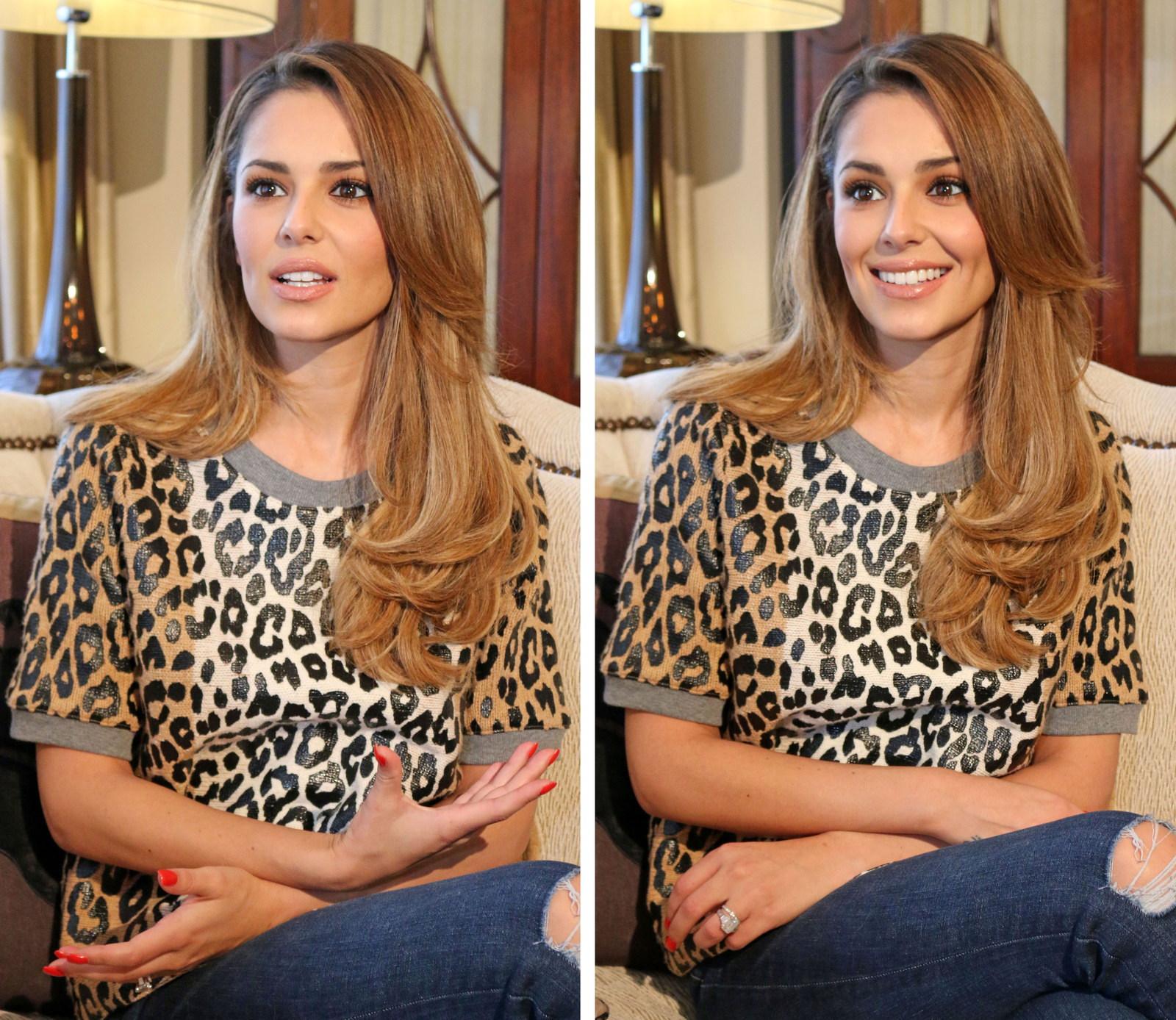 But the Fuck It list is by no means completed.
"There's loads of stuff left," she explains. "I love it when I tick them off, but there are still things remaining. I want to skydive at some point. I might want to involve a charity. I want to do things for a reason."
She wasn't just getting tattooed and swimming with dolphins during her time off, however. Within months she had "itchy feet," and began slowly recording her fourth album, Only Human. She says it's the best of her career.
"I had a lot of time to really focus and put things in perspective," she says. "I understand now that music is uplifting and hopeful. I've put more pop in there. It just feels more like me."
And if the positivity and confidence with which she sings the lead singles, "Crazy Stupid Love" and "I Don't Care", is anything to go by, she has well and truly discovered her sound.
"I'm that positive person anyway," she says. "I was in Girls Aloud, which was only fun. You know, 'something kinda ooh, jumping on my tutu' was never supposed to be taken seriously.
"If I received a song [for Only Human] that I didn't write on and it was whiney or a bit depressing, I felt I wasn't the character to sing it. Even if I listened to it in my own spare time, that's not the message I want to send out as an artist."

What's more, she's aware that her music has the potential to influence her fans, and that's something she considers during the recording process.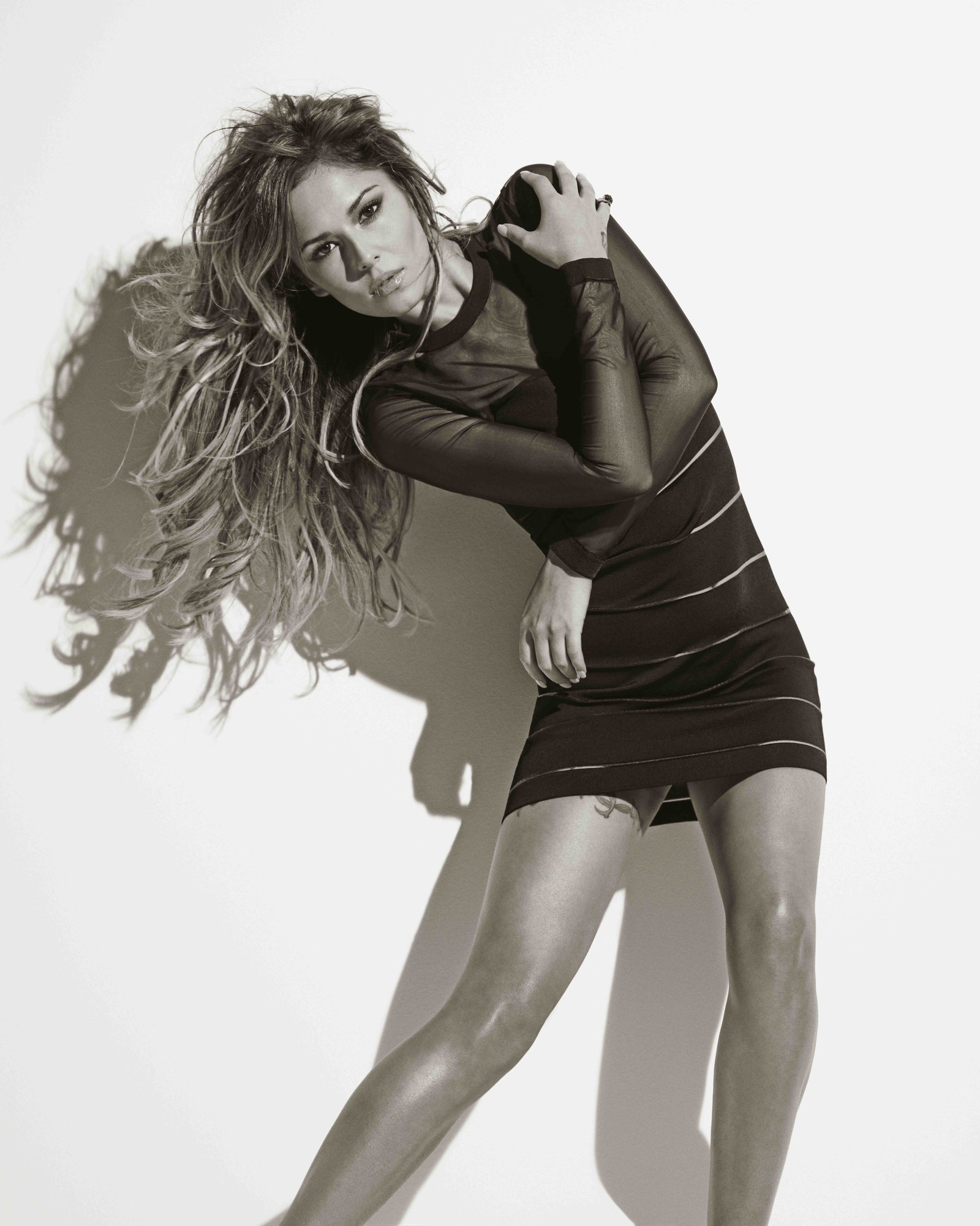 "I always bear in mind that when I was growing up and I related to a song, it would mean so much to us. I would play it over and over and over just to feel good. I always try to put things on the album that I know people will relate to. Or I know that when I was 17, or 18, or 25, I would have related to."
But it's clear she's still overwhelmed at the thought of her fans finding strength in the music she's recorded.
"I know that feeling because I've experienced it personally," she says. "But to be that to someone else is a hard thing to believe. But it's the coolest part of all this."
And when Fernandez-Versini is on stage, she puts her all into the performances, with intense dance routines – another element she's aware of when selecting her final tracklists.
"I usually feel a groove or a movement," she says. "And if I don't, I know it's not going to go on the record. I always enjoyed a visual artist growing up. I wanted the Beyoncés, the TLCs, the Britneys – people who moved and gave you entertainment. That made me feel more than just hearing a song. So if I don't feel that instinct to want to dance, it's not going to work."
And as for a favourite routine, her heart is still firmly with her first solo release, "Fight for This Love".
"It's always going to have a special place because it's the first song I did alone. It was what I wanted it to be, and what I wanted it to stand for."
It seems fitting that her first solo performance of "Fight for This Love" was on the X Factor stage, because four years later she's now come full circle by triumphantly rejoining the programme's panel.
"I'm in it for the right reasons," Fernandez-Versini says of her role on the show. "I'm not a tactical player. I'm not wishing for other acts in my category. Obviously I believe in my two girls, and I do believe I have the winner. But when I watch other acts, I think, 'Wow, if you won you'd be deserving of it.' I'm just going to play it week by week and do the best I can for the girls."
One thing that hasn't changed since her time away is her love/hate relationship with Simon Cowell. Is she annoyed by the fact that he's stolen her signature salute and does it at the start of every live show?
"Yes," she replies. "It's really annoying. And now he's trying to stop me doing it! But it just goes to show he obviously thinks it's cool, so I'll just take it as a compliment. He needs to steal that. He steals lines that I say, he steals my water. He's a muppet."
Joking aside, the show propels its judges to extreme levels of fame and scrutiny. How does she cope with the attention she receives and her status as a role model for millions of women?
"I try not to think of myself as anything other than who I am," she says. "And I hope that who I am is relatable. I just hope that even when I do bad things, people see how I handle it and that's good. And when I do good things, I hope that's an inspiration. People see the mistakes I make in life. I'm human. People do make mistakes."
With an air of complete sincerity, after dealing with so much of her life – personally and professionally – in the glare of the public eye, the new self-assured Cheryl concludes: "Not everything is going to be right. Not everything is going to work out. It's the way you handle things that matters."