Here Are The Best Celebrity Reactions To This Long, Anxious Wait For An Election Result
"Anyone else been holding their breath for 48 hours?"
BuzzFeed News has journalists around the US bringing you trustworthy stories on the 2020 elections. To help keep this news free, become a member.
I'm sure you're aware that Nov. 3 was the day of the US presidential election. However, due to an unprecedented number of people requesting mail-in ballots, the winner is yet to be determined.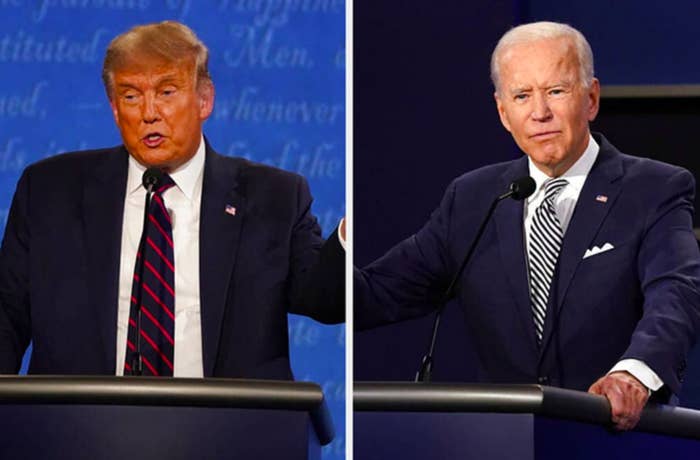 This has caused stress and anxiety for just about everyone — including celebrities. Some of the world's biggest stars have posted on social media over the last 24 hours to voice their opinions on the vote and the ways they're occupying themselves as we wait for the final result. Here are some of the best posts.
Khloé Kardashian revealed she "hadn't slept" and was wracked with anxiety.
She went on to respond to fans who were "riddled with nerves," telling them to practice self-care by praying or trying meditation. "We will all get through this together," she added. "We have to."
Chrissy Teigen joked that she was "about to die" after watching endless hours of coverage.
And she also took her mind off things by role-playing with her daughter as a newscaster in a world where there was no news.
Meanwhile, John Legend was enjoying all the jokes about Nevada taking what feels like an eternity to count votes.
And he also posted an adorable photo of his and Chrissy's son, Miles, alongside the caption: "Mini-me cautiously/optimistically watching these election results come in."
"Every single vote in this country matters," Lady Gaga told her followers in response to Trump saying he wanted the vote count to be stopped after falsely claiming he'd won the election. "It is the emblem of our democracy! I have so much faith in the human spirit! We've got this America."
She went on to thank the volunteers who had dedicated their time to counting the ballots. "You are warriors, representing the heart and soul of all the people!"
"I know we're all anxious and tired," Lily Collins wrote. "But we need to stay positive and be patient. Over 9.16 million people nationwide requested a mail-in ballot — and those take longer to process, so keep calm while every single vote is counted. #BidenHarris."
Demi Lovato expressed her disappointment at how close the results had been so far. "After this year and especially this summer it should have been a landslide," she wrote. "I don't get it."
However, she added: "I'm not losing hope. My faith is strong."
Camila Cabello revealed she and boyfriend Shawn Mendes were keeping themselves occupied by getting a puppy. "Remember — regardless of the outcome, WE are the ones responsible for building the world we want to live in. The fight for BEING the society we want to see," she added.
The Hills' Whitney Port said she was trying to "stay present and calm" for the sake of her family. "Things are weird, but I am still hopeful," she wrote.
Hilary Duff's husband posted a photo of her anxiously watching coverage of the results.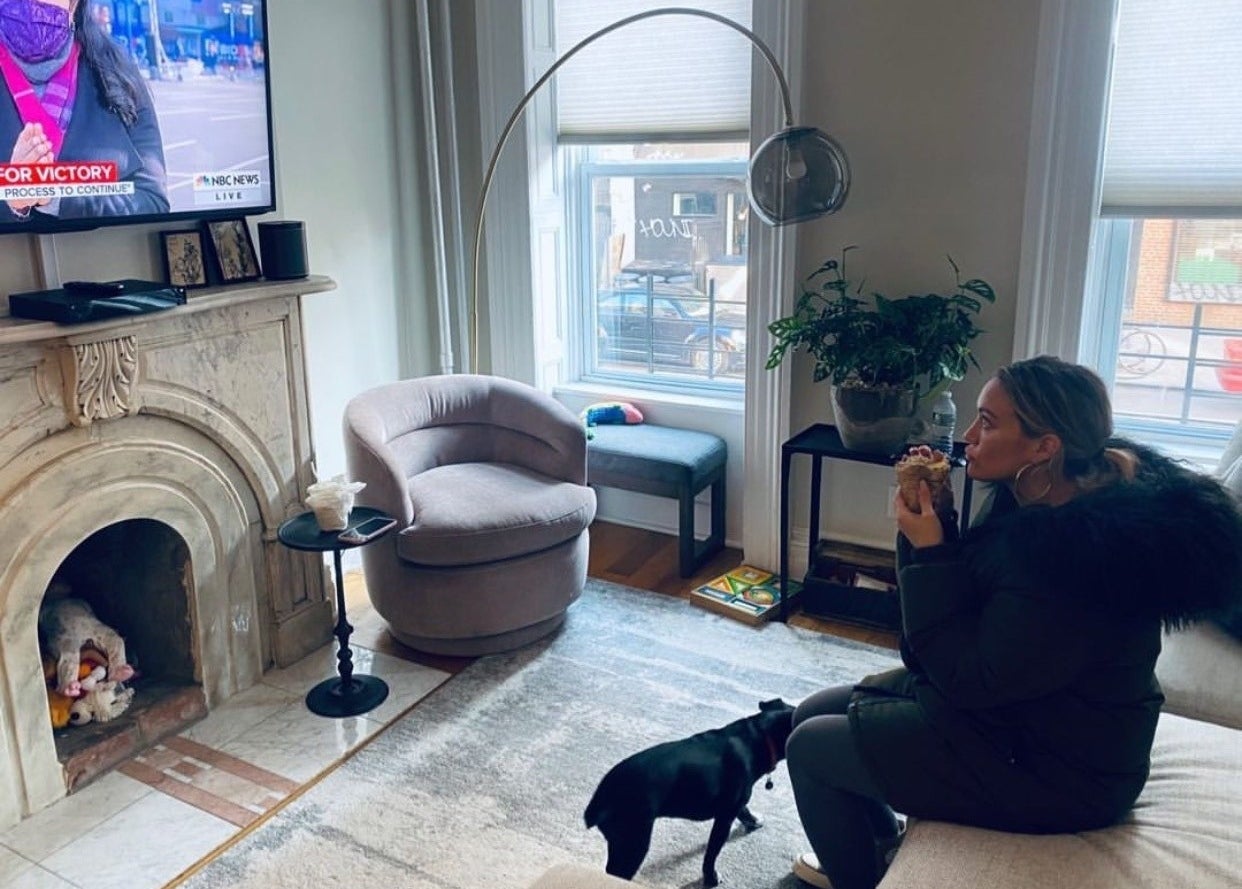 Modern Family's Jesse Tyler Ferguson put it perfectly.
And, finally, Ariana Grande reposted a message from Joe Biden telling his supporters to "keep the faith".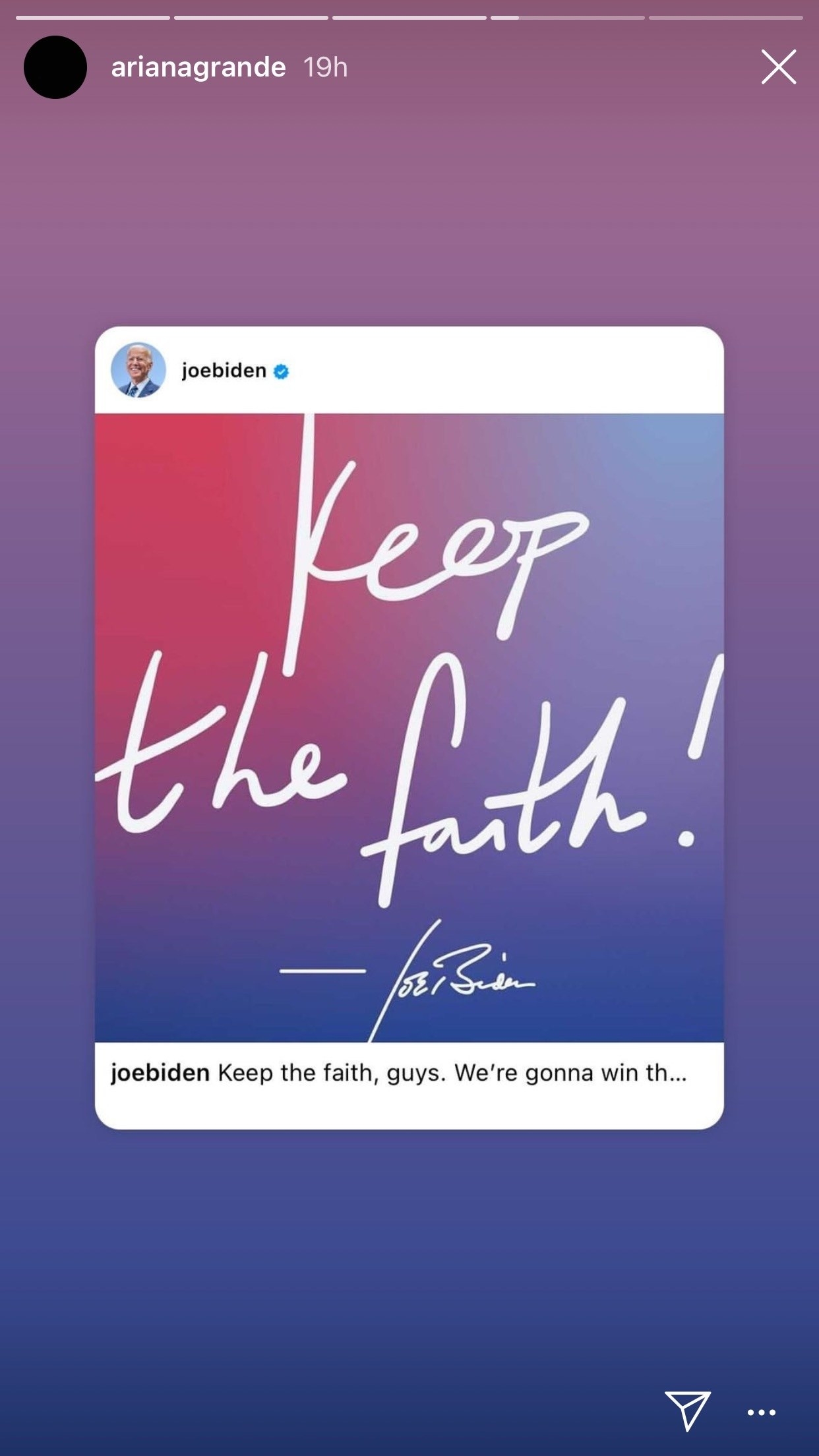 If you have a news tip, we'd like to hear from you. Reach out to us via one of our tip line channels.