As the coronavirus crisis continues, many cities have been locked down, while others have been strongly advising people to either self-isolate or practice social distancing wherever possible in order to slow the virus's spread.
And celebrities aren't exempt — in fact, many of the world's biggest stars, from Millie Bobby Brown to Chrissy Teigen, are following the advice to remain inside as much as possible and have shared their time-killing activities on Instagram. Here's what they're up to.
Millie Bobby Brown implored her followers to spend time with "families and fluffy friends" in order to "protect the people that hold our history".
Khloé Kardashian and her daughter, True, hung out in their matching cosy PJs...
...before reading Bible passages and playing together...
...and getting inspired to do some baking.
After trying to educate her followers on the importance of social distancing, Ariana Grande spent the rest of her evening in bed watching the Democratic debate.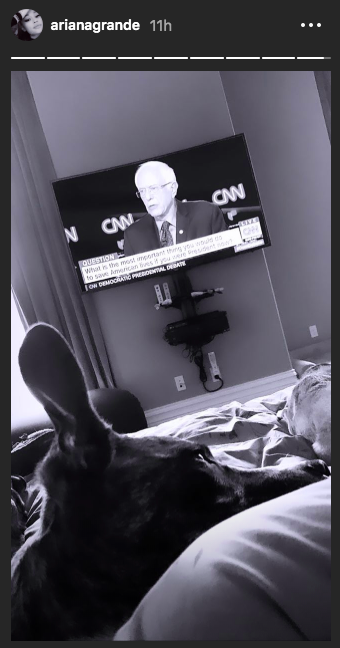 Kourtney Kardashian made heart-shaped waffles and then watched About Time.
Perrie Edwards and her boyfriend Alex Oxlade-Chamberlain showed off their best moves.
Emily Ratajkowski watched Love Is Blind, ate pizza, made phone calls, and took selfies with her husband and dog.
Mindy Kaling spent her day working from home dressed like all of us making a conference call from our living room.
Busy Philipps and her daughter, Cricket, took a walk around their neighbourhood and stopped to pose for photos.
And Busy then cuddled up to her dog as the evening set in.
Kristen Bell revealed she'll be implementing this plan of action to ensure her family "stay sane" during self-isolation.
And she also spent time dressed in sweats, hanging out with her dog.
Lauren Conrad built a dreamy fort in a bid to keep her kids occupied.
Lady Gaga said that as much as she'd like to be spending time with her parents and grandmothers, she'd decided to self-quarantine with her dogs after seeking medical advice.
Angela Kinsey said that she'd "teared up" watching her children find joy in a puddle on the end of their driveway.
And she went on to say that, after a day of fort-making, making cookies, and playing nail salons, the family were planning a movie marathon.
Angela also added that she was enjoying not having to get dressed or brush her hair.
Jenna Dewan revealed that boredom was already setting in for her 6-year-old daughter, Everly.
And she also revealed she was worried about Everly's inevitable devastation over her St Patrick's Day plans being cancelled. But the family did eventually settle down to watch a movie.
Kate Beckinsale shared a photo of her self-isolation supplies...
...and also gave us a glimpse of her highly relatable cat.
Whitney Port revealed that she and her husband, Tim, had resorted to making bets to liven up household chores, and then raided his sweats collection to liven up her isolation wardrobe.
She then indulged in some calming cleaning before baking some cookies...
...and then cracked open the wine.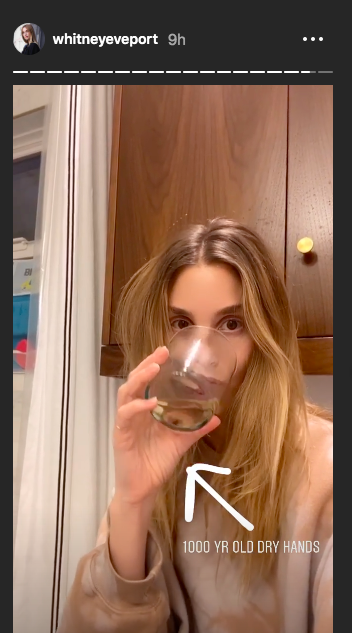 Courteney Cox continued her venture into the world of TikTok dance routines.
As did Jessica Alba and her daughter Haven.
Sarah Hyland had a closet clear-out.
And, finally, Chrissy Teigen made a very impressive cake.
Even though she doesn't like cake.