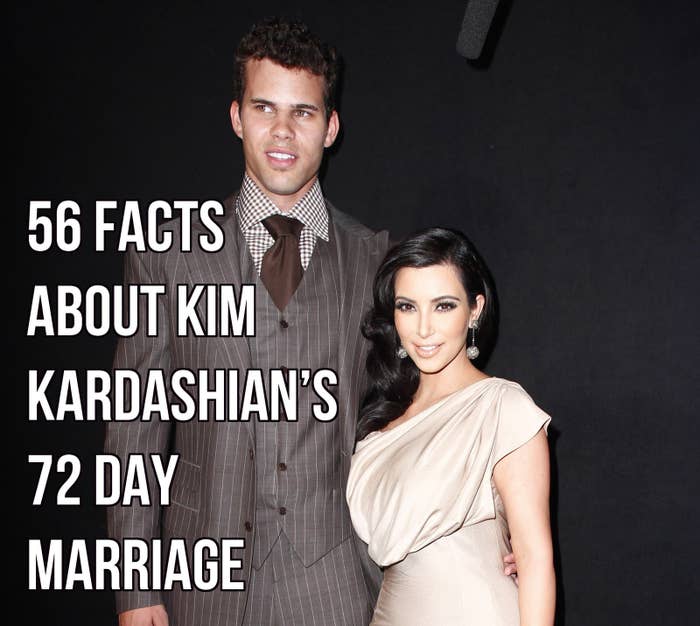 1. There were just 90 days between Kris Humphries proposing to Kim and their wedding happening, because Kim wanted to get married quickly so she'd still be young and look her best in the photos.
2. In Kim's defence, swift relationships and proposals run in the family. Khloe and Lamar Odom met and married within one month, and Caitlyn and Kris Jenner married after five months of dating.
3. However, it turns out that Kim and Kris hadn't spent more than a full week together before getting married.
4. And Kim said she knew Kris wasn't The One the second they moved in together after the wedding.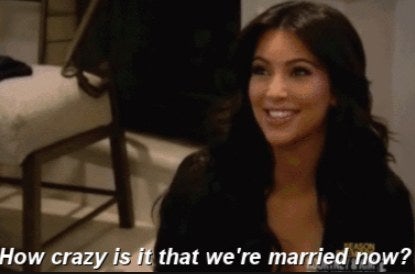 5. None of Kim's family liked Kris. Khloe was actually briefly uninvited from the wedding after she questioned his intentions.
6. The night before the wedding, Kris Jenner even asked Kim: "Do you want out? You're not yourself."
7. And, during the ceremony, Khloe was heard whispering to another guest: "I give it six fucking months."
8. Even Kim's future husband, Kanye West, tried to warn her against marrying Kris. After hearing the news that they were engaged, Kanye was prompted to buy his first ever cellphone so he could send her pictures of former basketball stars who had aged badly, telling her: "This is your future."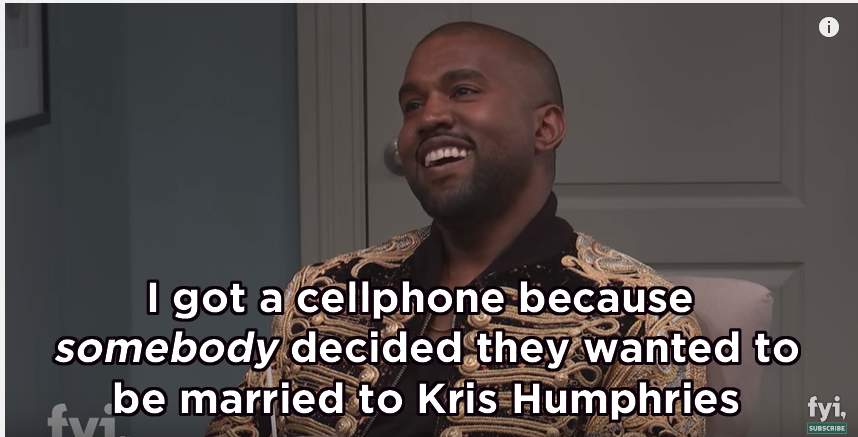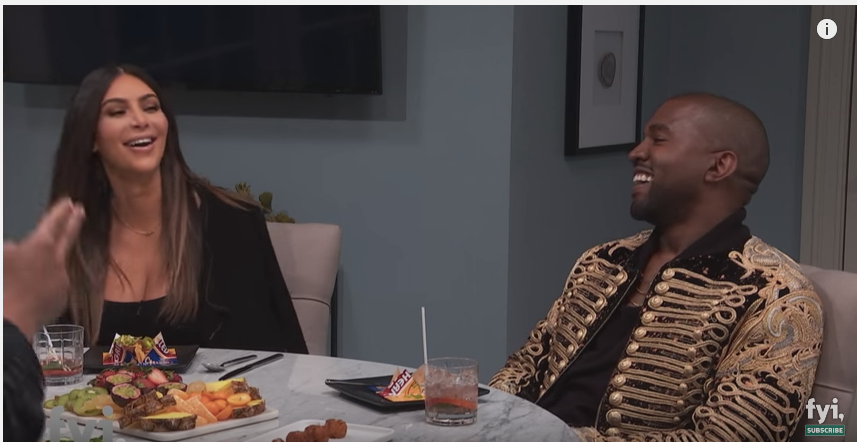 9. And in the days leading up to the wedding it was questionable whether Kim and Kris actually liked each other. During their wedding rehearsal, Kris told Kim he couldn't wait to "scream" at her when he got the chance. Kim responded: "Go for it, I'll fucking slice you."
10. She went on to tell two friends at the rehearsal dinner: "I hate him. Every last thing annoys me."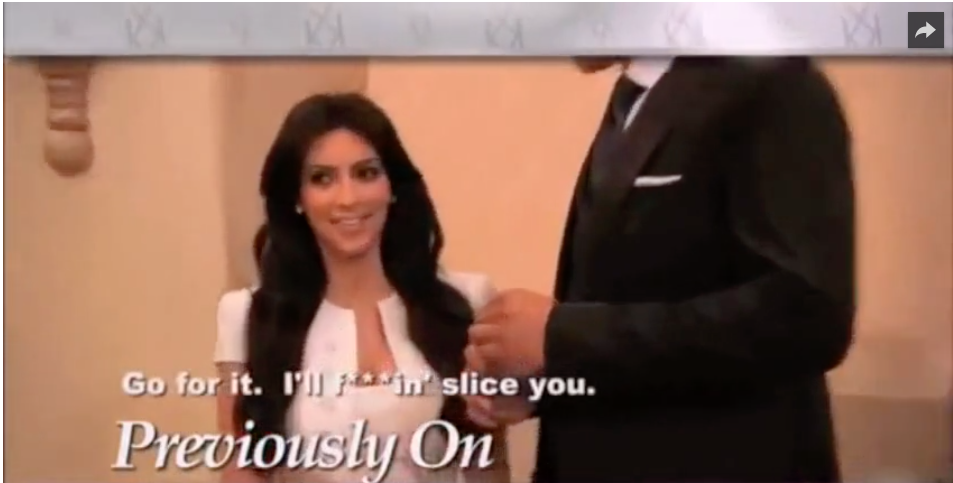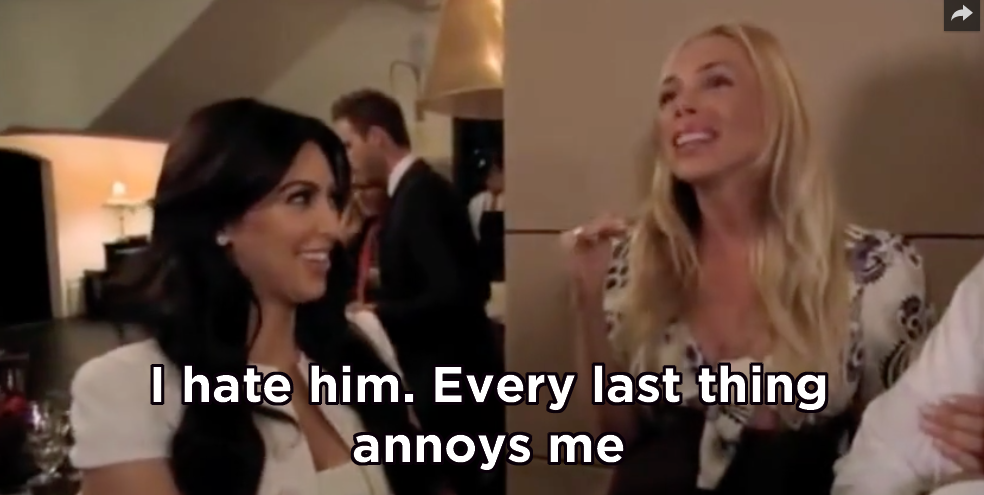 11. Kris asked Caitlyn Jenner's permission to marry Kim during a round of golf. However, he quickly made the mistake of telling Kris Jenner his plans – and she instantly wanted to be involved, asking: "How are we going to ask Kim to marry us?!"
12. She even gave the proposal a code name – Operation Pumpkin – because it was "like a Cinderella story."
13. The 20-carat, $2 million engagement ring was so valuable it had to be transported via a Brink's Truck from New York to LA.
14. Kris had planned to propose at a restaurant in front of their families. However, while en route to the dinner he and Kim had a falling out over where they were going to live in the future. Kim told him that he'd have to "get a nicer place" because his apartment was like "a college dorm."
15. She concluded that she couldn't "downgrade and live a lesser lifestyle" than she was used to.
16. Kris was so annoyed by the comment that he put off the proposal because he was worried that Kim would "spend all his money."
17. He later decided to propose in Kim's bedroom, spelling out "Will you marry me?" in rose petals on the floor, surrounded by candles.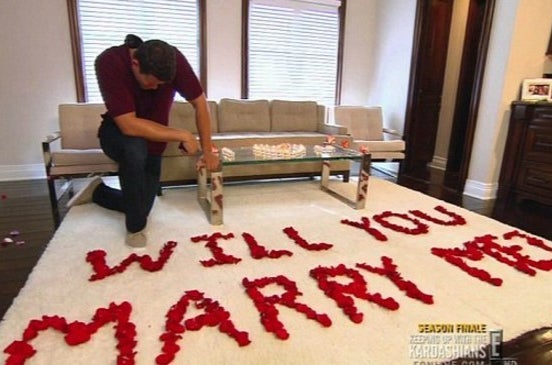 18. However, in a deposition given by one of the executive producers on Keeping Up With the Kardashians as part of their divorce proceedings, it was claimed that Kim was "aware" that Kris was going to propose, and the scene ended up being reshot because she wasn't happy with her reaction in the first take.
19. Another part of the deposition claimed that a scene where Kim discussed doubts about her marriage with Kris Jenner was actually shot after the breakup, and was staged to make it seem as though it'd occurred before the decision to split.
20. The accusation supported another claim made by Reality Tea, which found paparazzi photos of Kris and Kim taken in December, wearing the exact outfits they wore in the scene reportedly shot in October.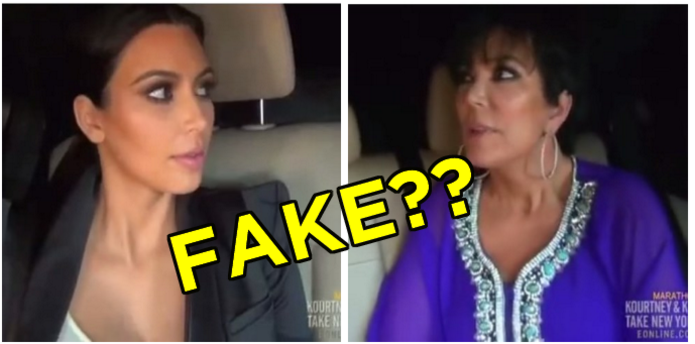 21. Within days of announcing her engagement, Kim was inundated with offers from designers wanting to make her wedding dress.
22. She eventually settled on Vera Wang, but was torn between three dresses. Rather than choose between them, she wore them all.
23. She wore the "princess" dress with a large skirt and train to walk down the aisle, a fitted mermaid style for the speeches, and a flowing silk gown for the evening.
24. The cost of all three gowns was $60,000.
25. Kim also wore over $40,000 worth of diamonds on the day, including a headdress and a bracelet Kris Humphries commissioned, which featured two dangling diamond K's.
26. However, Kim was also pretty generous on the morning of the wedding – just not to her groom. She actually chose to gift her mother a pair of gigantic diamond earrings.
27. In fact, Kris Jenner was a pivotal part of the entire day. Not only did she and Kim go ahead and book the venue without even consulting Kris Humphries, but she also decided to undergo a facelift six weeks before the big day to ensure she looked her best.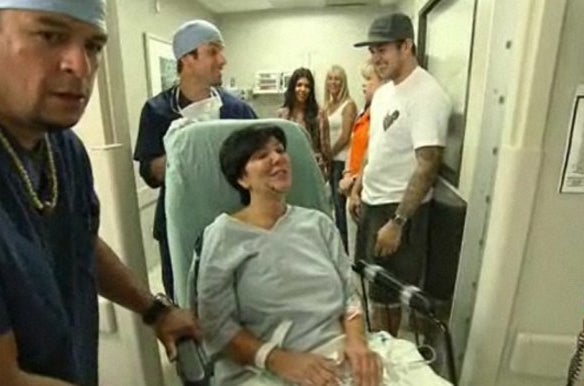 28. The wedding was an lavish affair with over 400 guests.
29. The wedding registry totaled over $170,000. The most expensive item was a vase costing $7,500, and the least expensive was a clock costing $1,115.
30. Their wedding cake was 8 feet tall and weighed nearly 600 pounds.
31. And Kim's diamond-encrusted wedding ring cost $200,000.
32. E! and KUWTK's production company set up a makeshift master control room with a bank of monitors inside the venue so they could keep a close eye on the nine cameras' worth of footage that was shot during the course of the day and night.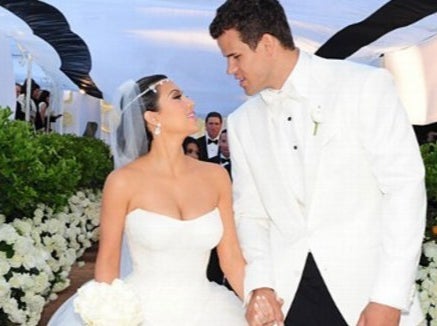 33. The most watched episodes in KUWTK history remain the wedding specials charting Kim's wedding preparations and nuptials to Kris.
34. The two wedding specials attracted a combined audience of 10.5 million viewers. The first marked the most-watched day in E!'s programming history. The second drew in six times the primetime average on the network.
35. The second-most watched episode in Kardashian history was the demise of the marriage charted in the spin-off Kourtney and Kim Take New York. The final episode of the season saw Kim reach a tearful conclusion that she didn't want to be married to Kris anymore.
36. In fact, Kim's most famous crying face was from the conversation with Kourtney in which she admitted she'd got "caught up in the fairy tale" and had made a massive mistake marrying Kris.
37. And while the official breakup actually occurred off camera, the season finale drew in a huge 4.5 million viewers.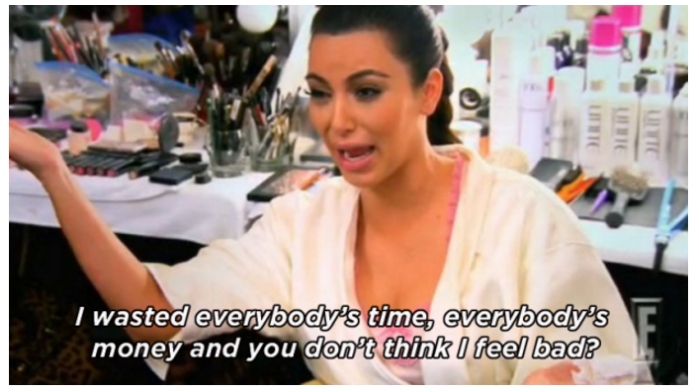 38. Kim confirmed to E! that she was filing for divorce from Kris with a statement: "After careful consideration, I have decided to end my marriage. I hope everyone understands this was not an easy decision. I had hoped this marriage was forever, but sometimes things don't work out as planned. We remain friends and wish each other the best."
39. Kris immediately responded with a statement of his own: "I love my wife and am devastated to learn she filed for divorce. I'm committed to this marriage and everything this covenant represents. I'm willing to do whatever it takes to make it work."
40. However, a day later, Kim made it clear there was no going back by publishing a blog on her website, saying that she'd got caught on a "rollercoaster and couldn't get off."
41. She went on to say that her desire to have marriage and babies led to her to "rush into something too soon."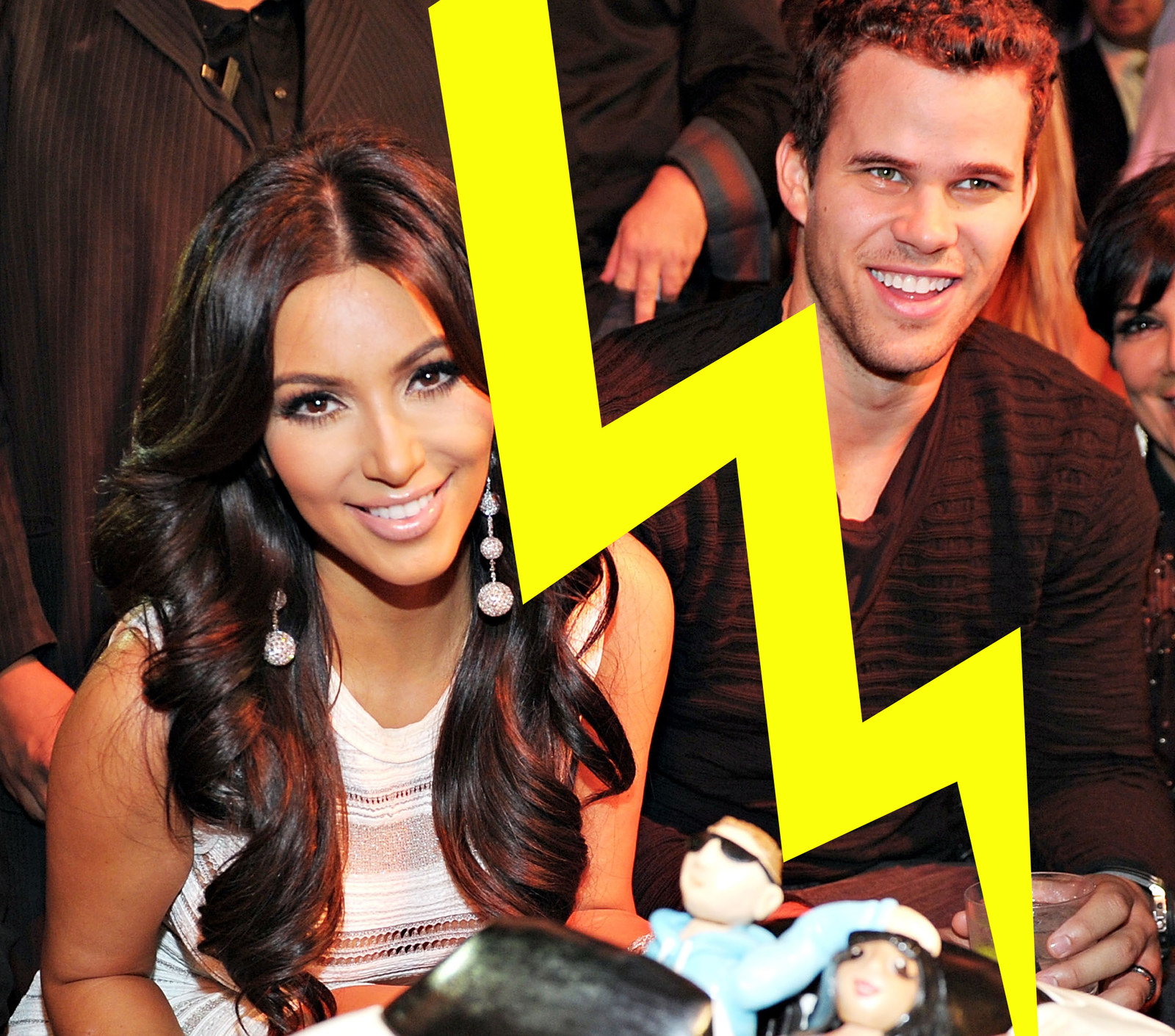 42. There were persistent rumours that the marriage was a money-making PR stunt, but Kris Jenner revealed days after the divorce announcement that Kim didn't make a profit on the money she earned from the wedding as it was all used to pay for the nuptials.
43. Later, court documents revealed the exact amounts Kim had earned from the wedding. She received $175,000 from People magazine for the exclusive engagement announcement, and $1.1 million for the wedding photographs. She earned $90,000 for having her bachelorette party at Las Vegas venue Tao. And she also made $1 million from airing her wedding on E!
44. When questioned whether the marriage was a stunt to attract viewers, Kim pointed out that it was actually a risky business decision to choose to end the relationship.
45. In fact, she revealed years later that she truly believed her career would be over as a result of the negative media coverage surrounding the divorce, telling her family: "I hope you've saved your money. I think we're done."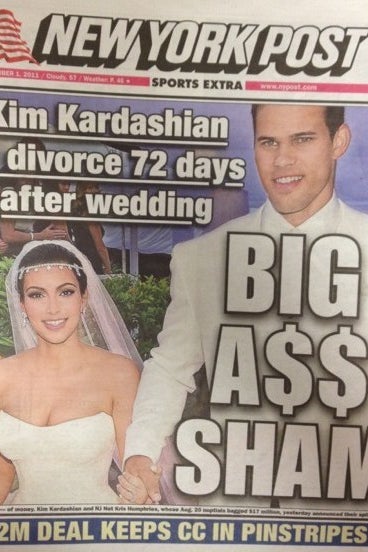 46. Two months after Kim filed for divorce, Kris decided to seek an annulment on the grounds of "fraud," claiming Kim had used their marriage for ratings.
47. It was something Kourtney Kardashian would go on to joke about during a an appearance on David Letterman's show. She said: "If she was going to do it for publicity, she'd pick someone people knew."
48. Kris was labelled "uncooperative" throughout the divorce proceedings, with Kim's lawyers accusing him of deliberately stalling the process.
49. And, there may have been plenty of jokes about the marriage lasting only 72 days, but the divorce proceedings actually dragged on for two years.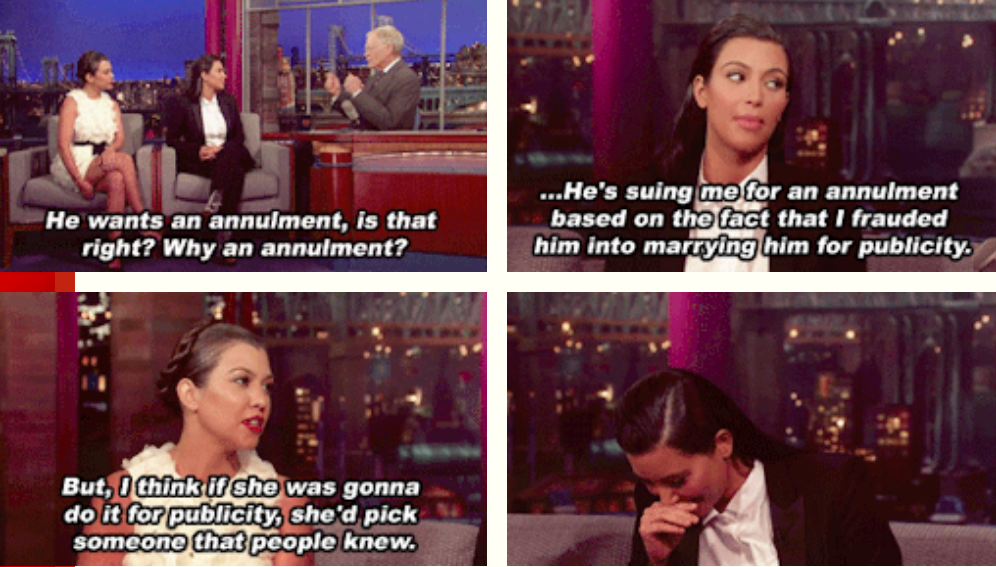 50. In fact, Kim was just two months away from giving birth to North West, her daughter with Kanye, when the divorce was finally granted.
51. Had the divorce not been finalised by the time she gave birth, Kris would have been the presumed legal father.
52. And Kanye wouldn't have been able to issue a voluntary declaration of paternity either.
53. In fact, Kim's lawyers filed a motion to set a trial date as soon as possible when she found out she was pregnant, stating that she didn't want to be married to Kris when she gave birth.
54. Kris's court documents suggested Kim was using her pregnancy to deliberately speed up the process, and contained the footnote: "Indeed, why would [Kim] plan to get pregnant in the midst of divorce proceedings?"
55. The pair were supposed to come face-to-face in court twice during the proceedings. In the final court session Kim was keen to speak to Kris, to apologise and gain "closure." Kris, however, was a no-show both times.
56. Despite Kris Jenner saying there was "absolutely no way" she'd have given back the engagement ring, six months after the divorce was granted, Kris Humphries auctioned the ring. It sold for $750,000.