Prince Harry will marry US actor and humanitarian Meghan Markle at St George's Chapel in Windsor Castle next May.

The statement from Kensington Palace released on Tuesday afternoon said the Queen had given her permission for the wedding to take place at the 550-capacity venue.

"The Royal Family will pay for the wedding," the statement continued.
Prince Harry and Markle will undertake their first official engagements together in Nottingham this Friday, Kensington Palace said.
The couple will visit a Terrence Higgins Trust charity fair where they will meet representatives of organisations supporting people living with HIV/AIDS.
They will then speak to staff and mentors at Nottingham Academy about the Full Effect programme, which is helping prevent young people from turning to violence and crime.
The news follows Monday's announcement of an engagement. Speaking outside Kensington Palace, Prince Harry said he knew that he would marry Markle after their very first meeting. Responding to questions from reporters, Markle said she was "so happy".
It confirmed months of speculation that Prince Harry had proposed to Markle earlier this month.
The newly engaged couple talked about their relationship and Prince Harry's proposal in a BBC interview on Monday afternoon.

Prince Harry said that he popped the question earlier this month at Nottingham Cottage, his home at Kensington Palace, while they were roasting a chicken for dinner. Markle said that she answered yes immediately, before he had even finished proposing. "It was so sweet and natural and very romantic," Markle said.

When asked about his mother, the late Princess Diana, Prince Harry said that he believed she and Markle would have been best friends. "They'd be thick as thieves, without question," he said. "I think she would be over the moon, jumping up and down, you know, so excited for me."

Markle said that she has met the Queen "a couple of times," and Prince Harry said that his grandmother's famous corgis liked his fiancé right away. "'I've spent the last 33 years being barked at; this one walks in, absolutely nothing," he said. "Just laying on my feet during tea – it was very sweet," Markle said.
The Duke and Duchess of Cambridge congratulated the couple: "We are very excited for Harry and Meghan. It has been wonderful getting to know Meghan and to see how happy she and Harry are together."
Speaking during a visit to Poundbury, Dorset, Prince Charles told reporters that he was "thrilled" and "very happy indeed" at the couple's news.
Markle's parents, Thomas Markle and Doria Ragland, released a statement through Clarence House and said they were "incredibly happy" at the news.
"Our daughter has always been a kind and loving person. To see her union with Harry, who shares the same qualities, is a source of great joy for us as parents.
"We wish them a lifetime of happiness and are very excited for their future together."
Markle, 36, has reportedly finished filming her final scenes on the TV drama Suits, which she will be exiting after seven seasons playing paralegal turned lawyer Rachel Zane. The couple met in London through mutual friends in July 2016 and quietly began dating.
Following reports and rumors of a new royal romance, Prince Harry confirmed their relationship in a statement condemning the media's "wave of abuse and harassment" towards Markle in November 2016.

In an interview from September, Markle described herself and the 33-year-old prince as "two people who are really happy and in love".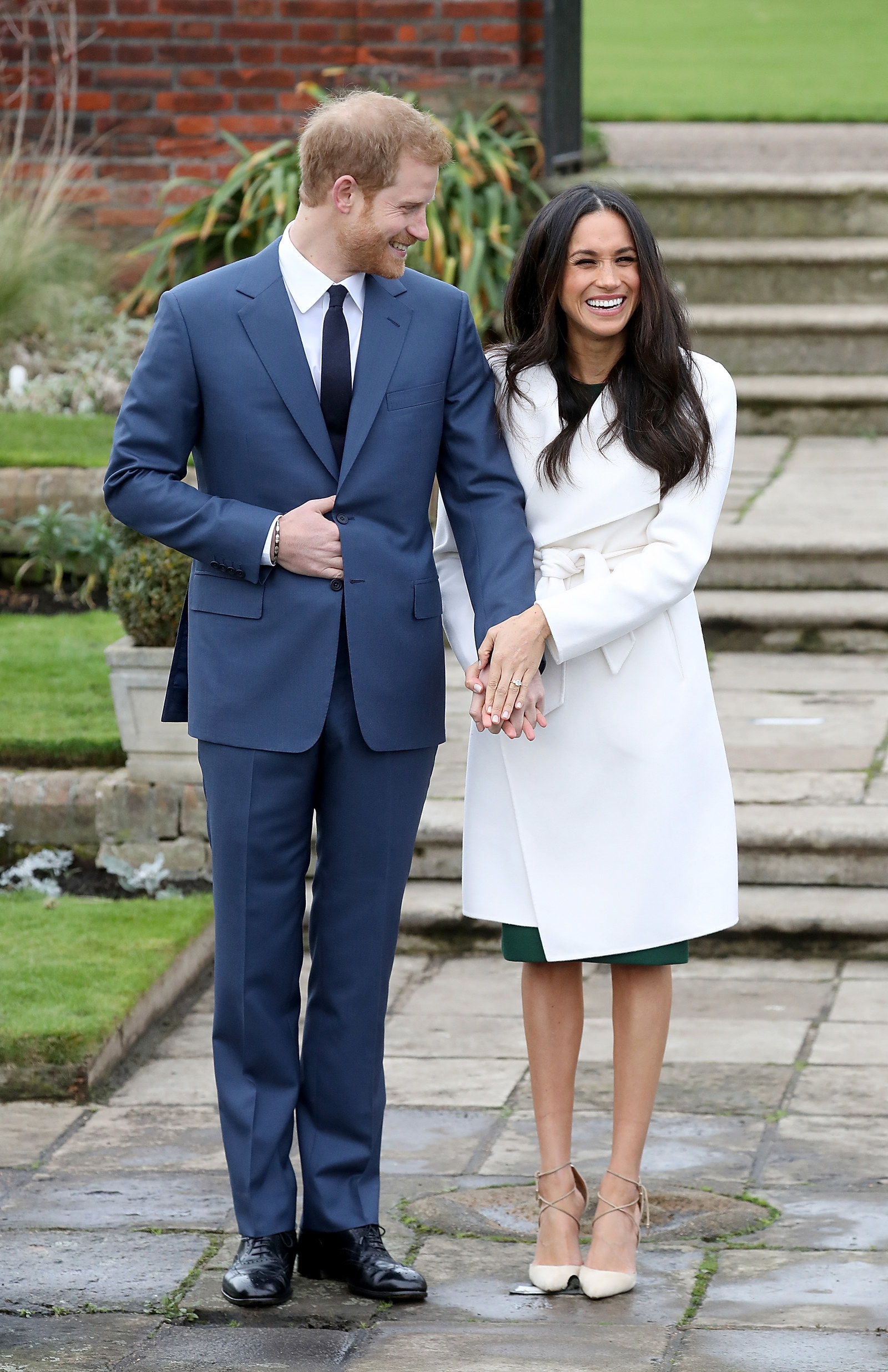 In the Vanity Fair cover story, Markle described the fifth in line to the British throne as her "boyfriend" and talked about how they kept their relationship private despite the intense media interest:
"We're a couple. We're in love. I'm sure there will be a time when we will have to come forward and present ourselves and have stories to tell, but I hope what people will understand is that this is our time. This is for us. It's part of what makes it so special, that it's just ours. But we're happy. Personally, I love a great love story."
The couple made their first public appearance that month, watching a wheelchair tennis event at the Invictus Games. The international sporting event was established by Harry for injured soldiers.
Markle attended a private primary school in Los Angeles, where she was born, before studying at the Immaculate Heart High School, a Roman Catholic school.
She attended Northwestern University, in Illinois, and studied theater and international relations. She will become the first American to marry into the royal family since Wallis Simpson, in 1936. She will become an HRH (Her Royal Highness) and a senior royal after the wedding. Markle was previously married to film producer Trevor Engelson.
In addition to acting, she is a global ambassador for World Vision Canada, a Christian humanitarian organisation.
Following their engagement announcement, the couple were congratulated by the British prime minister, Theresa May. In a statement, May offered her "warmest congratulations" to the pair.
"This is a time of huge celebration for two people in love. On behalf of myself, the Government and the country, I wish them great happiness for the future," she said.
The archbishop of Canterbury, Justin Welby, also said he was "absolutely delighted" to hear the news: "I wish them many years of love, happiness and fulfilment – and ask that God blesses them throughout their married life together."
The Labour leader Jeremy Corbyn also congratulated the couple. "I hope they have a great time and great fun together," he said. Corbyn, who said he had met Harry "a couple of times", felt "sure they're going to have a great deal of fun together".
"I really do admire the way Harry and his brother are actually drawing attention to mental health conditions all across the country," he said. "So I wish him well, thank him for what he's done on mental health, and I hope they have a great life together."