On Friday, the official account for the U.S. Marine Corps Forces Special Operations Command (MARSOC) tweeted a Martin Luther King Day-themed warning.
The posts were quickly removed from both pages when commenters began to question if the messages were in good taste.
Although the Facebook page and the Twitter account are not verified, both are officially associated with the U.S. Marine Corps.
Both accounts are linked on the official recruiting website MARSOC.com, which was launched in June 2013 "to entice more Marines to apply to become operators or support personnel within the organization," according to a Navy Times report.
Update - 1:30 p.m.: Marine Corps Command apologized for the tweet via the same Twitter account.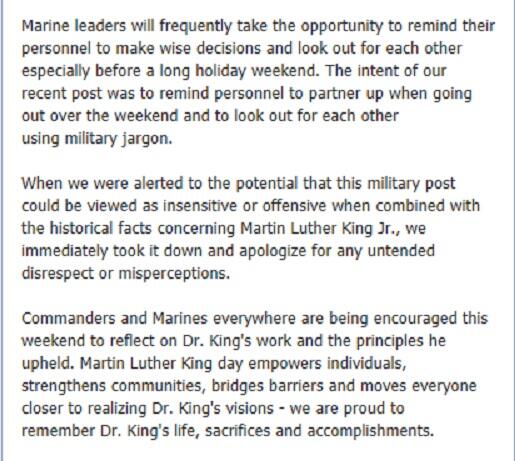 Ellie Hall is a reporter for BuzzFeed News and is based in Washington, DC. Her secure PGP fingerprint is 6055 A264 DADD AADC 347E 5986 547C C11C DD7D 176A.
Contact Ellie Hall at ellie.hall@buzzfeed.com.
Got a confidential tip? Submit it here.