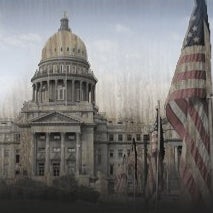 The Idaho Court of Appeals ruled Tuesday that a prosecutor interjected race in the closing arguments of a case against a black man — who was subsequently convicted of sex crimes against two white minor females — by quoting lyrics from the Confederate anthem "Dixie."
In a unanimous opinion, Judge Karen L. Lansing described the song as an example of "pernicious" racism.
"This prosecutor may not have intended to appeal to racial bias, but a prosecutor's mental state, however innocent, does not determine the message received by the jurors or their individual responses to it," Lansing wrote. "An invocation of race by a prosecutor, even if subtle and oblique, may be violative of due process or equal protection."
James D. Kirk, 46, was arrested in August 2012 for allegedly engaging in sexual conduct with two girls, age 13 and 17, in a hotel room in Nampa, Idaho. Both girls were runaways from a group home for at-risk young women and both were white — a fact that would later become important. Kirk was charged with lewd conduct with a minor under 16 and sexual battery of a minor 16–17 years old.
In her closing arguments at the end of Kirk's trial in April 2013, Canyon County Deputy Prosecutor Erica Kallin paraphrased the song "Dixie," using it to urge the jurors not to "look away" from the state's evidence:
"Ladies and gentlemen, when I was a kid we used to like to sing songs a
lot. I always think of this one song. Some people know it. It's the 'Dixie' song. Right?

'Oh, I wish I was in the land of cotton. Good times not forgotten. Look away. Look away. Look away.'

And isn't that really what you've kind of been asked to do? Look away from the two eyewitnesses. Look away from the two victims. Look away from the nurse in her medical opinion. Look away. Look away. Look away."
According to court documents, the defense attorneys did not object to Kallin's use of the song during the trial. Kirk was found guilty of both counts and sentenced to 20 years in prison.
After the trial, Kirk filed an appeal citing the use of the song, saying that Kallin had "unconstitutionally tainted his trial because the alleged victims were white and he is African-American."
In an opinion filed Dec. 19, the Idaho State Court of Appeals agreed with Kirk and overturned his conviction, sending it back to Canyon County for another trial.
"This Court does not require resort to articles or history books to recognize that 'Dixie' was an anthem of the Confederacy, an ode to the Old South, which references with praise a time and place of the most pernicious racism," Lansing wrote in the opinion. "The prosecutor's mention of the title, 'Dixie,' as well as the specific lyrics recited by the prosecutor, referring to 'the land of cotton,' expressly evoke that setting with all its racial overtones.
"Nothing in the record suggests that the jurors harbored any racial prejudice or that they were actually influenced by the prosecutor's recitation of 'Dixie,' but the risk of prejudice to a defendant is magnified where the case is as sensitive as this one, involving alleged sexual molestation of minors."
Canyon County spokesperson Joe Decker told the Idaho Statesman that the county will retry the case if the Idaho attorney general doesn't appeal the ruling.
Read the full court decision here:
Download PDF
Via idahostatesman.com