A person in Chico, California, posted an unintentionally hilarious post on Craigslist after a wild night out.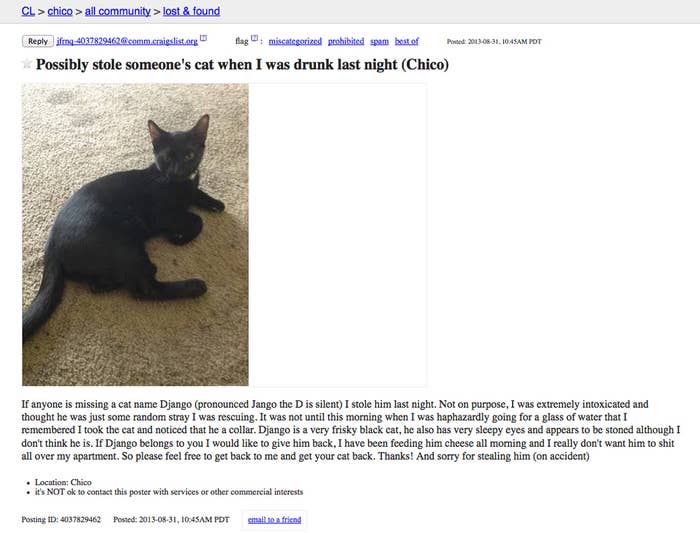 If anyone is missing a cat name Django (pronounced Jango the D is silent) I stole him last night. Not on purpose, I was extremely intoxicated and thought he was just some random stray I was rescuing. It was not until this morning when I was haphazardly going for a glass of water that I remembered I took the cat and noticed that he a collar.

Django is a very frisky black cat, he also has very sleepy eyes and appears to be stoned although I don't think he is. If Django belongs to you I would like to give him back, I have been feeding him cheese all morning and I really don't want him to shit all over my apartment. So please feel free to get back to me and get your cat back. Thanks! And sorry for stealing him (on accident)
A deleted Chico Craiglist post from mid-August also mentions a runaway cat named Django, so it seems likely that this is legitimate.

UPDATE - In an email exchange with BuzzFeed, the original poster confirmed that Django was returned to his owner.
"Oh and by the way everyone thinks a guy took the cat but I'm totally a girl. So if you could be sure to include that that would be awesome."