A young woman with dangly pearl earrings, a high ponytail, and a slick pop of cherry red across her lips is admitting that a man she once thought was her boyfriend dumped her at a bus stop.
The woman, Honey, is perched on the counter of a cramped kitchen somewhere in east London, surrounded by four other women. She is talking, however, to the opposite end of the room, where five young men are listening intently as her tale takes an unexpected plot twist: "He stands me at a bloody bus stop and he goes to me, 'Oh by the way, I have been cheating on you with this chick who...' – it's not finished yet – '...who I'm going to go and see her parents and propose to her…"
But before she can finish, a young man called Gogo, now quite literally on the edge of his seat, jumps in with this blunt assessment: "You were the side ting! Let me just tell you, you were the side ting!"
The room explodes into chaos. There's laughter. There's shouting. But no one is shouting as loud as Honey, who very quickly is on her feet, mic pack in hand, furiously dismissing appeals to calm down. "I'm not going to calm down!" she screams. "I'm not going to have someone telling me I was a side chick when I wasn't a side chick! I was not a side chick so do not chat to me! You don't know me! Don't chat shit to me! I wanna get out! Can I get out, please? I'm done with this bullshit. You're disrespecting me!"
As she storms off set, the cameras keep rolling. After the video is uploaded to YouTube on 16 November 2016, it goes ridiculously viral. On the same day, another clip from the same video is also blowing up online.
In it, a young man called Lucas is explaining how he'd speak to his hypothetical girlfriend if she had found out he'd been unfaithful. "You won't know. But if for one stupid reason, you do know, d'ya understand? Like, I don't want noise," he says, shouting towards the young women on the other side of the kitchen. "And this might be the African in me, this might be the culture in me, but you're not going to come and now still belittle me because I made a mistake, because I am still a motherfucking man! There is a million and one girls out there that are badder than you! So if I cheat on you... Let me finish! Let me finish! I want to shut down this show that you've got!... If you're making all this hoo-ha, like babe, I will fuck you, pretend to you, lie to you, diss you out of your three-month contract and go to your bredrin because you told her I got that dope D!"
Social media went into meltdown as women lost their collective shit. Both videos were furiously shared on Twitter, on Instagram, and on private Facebook and WhatsApp group chats as people waded in: Was Honey the side chick? Or was she being unfairly ganged up on? Was Lucas the biggest fuckboy to walk the earth? And, hold on a second, exactly who are these people and where have they come from all of a sudden?
A star had truly risen. Its name was BKChat LDN.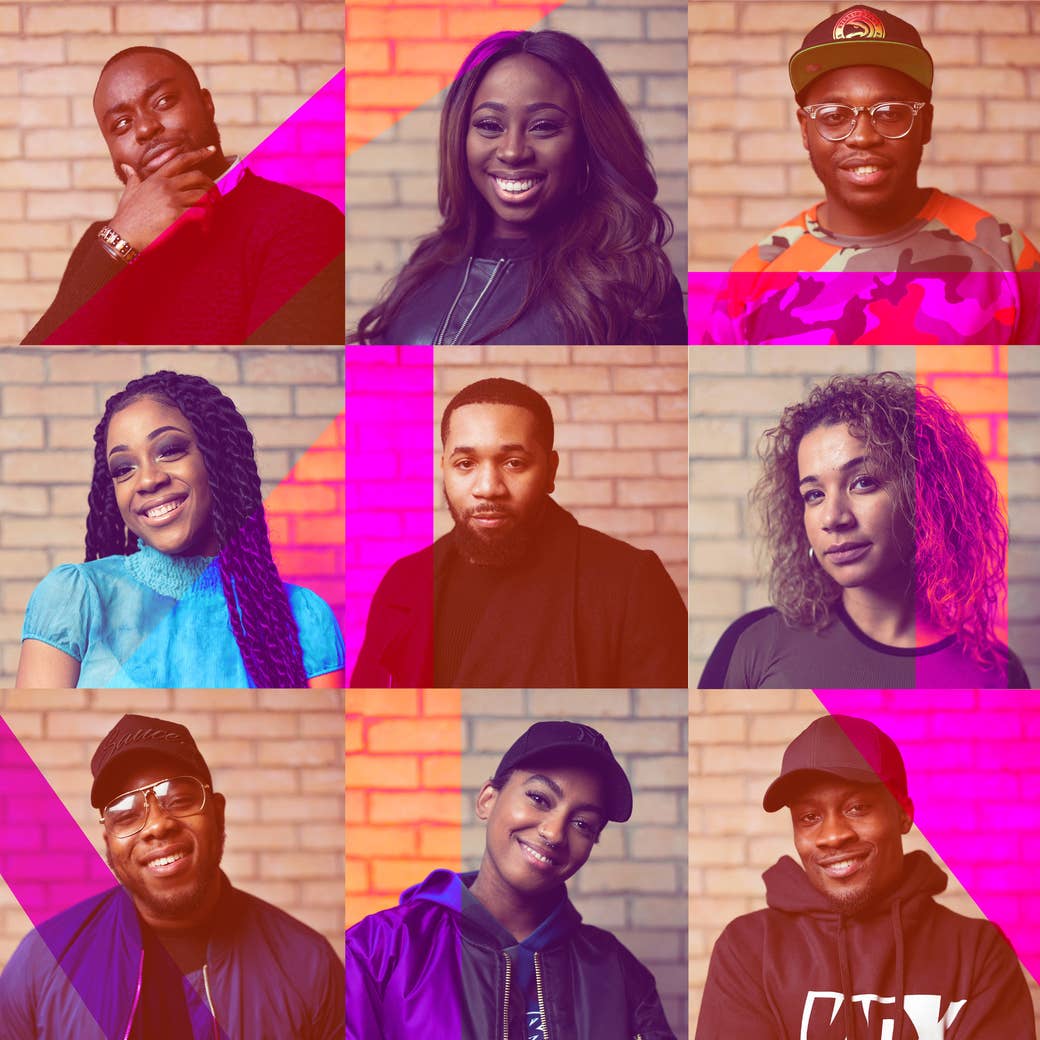 BKChat, an online debate show, is totally unscripted. The cast, which varies from week to week, consists of five men and five women. The two groups take turns sitting or standing on one side of the room. Producers hand them a question on a piece of paper, the cameras go on, the question is read out, and the fireworks start. Topics so far have included infidelity, plastic surgery, "body counts" (the number of people someone has slept with), who should pay on the first date, abortion, and what it's like when your partner earns more than you.

Since its debut in November, BKChat has been one of the most divisive topics among young black Brits who would be hard-pressed to find anything on mainstream television that reflects their lives so closely.
In the same way that Brexit has drawn battle lines between the so-called liberal elite and the rest of the country, the show has split the many subcultures that constitute Black Twitter, arriving amid a climate where people are pushing back against political correctness with ideas polite society would rather went unsaid. It is the scourge of feminists, alternately obsessed over and despised by black intellectuals but loved by the masses, or, as one critic harshly described its fans, Gucci Belt Twitter.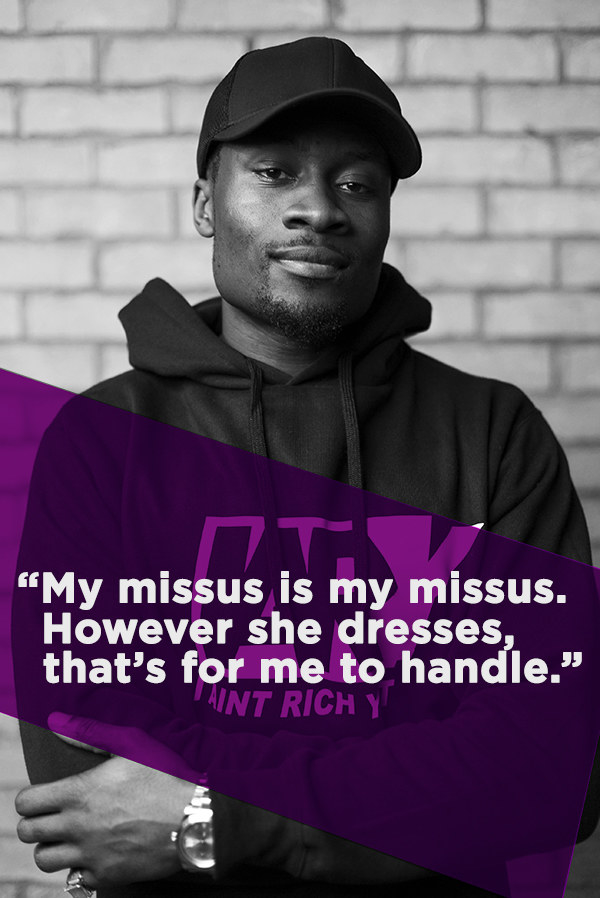 The show has reignited debate about respectability politics and shed light on the struggle of the children of migrants who exist in a space between their parents' culture and the British society they've grown up in.
In January, it was also thrust into controversy around colourism when a cast member, a model called Mimi, was exposed on Twitter for making derogatory remarks about dark-skinned black women. Within the space of a few hours, Mimi was trending, and in response BKChat put out a statement condemning the comments and dropped her from the show. It prompted Mimi to release a public apology, in which she admitted losing a modelling contract as a result.
Through all of this, BKChat has racked up millions of views and 100,000 subscribers on YouTube. The now-infamous pilot, "He Broke Up With Me At A Bus Stop!" – better known as the Honey episode – has more than 600,000 views on YouTube alone. To put those figures into perspective, Channel 4's teen soap Hollyoaks pulls in on average 800,000 viewers to its daily shows on a significantly bigger budget.
BKChat, on the other hand, is a self-funded independent production that relies almost entirely on the savings and goodwill of its unpaid crew to meet the commitment of releasing a regular episode every Wednesday at 8pm. They attempted to monetise the series with YouTube adverts quite late in the game, and are just starting to see some small returns, but "nothing significant" yet, the man behind the show tells BuzzFeed News.
Andy Amadi, the creator and director, is a British-Nigerian film and TV graduate from Brunel University who conceived the show in 2015 and started filming it in January 2016. Inspired by American reality shows like Love & Hip Hop, the 27-year-old self-taught director (his course was mostly theory) was driven to make something as engaging but for a British audience.
BKChat is not Amadi's first show. His previous effort, an online drama series called Spin, flopped, he says. "It was very inconsistent," he tells BuzzFeed News. "So we lost a lot of fans quite quickly. I was determined to put something else up that people can enjoy and be entertained by and maybe be educated at the same time – more entertainment, to be honest with you."
He says the Honey episode was when he realised he had a hit on his hands. "We'd been filming before that, so she understood the intensity," says Amadi, "so I still don't know why that particular exchange riled her up so much. Perhaps the story she was trying to tell was still really raw, and she just seemed so genuinely upset. It was at that point that I realised to myself that this, this thing that was unfolding in front of our eyes, was what they mean by reality TV.
"At first I was thinking we'd have to cut all of it out, and then I thought, hang on a second, we have to be strategic. This is gold, this is TV gold, and this is real... We had no idea she was going to tell that story and how it would end."
Honey, who is 27 and of Iranian heritage, has since quit the show and fallen out with the crew. She told BuzzFeed News she feels her meltdown was exploited by producers to create a buzz about the show. "I only told a story, I didn't edit the footage, I wasn't the one staying awake all night like Andy to get it ready, so I can give credit where it's due, but I feel like I'm not getting credit in return."
She says her appearance has had a negative impact on her life and she feels defined by a clip that doesn't represent the fullness of her character. "People call me 'that girl from BKChat', but 'that girl from BKChat' had a life before BKChat," she says.
"I am a hardworking person. I was doing TV before BKChat. BKChat did not make me. I teach kids science after school. I am bringing out my own fashion label." She says the rage that resulted in her storming off set had been building up throughout the course of filming, particularly when she clashed with Lucas over Iranian beauty standards. "He tried to tell me about my own country," she says. "I really started to feel like an outsider."
Amadi told BuzzFeed News that he has always treated all the cast members the same but declined to comment further, beyond wishing Honey well.
"It was at that point that I realised to myself that this, this thing that was unfolding in front of our eyes, was what they mean by reality TV."
He understands why people have strong reactions to his show, but admits it's part of his strategy. "The UK audience is very, very unforgiving with things that people put out there. The only way they can respect a show is if they are hating it, screaming at the screen, and wanting to have input," he says. "It might sound boring when you're talking about debates and stuff but, really and truly, when people have arguments and it's based on real life it's not boring."

Another of the show's sticking points is that it seems like whatever the subject, it's the women – or "females", as many of the BKChat men refer to them – and their behaviour that come under scrutiny from male cast members.
In a thinkpiece for FWRD, male poet Malakaï Sargeant writes that Lucas, the main target of the internet's wrath, is an example of a type of man who "is unable to process that the battle of male dominance and sheer desire to have the last word is undeniably chauvinistic and demeaning, whilst simultaneously adopting a preacher-like delivery in order to convince themselves and those around them that what they are saying is gospel."
Lucas, 28, is a manager at a large UK firm. He rejects the idea he is a sexist and says anyone who knows him knows he "loves his women", including the two sisters he adores. "I don't see myself as the villain of the show," he says, looking slightly offended at the suggestion. "The first week was a baptism of fire for me – I was surprised that so many people didn't understand what I was saying."
Even Honey, who clashed with him, describes him as someone she felt she could turn to with her problems, adding that there is more to him than meets the eye.
Lucas says he regrets nothing he has said and that, in fact, many of his views have been reinforced. Ironically, for every woman calling him the quintessential Yoruba demon, there are two more sliding into his DMs to proposition him. No one claimed the patriarchy was simple.
"Yeah, the DMs are mad. Thank god, I am a reformed savage," Lucas admits, with a coy laugh. "But I have learned that everyone has their own reality. I thought everyone wanted to meet the perfect one, have kids, and live happily ever after, and I now realise not every woman thinks like that, so it has challenged me. I'm starting to see how women in 2017 see things."
Amadi doesn't deny the things said on the show might be sexist, but says this reflects society. "The show allows you to better understand how young people actually think and the one thing I never wanted to do was police that, so I have never, ever, ever controlled what they say or how they say it or said, 'This is too much.' I don't edit the swearing out either, because I want it to be their natural response.
"It's a psychological thing at the end of the day; if you allow them to do this they will feel more comfortable talking about their problems and not everybody is brave enough to do that straight away... People can call out Lucas for being chauvinistic but that doesn't change the fact that these people exist."
"I thought everyone wanted to meet the perfect one, have kids, and live happily ever after... I'm starting to see how women in 2017 see things."
He laughs when asked if he bears responsibility for the alleged sexism given he helps write the questions that frame the debate. "It's a strategy. It hasn't stopped women tuning in; 60% of our viewers are female, according to the most recent stats." His core team includes a number of women with key roles, including casting and production manager.

Amadi points to another web show, Heels Off, which involves a group of young women discussing issues that matter to them but is far less popular than BKChat. "Their production is really nice, but what they're missing, for me, is realism," he says. "To me, it's a group of girls trying to act grown up and I don't think it's a reflection of real London. People don't identify with it – they want you to give them something that shows the people they see when they leave their houses who are going through the things they are going through and, yes, that includes conversations about someone's body count."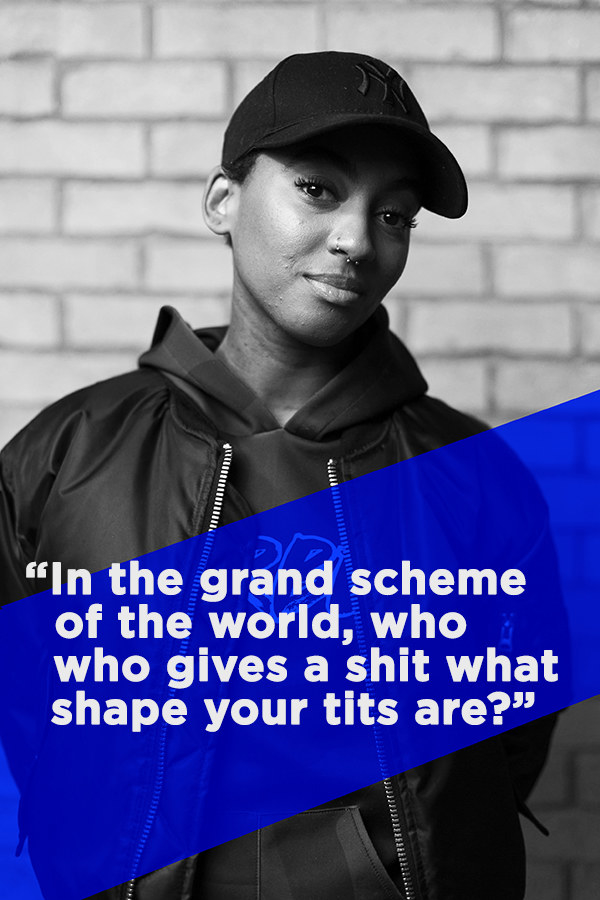 The one thing that does infuriate him is accusations that the cast, which includes third-year Cambridge University student Nissy, are not intelligent. "I find it really offensive," Amadi says. "The majority of the cast have good degrees, so just because they don't share your opinion does not make them uneducated. Our critics say we discuss small-people problems; no, we discuss human problems."
Gogo, 27, a creative consultant for a popular internet company, agrees accusations of sexism are unfair. "I don't think the show is set up to scrutinise women. I always try to answer the question from a male perspective and say things like, 'Well, if this was a guy how would we react?'"
He adds: "Chioma [a female cast member] has told me to shut up during a debate and women were rejoicing on Twitter, so there's a double standard there." That particular exchange, in which British-Nigerian Chioma switches from English to Igbo to tell Gogo to "shut up", prompting him to reply in their shared language to "watch herself", underlines BKChat's representation of thousands of young British-Africans across London who have the ability to speak in English, as well as languages like Yoruba, Hausa, Twi, Gaa, Somali, Shona, and Ligala.
The entire cast, which is predominantly British-Nigerian but also includes people from other backgrounds like Ariete, of Angolan heritage, signals the changing demographic of Britain's black community. Once upon a time, "Black Caribbeans" were the dominant group, but the 2011 census shows that "Black Africans" now make up the majority.

"Our critics say we discuss small-people problems; no, we discuss human problems."
Nonetheless, Gogo thinks BKChat is giving people a platform to discuss issues everyone can relate to. "Every creative project has a purpose – this show doesn't claim to be the voice of reason, it's a place for men and women to share opinions. You can't listen to criticism that we should debate more serious stuff because that was never the plan. If you want that show, go and create it. Question Time isn't EastEnders, but there is room for both. That's my biggest annoyance: You can't please everyone, yet everyone expects everything from us."
One of the show's most loved stars, 26-year-old teaching assistant Azryah, who has won plaudits from other women for being a level-headed voice, thinks BKChat is right to broadcast even the most distasteful views. "If you want people to speak honestly you have to be willing to listen and take on board what they're saying. People say they want honesty, but when they say what they think, you shut them down. As much as I love to go around calling people stupid, it's counterproductive to treat them as such because there's no room for growth or better understanding. I feel like on social media, Twitter specifically, there's a lot of that: Everyone is so ready to fight all the time."
She continues: "There is a gender war that is ever-present now and no matter what we discuss it somehow comes down to men versus women; I feel like that is an undercurrent of our generation at the moment, and people pick up on those things more than necessary.
"There are things that the guys say that make me roll my eyes, but they have never disrespected me or made me feel any kind of a way because I am a woman. When we are debating, as much as they are addressing us, they are not talking about us, so you learn not to take things personally."
While Azryah is admired, her fellow female cast member, the glam, loud, and equally straight-talking Esther, 25, has proven to be Marmite. She receives regular online abuse for apparently wearing too much makeup and is accused by other women of siding with the guys for attention.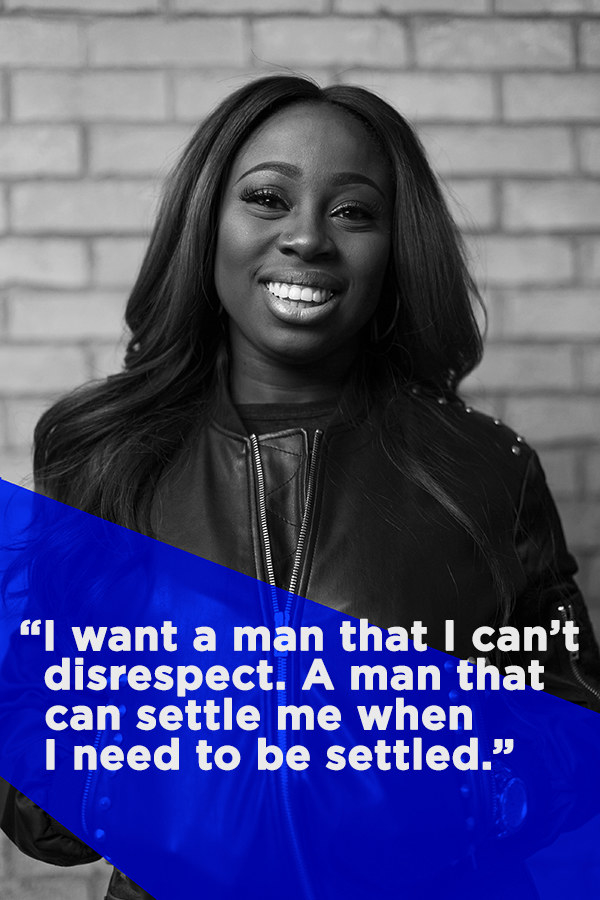 Drama graduate Esther, a hardworking single mother of a daughter she calls "the love of her life", works full-time as a housing assessor for homeless people, as well as running her own makeup artist business and selling and colouring hair extensions on the side. She also spoke eloquently in a Channel 4 News segment about the need for equal pay. In a fierce debate on abortion, she was a powerful voice on a woman's right to choose and exposed herself to scrutiny when she confessed she had undergone plastic surgery.
When it is suggested by BuzzFeed News that she might be a feminist, Esther seems flattered if not a bit shocked. "Everyone always tells me I am so often on the man's side that I might as well take a seat with the men. Am I feminist? I think I'm a diplomat. I try to always look at both sides and whatever I say is based on my opinion. Abortion is a very sensitive subject and, whether a man likes it or not, it is a woman's choice. But there might be other subjects where I think, Hang on, the men have a point here."
Since opening up about her surgery, Esther says a lot of women have been reaching out to her for advice and saying she has inspired them. "In the black community, surgery is frowned upon. Why? It's 2017 – the world has evolved, things are changing, and the younger generation is becoming more open-minded.
"A lot of young women are doing surgery in secret, a quick fix in a foreign country… I wanted to create awareness of the risks and encourage women to make sure they were doing this for themselves, not for someone else. I remember asking women who had obviously had surgery and they denied it point-blank. Who am I to judge if you don't want to tell the truth? I'm happy to be open about it."
Esther says she was motivated to sign up for the show to open up conversations about things like safe sex.
"To go back to the abortion episode, growing up no one discussed sex with me and said 'if you do this you will bring back a baby'. Now parents are watching BKChat and their eyes are opening, like, wow, this is what our kids are going through. My parents grew up in Nigeria and my life is so completely different to theirs. I have siblings, and I take it upon myself to educate them about sex in a way my mum never did. My parents weren't wrong, this just wasn't their upbringing and they don't understand the situations my generation would go on to face."
The BKChat team is now preparing for a second season and Amadi tells BuzzFeed News there has been some interest from mainstream broadcasters in putting it on TV, which he says should be a "no-brainer" for executives who want to reach a young audience.
In a bid to increase diversity and refresh the cast of characters, they held open auditions for the new series that attracted more than 150 people. "I was saying to my crew that no one was going to turn up, but there was a queue before we got there," Amadi says. "It was truly overwhelming seeing all of these people come out because of something we have done.
"I saw all sorts of people – road guys, people who live fairytale lives, different hair colours, different sexualities – and they were all united by a passion to use their voice. I said to myself, Wow, we really did this. And it was really touching."
Despite the highs, Amadi says the required commitment of putting on the show is very hard on his family, which includes a baby daughter, but says the sacrifice will be worth it if he can make a success of it: "I do believe on a Wednesday at 8 o'clock [when BKChat is uploaded] people have set their schedule to watch the show and moved their day around so they can fit that in."
He adds: "None of this would be possible without the team I call the Creatives. We're a group I put together of music managers, videographers, editors, technicians, and when you have a project you put it out there and they, if they can support you by lending their skills, they will.
"I've been on the grind since leaving uni and every day has been a learning process. This industry is so, so hard and sometimes you feel like a ghost. Executives are so reluctant to take a chance on your ideas. More than anything I'm proud I have put something out there independently that I can be a part of something that creates opportunities and brings people in. This is a platform that people actually tune in to. I sit down and I don't get it; it's a no-brainer for commissioners, so what are you waiting for?"
The new season returns with a refreshed cast to the show's YouTube channel today, 1 March, at 8pm. For anyone who is easily offended, that old hackneyed phrase still stands: If you can't stand the heat, you might want to avoid the kitchen.