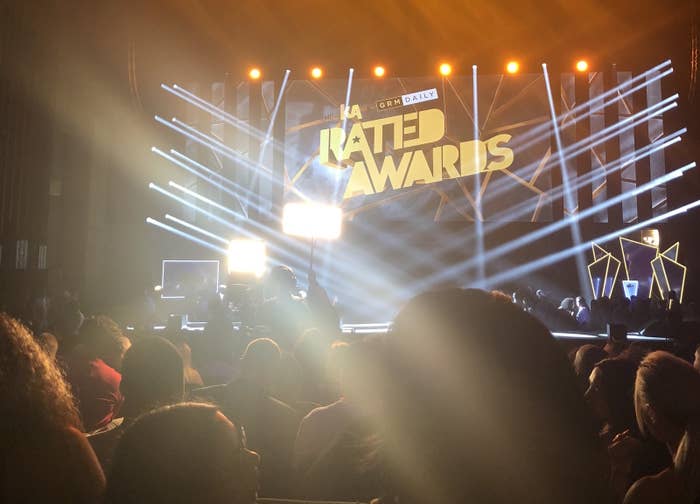 A 37-year-old man was stabbed at an awards ceremony celebrating the top talent in the UK's music industry on Tuesday night.

Police were called to the Rated Awards at the Eventim Apollo, in Hammersmith, west London, following reports of a man suffering stab wounds.
The victim, believed to be a music artist, was taken to a nearby hospital where he remains in serious condition.
The incident threatens to overshadow the event cofounded by GRM Daily, which is now in its fourth year and is set to be broadcast on television for the first time on Channel 4 this Friday.
The high-profile ceremony was attended by stars including US producer Swiss Beatz, UK rapper Skepta, duo Krept and Konan, and Oscar-nominated actor Daniel Kaluuya.
Officers were called to the scene at 9:10pm, shortly before singer Ray BLK took to the stage at approximately 9:18pm for a stunning performance calling for an end to knife violence, which won huge praise from the audience.
The singer's performance of "Run Run" began with the sound of a heartbeat, while behind her a display showed the words "Over 40,000 offences involving knives have been reported across the UK up to March 2018."
Her powerful performance also included the message that "80 violent murders have been reported in London alone this year and over 1,000 stabbings."
Ray BLK was joined on stage by several young men with their ages written on their chests.

A London Ambulance Service spokesperson told BuzzFeed News in a statement: "We were called at 9:17pm yesterday to Queen Caroline Street, Hammersmith, to reports of an incident.
"We sent an ambulance crew, an incident response officer, and a single responder in a car to the scene. We also dispatched London's Air Ambulance response car.
"We treated one patient and took them to a major trauma centre as a priority."
Guests who attended the event, which has a capacity of approximately 3,600, reported that security had been tight at the venue, including bag searches and sniffer dogs.
In a statement, a GRM Daily spokesperson said: "Violence has no place at the Rated Awards and we are devastated that someone has been hurt. First and foremost our thoughts are with the victim.
"The safety of attendees is our primary concern and stringent security measures were in place to ensure this. We are assisting the police with their ongoing enquiries and will work closely with them, the venue and the security team to understand how this happened."
A Channel 4 spokesperson responded to a request for a comment on whether the incident would affect the scheduled airing of the award show or any future plans to work collaboratively.
They said: "We are planning to broadcast a highlights programme of the awards. This is a one-off commission and no decision has been made regarding any more. We are aware there was an incident away from the filmed performance area, which we understand is now the subject of a police investigation."
The Metropolitan Police said no arrests have been made.