1.
Some interlocking Teak tiles you don't need tools to install but will LOOK like you paid someone to install. Talk about an upgrade!
Promising review: "Living in Hawaii you have to select wise items that are weather-, salt-, and red dirt–proof, etc... In total I ordered 11 boxes to complete my yoga deck. I have a few left over to make steps on the back. Very pleased and happy. May order more for an outdoor shower project!" —Adazzle
Get 10 sq. ft from Amazon for $77.99.
2.
A power washer to give you an oh-so-satisfying "after" when it comes to stained and worse-for-wear concrete surfaces. (And the same goes for fences!)

3.
A weather-resistant cedar pathway sure to look much lovelier beside your garden beds than the worn-down dirt that happened last summer when everyone paused a little too often to admire your hydrangeas.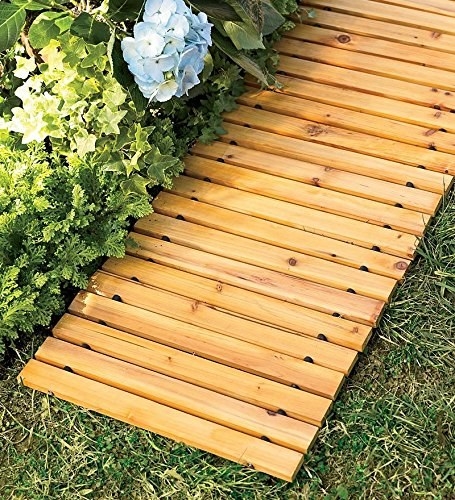 Get an 8-foot path from Amazon for $67.85.
4.
Some smol picket fencing (1 foot tall!) you can place around your prized garden beds to deter kids and pets from getting into them.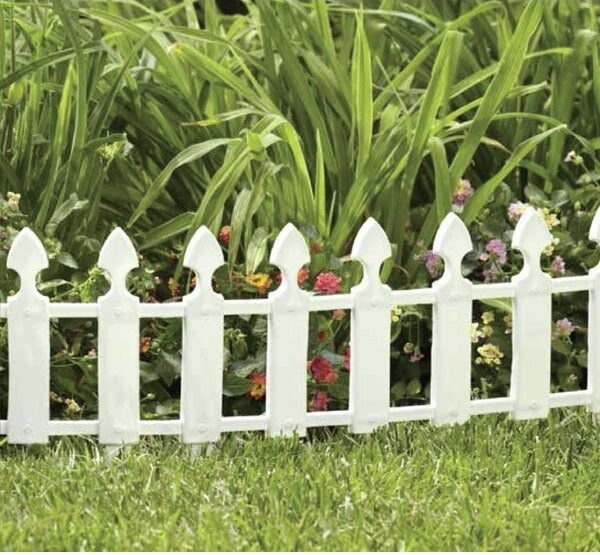 Promising review: "I have been looking for fencing to keep skunks out of my 'patio pond'....this fit the size, is good quality and is 'flexible' enough to bend around corners. Problems with the way they attach to each other but that seems to be common to these types of fencing. The manufacturer should look into some sort of clips to keep the pieces connected......decent price for as many as I got!" —Roseann from Dayton, OH
Get 18 composite pieces from Wayfair for $38.99.
5.
A nice-looking shed for easily stashing recycling bins, bikes, a lawnmower, and other hefty tools you have no other place to store.
Promising review: "Good quality. Easy to assemble. Parts are individually bagged and labeled. Holds two 32-gallon round barrels — which is what I wanted it for. Very compact, which was a factor for where i had to put it." —Joe in Brooklyn
Get it from Amazon for $319+ (available in two sizes). Also check out a similar shed in several sizes to find the right one to fit your space and needs.
6.
A lighted umbrella that'll tilt (literally) to your whims and give you the right amount of shade and light when/where you want it. Your backyard time just extended by a LOT. 
Note that this includes just the umbrella, not the table!
Promising review: "I normally don't like buying products like this sight unseen, but I'm very pleased with the look and especially with the solar lighting. We enjoyed a pleasant evening on the deck with just the right amount of ambient light tonight, and we are hopeful that it will prove to be durable." —Dee Williams
Get it from Amazon for $71.99 (available in five color combos).
7.
And a net for your patio umbrella as an ~extra layer~ so you can sit and survey your kingdom, even if mosquitoes have infested it.
This fits umbrellas as large as 9 feet.
Promising review: "We like sitting outside and having dinner, but flies and bugs made it impossible to enjoy a meal in peace. Given that a large canopy with netting or an enclosed sun room isn't in the budget, I went looking for other solutions and gave this a shot. There's a learning curve getting it set up and it's a little tricky for one person to get it on the umbrella, raise the umbrella and clip it into place, but once it's all sorted out, it's FANTASTIC!!
I'm glad I took the advice to order the clothes clips other reviewers recommended. I ended up clipping one on each side of every umbrella spine, and one or two in the middle of each span of cloth between the spines and it's holding well. We take the umbrella down and bring it inside at night, leaving the screen attached and bunched around the base of the umbrella. I'm also glad I followed the other reviewers and didn't add sand or water to the base. It's not really necessary and it would be a MESS to clean up. Someone suggested a length of chain, which may be a possibility, but so far we haven't needed any additional weight.
I do think we need to be careful not to snag the screen material on the backs of our chairs, which have a defined edge rather than rounded corners. Other than that, I am SUPER HAPPY with this purchase and have recommended it to others." —Kindle Customer
Get it from Amazon for $35.13+ (available in two colors and three sizes).
8.
A roll of faux ivy can easily attach to ugly wire fencing, railing, or a trellis to obscure a view you don't love. This is *far* easier than replacing that hideous fence you inherited with the house.
Promising review: "This is the second privacy screen I've purchased from Amazon. I have an area in my garden visible from the street. The screen hides all my gardening stuff (i.e. wheelbarrow, buckets, etc.). It truly looks like the real deal!!!" —soooz
Get a 94-inch X 39-inch roll from Amazon for $49.99+ (available in three sizes).
9.
And a vinyl privacy screen that won't be an eyesore like that AC (or another essential) it's hiding. 
10.
A double hammock you totally have permission to use just by yourself but would be great for two if you're feeling generous.
11.
Or a hammock with a mosquito net so you can kick back, relax, and take in some nature BUT not *too* much nature, amiright? It's made for camping but I think would look great in your yard. Meet your new reading spot!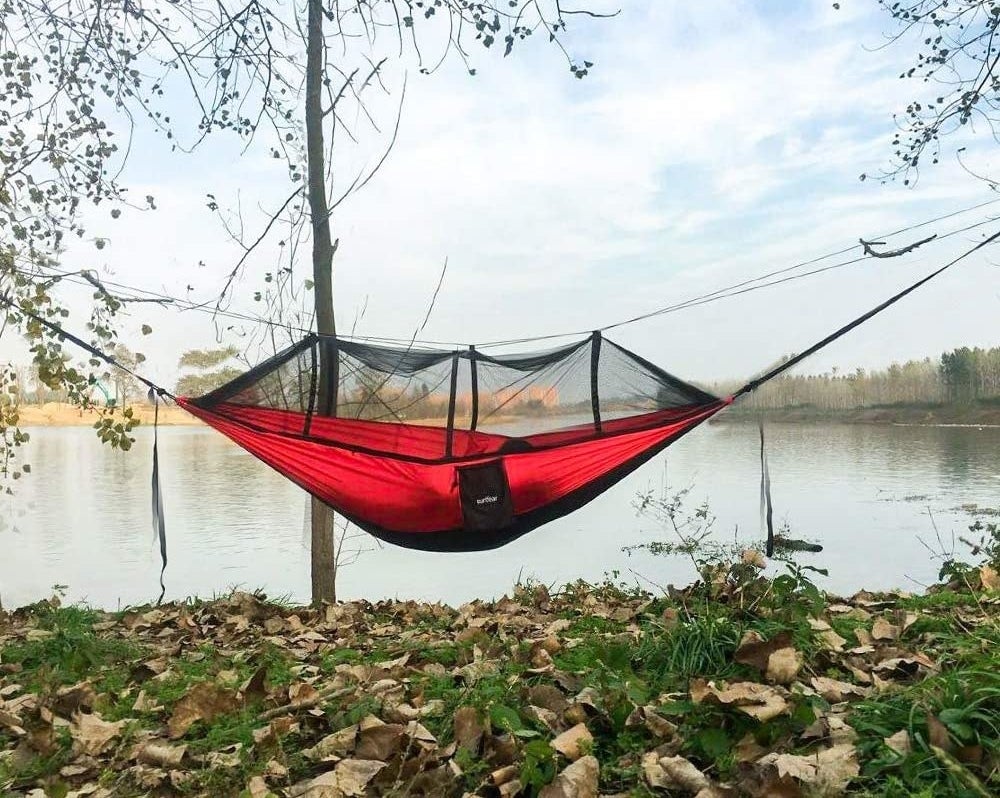 The net isn't removable but if you choose not to use it, you can flip it to the underside while in use.
Promising review: "We recently took two of these camping and they worked well. Hammock sleeping takes some getting used to. They are initially comfy but, depending on how you set it up, your legs can end up high which caused me to wake up a few times to adjust my sleeping position. The mosquito netting is a great add. Be careful getting into the hammock as one of the lines we used to hold up the netting was caught in our hand and snapped when the full weight of your body was applied. It's not really a product flaw, you just have to make sure you are only putting your weight on the sleeping surface and not the netting when getting in. Common sense really, just something to watch for." —Tony
Get it from Amazon for $29.99+ (available in 10 color combos).
12.
A pet wading pool to cool off in so every member of the fam can make good use of the great outdoors on your lil' patch of land! And in case you're wondering, yes, it's great for ducks.
Plus it isn't inflatable like other little pools, so you don't have to worry about your dog puncturing it. And while we're on the subject, check out hot weather pet tips from the ASPCA.
Promising review: "The perfect size for our golden retriever (80 lbs). Easy to open, unfold, fill up, and put away! Very happy I selected this model and size when searching for a pool for him." —Katy Ryan
Get it from Amazon for $28.99+ (available in two sizes).
13.
And a pressure-activated cooling pad you can keep in a spot right inside your door so your dog has a place to go for a quick cool down when they ask to come inside. It's 5–10 degrees cooler than room temp and reviewers say it also provides some relief for pets with joint pain.
Promising review: "I have a pug and a toy fox terrier/Chihuahua mix and they absolutely love this thing. I just leave it sitting on the living room floor and they gravitate towards it whenever they need to cool down (they sometimes even fight over it). Both fit simultaneously if they are in the mood for sharing the space. The mat is tough, too! I don't think their nails can penetrate it." —E Marsh
Get it from Amazon for $28.99+ (available in nine colors).