1.
A pack of laundry soap sheets you won't have to slip into your toiletries bag. This way you can save more room for souvenirs than three changes of underwear for every day of your trip. 

I travel just about any chance that I get and found a WHOLE lot of success with these little laundry sheets on an almost-three-weeks European vacation last summer where I carried-on only and rewore outfits several times. 
Promising review: "I saw these recommended on a travel blog, and I'm glad I bought them. I used them both in a washing machine and to hand-wash some items on my trip, and in both cases, they were super easy to use and got my clothes clean while taking up a minuscule amount of space in my luggage. I would highly recommend these for extended travel." —angal2
Get it from Amazon for $7.19+ (available in four other styles, including hand soap and shampoo).
2.
A set of Sea Bands with a little nub that targets the acupuncture point on your wrists meant to help reduce nausea. This'll be great in case you get motion sick in a budget-friendlier car, bus, or ferry ride.
Promising review: "These are amazing, as someone who has pretty severe motion sickness and carries Dramamine with me everywhere this is magnificent. I used these on an overnight cruise in Europe. The sea was particularly choppy that night and was miserable for me even with Dramamine and ginger. These did the trick! They were fairly tight on me (I am plus size) but the relief they gave me was immense." —Jena Freyermouth
Get a set of two from Amazon for $8.53 (available in adult and children's sizes).
3.
A cute portable charger can fit in your pocket or bag. And you can also easily use your phone while it charges! I've taken this on two international trips since purchasing, including a day trip to Budapest where I only had my purse. And it's my favorite charger to date for capturing adorable Christmas markets in Prague to breathtaking cliff views in Iceland. 

I bought this specifically for my weeklong trip to Europe in December when I knew I'd be taking a million videos of adorable Christmas markets. But! I keep it in my bag all the time, even when I'm not on vacation. I use Google Maps to get around NYC, and any New Yorker will tell you that when you leave your home on a quick errand at 10 a.m. on a Saturday, you may not get home until 3 a.m. because there's always something cool to do, and friends constantly reach out with impromptu plans. This little charger has saved me on several days while I'm out and about. No more need to bring your pal a phone charging cord when you're meeting for happy hour and searching the bar for stools near an outlet. 
Get it from Amazon for $29.99+ (available in five colors). 

4.
A fanny pack with a ton of storage room inside that has a long enough strap to wear crossbody *or* comfortably fit over outerwear for some hands-free adventures. And in case it looks familiar, TikTokers compare it to the Lulu waist bag. Yes I wore it in Iceland in February, but it'll come in handy during warm weather too!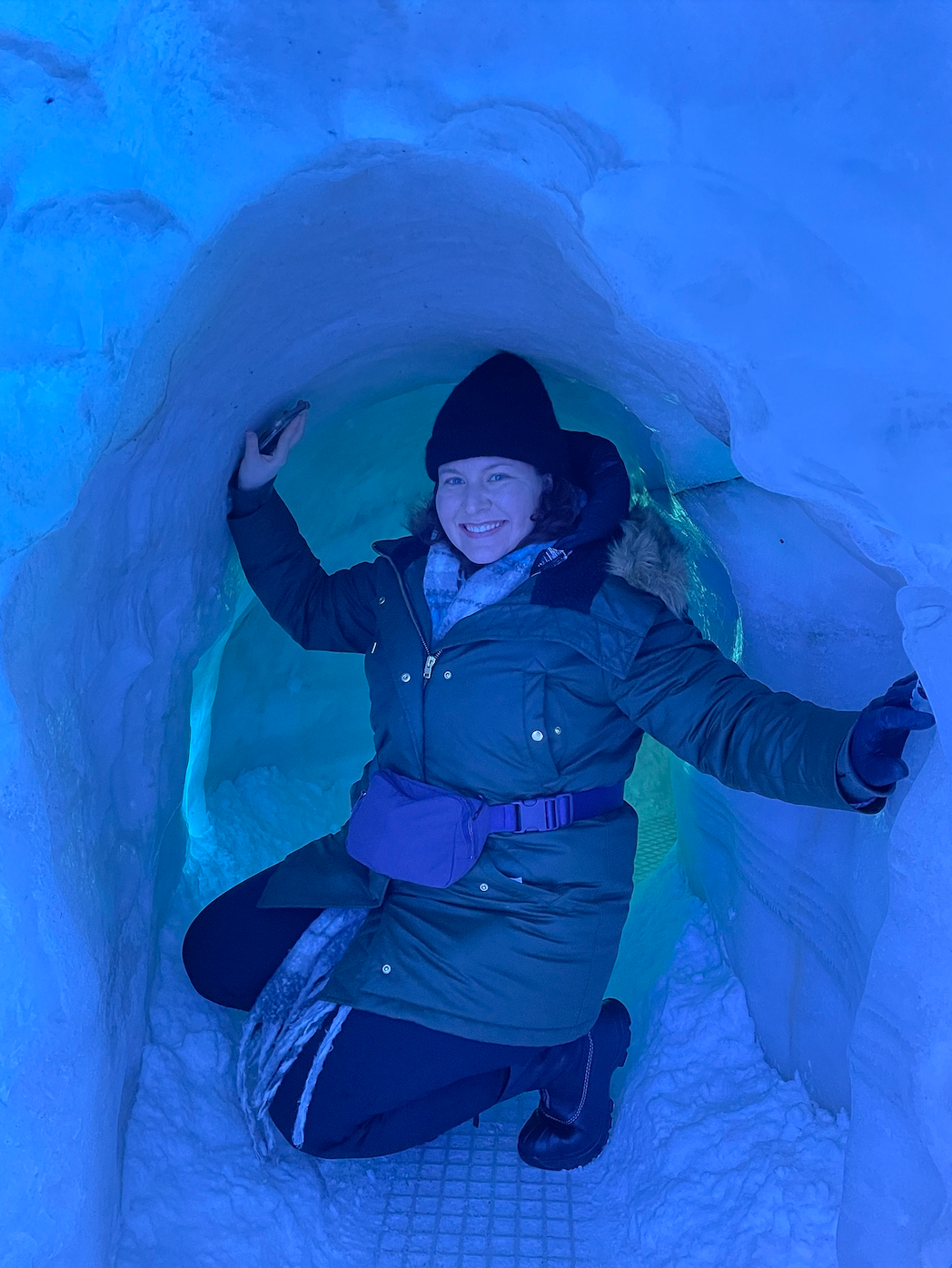 Elizabeth Lilly / BuzzFeed
I wear a size L/XL in clothing and sometimes waist bags just don't work out so well for me. With this one, I can confirm that it fit around my waist comfortably without outerwear, across my chest without outerwear, *and* over a thick coat and several layers. The pockets inside are so handy and I even had room to spare throughout my Iceland trip. This was the only purse I brought for the whole trip and it performed its job flawlessly. Just make sure that you zip the zipper ALL the way because the zipper goes down pretty far on the sides for easier access to contents. Having my hands free was wildly convenient for a number of reasons, including crawling around inside of an ice cave and putting out my hands for some extra balance while walking on sheets of ice along cliffs. Oh, and it comes in so so SO many colors. 
Promising review: "Bought this for a trip to Europe and it was perfect. Wore as a crossbody. It was comfortable and held a lot of things plus my iPhone Pro Max fit with no problem." —Maine
Get it from Amazon for $18.98 (available in 26 styles). 
5.
A digital luggage scale will make sure that you aren't slammed with an overweight luggage fee (ugh) or having to move stuff from your checked bag to your carry-on to avoid said fee (also, ugh). 
You can also switch between pound and kilogram measurements. 
I tested this digital luggage scale out when packing for a trip to Iceland — check out my demo of how it works on TikTok!
Promising review: "We used this on a six-flight trip across Europe and it made it easy to know that we repacked our bags according to the various weight limits. Some bags were a 10-kg limit and some were a 50-lb limit so it was convenient to switch back and forth between units (even though dividing by 2.2 isn't exactly rocket science)." —Robert
Get it from Amazon for $9.39+ (available in five colors and a two-pack).
6.
A portable door lock to attach to any regular old door for your hotel, vacation rental, room in a guest house, or, well, just any door. It's super easy to install and won't damage the door. It'll be a comfort for solo travelers, especially. 
Note: This can get flagged with going through security, so you may want to put it in an easily accessible place in your checked bag to be safe. 
Promising review: "I went on a solo trip to Europe and Africa and used the door lock to boost security. The lock fits and secures the lock. It's very easy to use. I would just suggest you watch the video and practice at home before your holiday." —Jaye
Get it from Amazon for $14.99+ (also available in a two- and four-pack)
7.
An anti-theft backpack because yes you should always be aware of possible pickpockets, but the main compartment's zipper facing your back will help you focus a bit more on La Sagrada Familia instead if your wallet is still in your bag. 
Not only does the backpack open from the inside, but it also has a phone pocket, document pocket, front zippered pocket, and an exterior side pocket. It's also made of nylon, so it's waterproof and has a strap to change it into a shoulder bag.
Promising review: "This is a must-buy for international travelers! I cannot say enough amazing things about this backpack. It's surprisingly spacious for how small the bag is, which makes it portable/practical and comfortable while having it on. This backpack lasted an entire trip through multiple airports and layovers, and all across our trip through Europe. It was amazing. Because the main zipper sat against my back, I never worried about getting my items stolen. But I also had the luxury of having the two front zippers that were also surprisingly spacious to hold nonprecious items such as water bottles or cheap sunglasses, etc. This backpack also is extremely durable. It was the perfect day pack to gather knick-knacks and souvenirs for friends and family and hold whatever I shoved in it! Can we also take time to appreciate how cute this backpack is as well! It went with all my outfits due to the neutral color and had the side strap if we went out to a fancy restaurant. I could easily turn it from a backpack to a purse in seconds! A MUST-HAVE!" —H Bradshaw

Get it from Amazon for $26.99+ (available in two sizes and eight colors).
8.
A 3D-contoured sleeping mask that'll let you comfortably bat your lashes awake like Sleeping Beauty in your middle economy seat that ended up being a great, affordable idea for blocking out light. Less money on your flight = more money for Croatian wine. 
Plus, it comes with a set of earplugs to block out all the noise around you!
Promising review: "I purchased this sleep eye mask for my trip to Europe. With the flights being 10+ hours each way, I wanted to block all light for some serious sleep time. This mask served its purpose. I was very pleased with it. I was a little concerned with the fit due to my small head. Some reviewers said it might be a problem, but thankfully it wasn't. It also came in handy for jet lag naps. I'm a side sleeper, so it takes a bit of getting used to against the face. However, judging from my deep sleep I seem to have gotten used to it quite quickly. The softness was an added bonus. This was a good purchase." —Carrie Wils
Get the set from Amazon for $21.99+ (available in seven colors).
9.
A portable safe you can attach to a beach chair to keep your valuables safe or to keep your passport in your hotel room in case there's no safe or the safe isn't working. (Raise your hand if you've stayed in a small hotel without a safe. ::raises hand::)
Like most people (I hope?) I'm always a little iffy about taking a dip in the water at the beach and leaving my wallet and phone on the beach. So when I booked a 2.5-week Europe trip with LOTS of beaching involved, I bought one of these Master Lock safes that I've put in multiple stories. It was a bit bulky in my suitcase, but I left it unlocked and put some stuff in there so it wasn't just dead space. It came in handy at multiple beach clubs, where my friend and I stashed our credit cards, cash, and case-less phones while we frolicked in the sea. Despite lots of people milling about our umbrella while we had our fun, we felt our stuff was completely safe and could concentrate on *just* having fun. 
Promising review: "Just buy it. It's smaller than I had originally thought it might be, but it's perfect none the less. Love this little lock box that you could easily use as a purse when traveling, or at a festival." —Amazon Customer
Get it from Amazon for $23.98+ (available in three colors).

10.
A mini lightweight flat iron to help you get your signature smooth locks, or at least tidy up your blowout you're really banking on lasting for a few days.
It also comes with a heat-resistant pouch for easy carrying!
Promising review: "Would buy again. I bought this for a trip to Europe as opposed to buying an expensive and bulky voltage converter for my flat iron at home and was not disappointed, it saved a ton of luggage space and it worked like a charm both curling and straightening my hair! I will say though, since the flat iron is quite smaller than the typical flat iron and my hair is only just past my shoulders it would probably take considerably longer to use on long hair." —Holly M
Get it from Amazon for $17.97.
11.
A TSA-friendly toiletries set you'll easily fill, clean, and then refill with your go-to regular products. And the bag is sturdy as HECK.
I own and love this set! It includes the zippered bag, four soft silicone bottles with leakproof caps, three compact jars, an two toothbrush caps. I've used this set on more than five trips, and for trips when I don't require body wash or shampoo (like to visit my parents), I use the extra room in the bag to shove in all my beauty products and daily contacts. Plus! It comes with labels that stay on the containers really well despite my thoroughly washing these containers between trips. I bought this set in spring 2019 and have, admittedly, lost a container or two. But the ones that I've held on to over dozens of trips have all held up well!
Promising review: "I used this recently on a trip to Europe. They worked great, no leaks, and got through security in my carry-on just fine. I'm glad to have these for future trips." —Rachel
Get it from Amazon for $12.99+ (available in eight variations).
12.
Or! A snazzier clear toiletries case the same size as a quart-sized plastic bag that you can use over and over and over again. So you probably won't have to buy another one anytime soon. But you'll want to if the opportunity arises.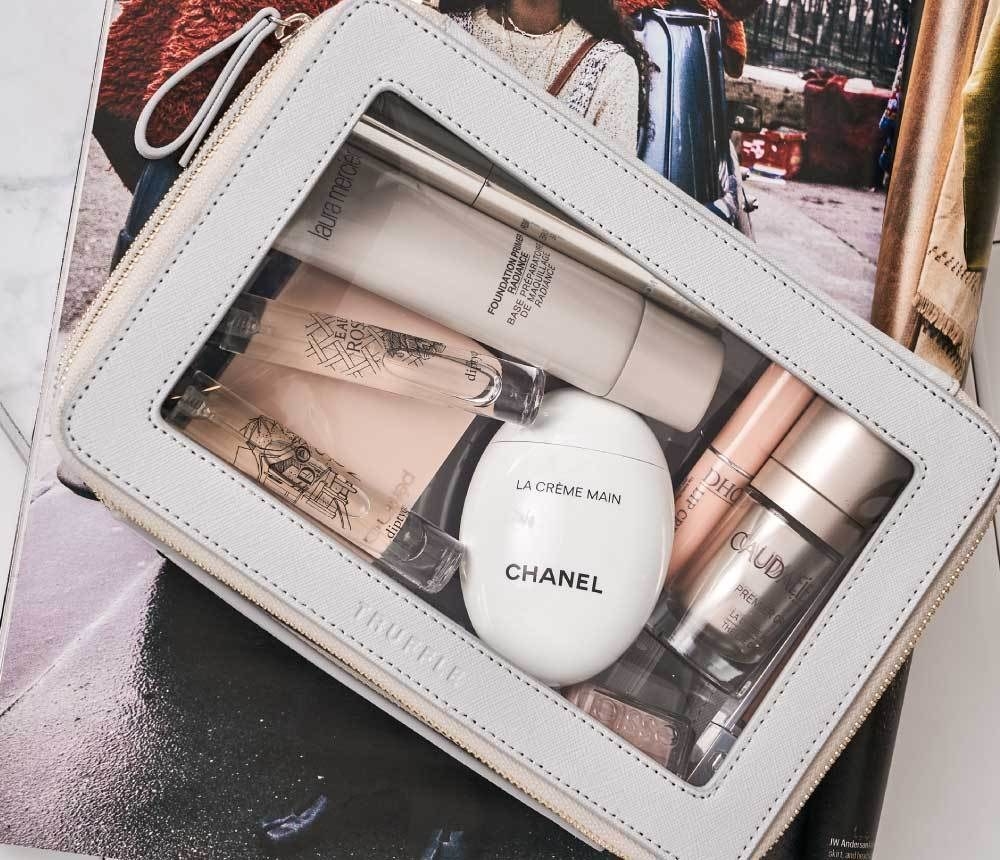 Truffle is a woman-owned small business that specializes in bags and accessories that are TSA-approved or stadium-approved. 

Promising review: "So great for holding the travel pods from Cadence! I just returned from a 10-day trip to Italy and the Jetset case held all my Cadence pods with all my lotions, creams, shampoo, hair products, and jewelry. It sits flat on the bathroom counter so it's easy to see what's inside. It's so efficient to use. Thank you!" —Aimee M.
Get it from Truffle for $65+ (available in three sizes and six colors). 
Pssst, I own the mentioned Cadence pods and have packed them for several trips to Europe over the years!
13.
A water bottle with a Brita filter so you can feel confident in drinking the water from a water fountain in a place you're a little iffy about. Or course, check up on the water quality in your locale!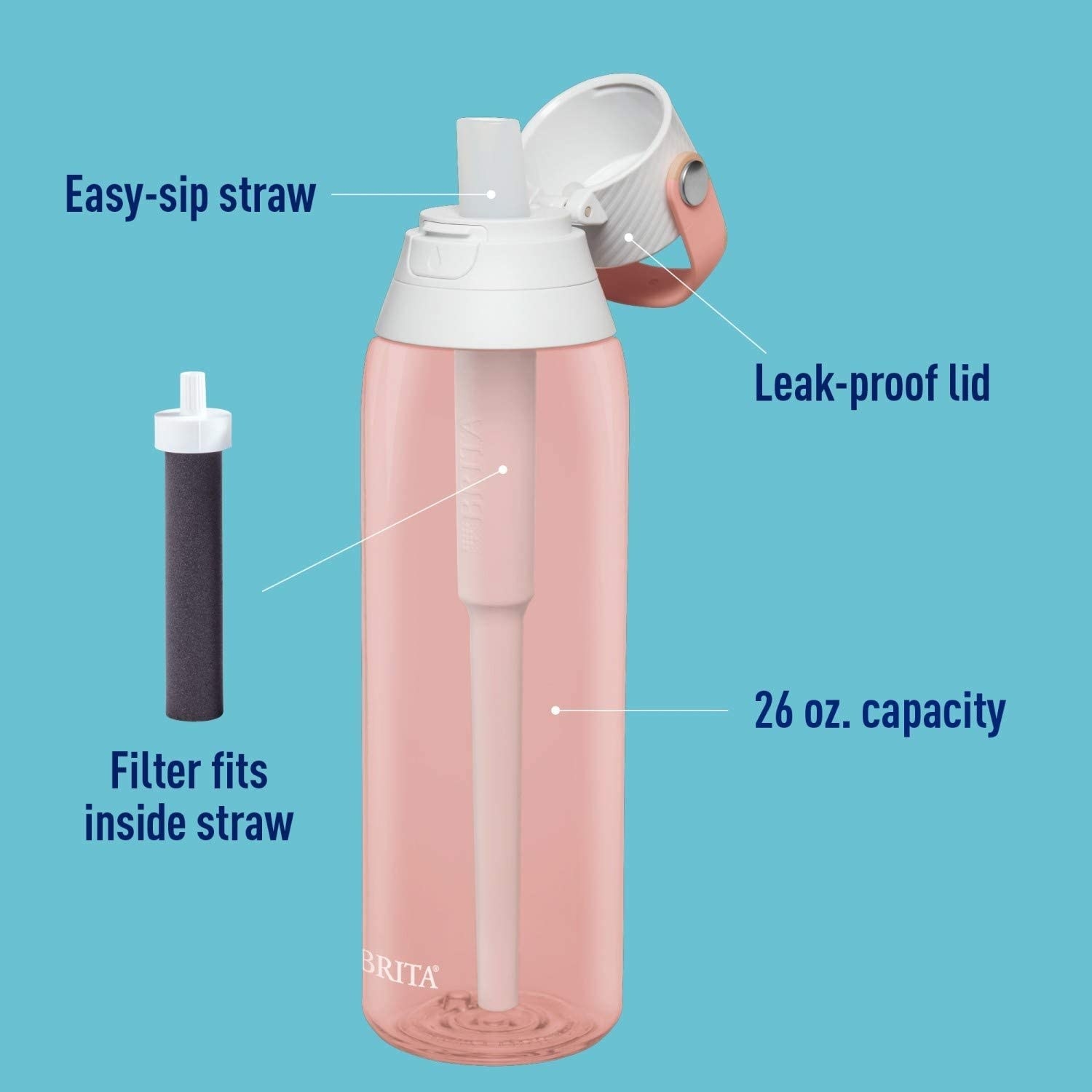 Promising review: "I love this water bottle! I bought one for me and one for my husband because we went to Europe, and I didn't know what the water quality would be there. I was so glad I did because we mostly had to use tap water, and I don't typically like the taste of tap water. The water tasted great, and I couldn't even tell it came from the tap! When you first use the straw after a refill, it takes a moment for it to come out. But after that, there is no delay. This bottle was the perfect size to have enough water to keep me hydrated without being too bulky to carry around. I would definitely recommend it!" —Gina Meeks
They do require replacement filters every two months; you can find a pack of five of those for $11.25.

Get it from Amazon for $22.89+ (available in two sizes and five colors, and in insulated stainless steel in six colors for $29.90).
14.
An Apple AirTag for each bag to give you peace of mind as you hop continents.

Storytime: After traveling last summer carry-on only, and being a person who tries to carry on whenever possible, I finally bought a couple of Apple AirTags during Black Friday sales. And I am SO grateful I did. My normal carry-on bag was too big to fit the Lufthansa luggage requirements (and BOY, do they check that!), so I had to check my bags for a December 2022 trip to Vienna and back from Prague (with a layover in Frankfurt). My bag didn't make it onto the plane in Frankfurt, and once I landed in Newark, New Jersey, I pulled up the app on my phone and saw that yes, my backpack AirTag was indeed with me, but my suitcase AirTag was still in Germany. (The screen grab is from an Amazon review, but you get the gist.) The AirTag also helped me track FedEx's delivery of the suitcase to my parents' house, where I was spending the holidays immediately after my Europe trip ended. I was even able to see it on a highway less than an hour's drive from my parents' house. TL;DR: I think AirTags are very much a worthwhile investment if you travel a few times a year. And I'm not the only one who thinks so.
Promising review: "I bought a pair of these AirTags for a trip to France, and I'm so glad I did! First of all, the setup is super easy. I had zero problems, and both were done in, like, five minutes. I put one in my purse and one in my suitcase. On the way back home, the airline lost my luggage. Checked the Find My Friends app where the AirTag is tracked, and I could see that it never left the Charles de Gaulle airport. I felt more assurance being able to track my bag through the app as it made its way across the world back to me. 10/10 would recommend!" —Lindsay Kirby
Get it from Amazon for $27 (originally $29; also available in a four-pack for $99).