Unless otherwise specified, all sizes in this post are listed in women's.

1.
A chunky cableknit set that would look SO cute on you after you're cast for the next season of Bravo's Winter House. (Texting Andy on your behalf rn.)  

Promising review: "This set exceeded my expectations. It's really soft and amazing quality. I sized up and glad I did for a looser fit. The cable knit design is on the front and back of the shorts and only the front of the sweater. Would purchase again!" —C
Get them from Amazon for $45.99 (available in sizes S–XL and five colors).
2.
Satin track pants that'll be the best-dressed-in-the-office version of your satin PJ pants you wear every single day when you WFH. And yes, the waist is elastic. 

Get them from Old Navy for $44.99 (available in regular sizes XS–4X, tall sizes S–XXL, and petite sizes XS–XL, and three colors). 

3.
Or if you very much overheat (even in early fall) a chic tank and wide-leg pants set that'll make you look like a fancy jetsetter, even if you're just making a Target run midday to drink up the DELICIOUS frigid air down the ice cream aisle. 
4.
A pair of THE TikTok-famous Target office sweatpants that I own I, a person who always ALWAYS wears dresses, won't stop talking about because they're THAT comfy. I lived in them last fall and winter, and plan to do the same once it gets too chilly for bare legs.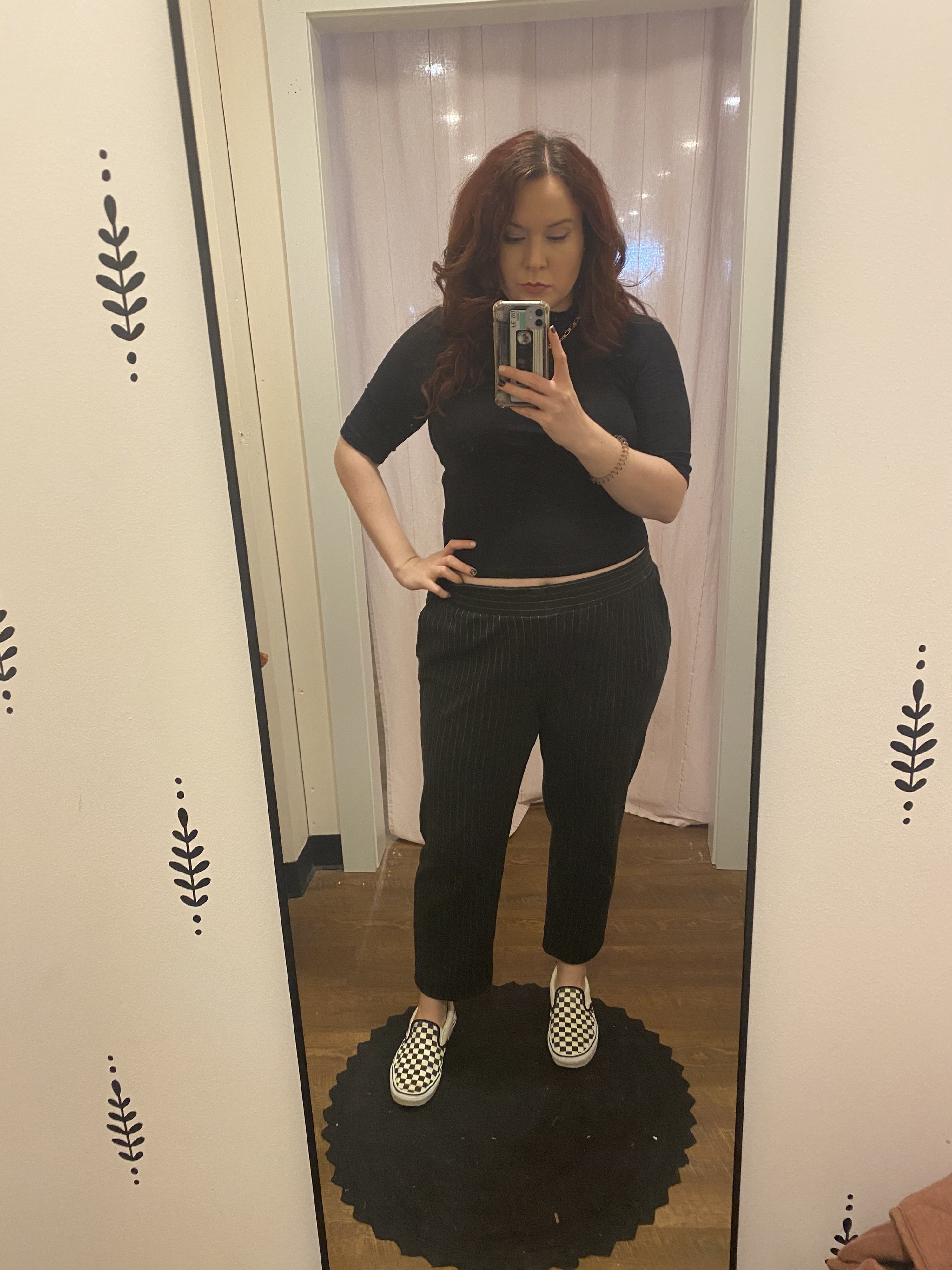 Elizabeth Lilly / BuzzFeed
Reviewers helpfully recommend sizing down one and I found this to be true. I wear a size 14 and oftentimes go between L and XL. I ordered the L and they fit perfectly. In fact, I'm able to layer fleece-lined leggings underneath them — which I did on a December trip to Vienna, Budapest, and Prague where temps dropped down to 5 degrees Fahrenheit. (More on that below.)
Get them from Target for $25 (available in sizes XS–4X and six colors/prints).

5.
A rib-knit ruched crop top in case you need a new top to go with your fun pants. 
Promising review: "I love this shirt. You can wear it at several different lengths. It is a soft stretchy material. Not see-through at all. Very comfortable for wearing all day and night. Pair this with a skirt or cute pair of jeans!" —Katrina
Get it from Amazon for $21.99 (available in sizes XS–4XL and in seven colors).
6.
A sensory compression tank in a soft, supportive material in a seamless *without* tags construction. It's supportive enough to skip wearing a bra with it. Really, the only thing missing is its ability to make your lunch. 

7.
A cozy turtleneck dress to throw on with your over-the-knee boots or tall socks for a look that says "I'm so ready to leave the house!" when you'd rather do anything but. 
Promising review: "I LOVE THIS SWEATER DRESS! I read the reviews, and they said if you want the oversize look to go up a size. I am 5'4", 145 pounds, and normally wear a medium, but I went up to a large for the oversize look. I normally roll up the sleeve once for a cute cuffed look. DEFINITELY RECOMMEND." —Jodi Hochstetler
Get it from Amazon for $31.99+ (available in 29 styles and sizes S–XL).
8.
Or perhaps a sweater maxi dress you can wear *without* a bra. Tbh, it doesn't get much comfier than that.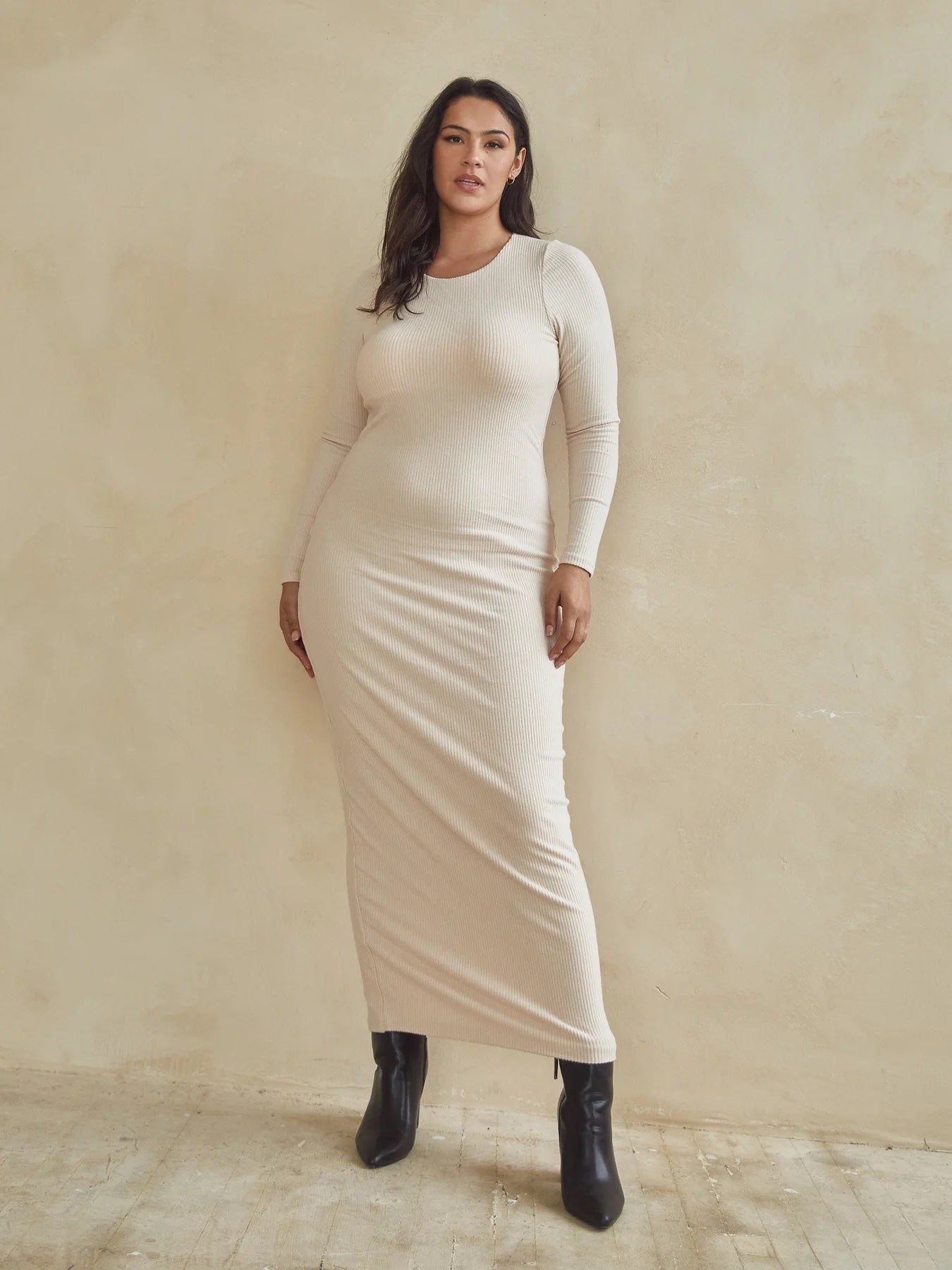 Klassy Network is a woman-owned small business that specializes in tops with built-in bras. I own the halter brami and it's sooo comfy. 
Get it from Klassy Network for $85 (available in sizes XXS–3XL and two colors).

9.
A hand-block-printed dress that's the perfect above-the-knee length for you curling up on the couch and rewatching Yellowstone after getting home from brunch.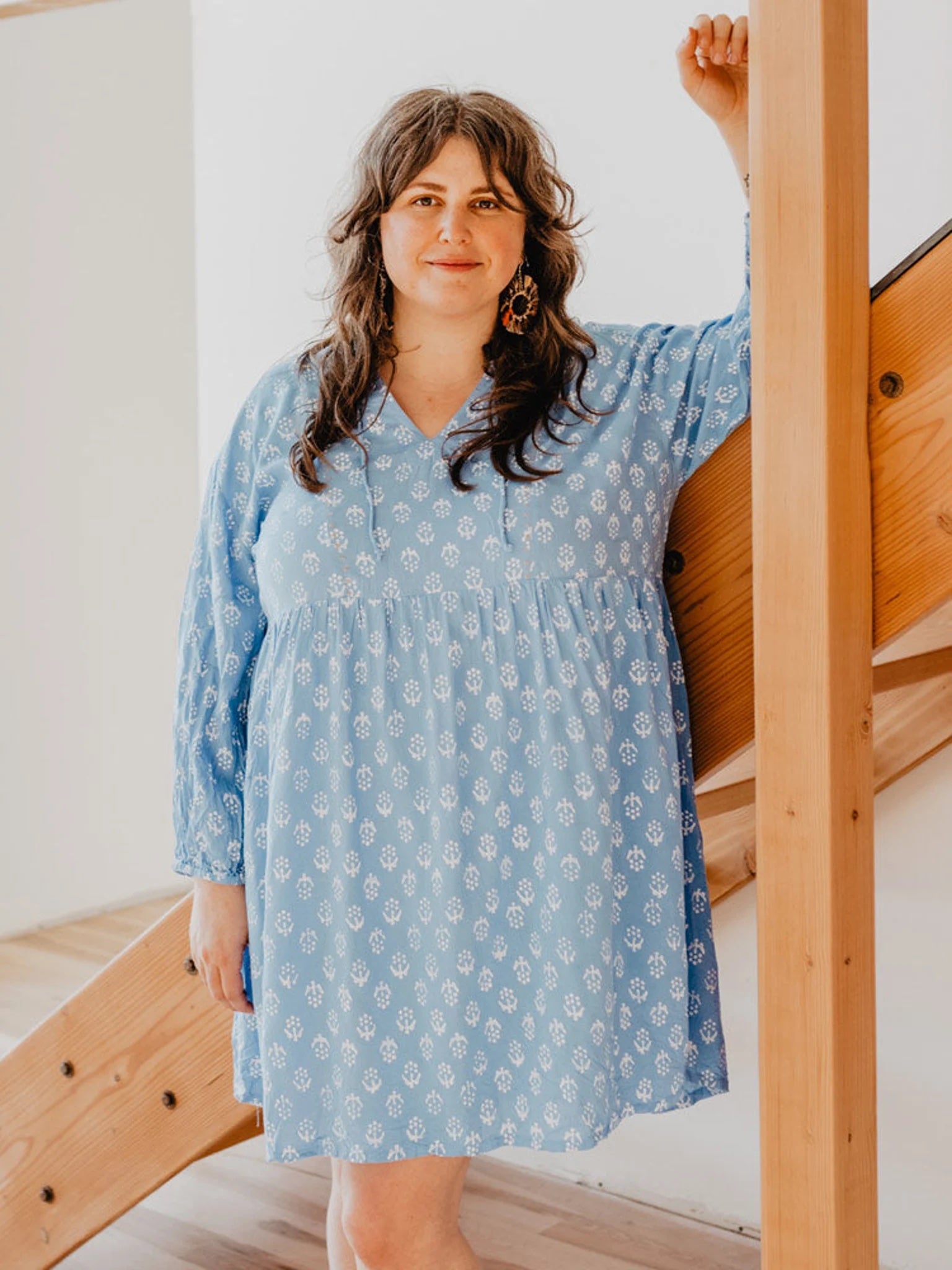 Get it from our Goodful shop for $68.99 (available in sizes S–XL).

10.
A chunky pullover you'll love to wear with your comfiest *outside* pants this season. As you can see, it makes for excellent outdoor photo shoots.

Promising review: "Love this soft beige sweater with balloon sleeve details for fall!! This sweater is so cute and such high quality. It fits true to size. I love that you can wear it with leggings or pair it with jeans and booties!! This will be the perfect addition to your closet!" —Andrea
Get it from Amazon for $39.99 (available in sizes S–XL and 12 colors).
11.
A pair of pull-on Levi's jeans because maybe you need a new pair of skinny jeans. (Wear what you want, people!) But you're so used to living in leggings that you want a lil' bit of both. These'll please the "real pants" police if that's a concern. 
FYI, these jeans are included in Prime Wardrobe so you can give them a trial run if you're a member!
Promising review: "Let me first start out by saying I'm a mom of two, in my mid-30s. Pants and I disagree on far too many levels (aka, once I found leggings after having children, it's been impossible to go back). Pair that with working from home (ahem, never having motivation to wear actual pants even if I wanted to) and you have a full-blown 'this woman is going to spend the rest of her life in yoga pants' situation. Enter these jeggings. I am not even apologizing for using the silly term of 'jeggings.' These could nearly pass for a legging-feel situation. ON TOP OF THAT, they look like real jeans. DONE. TAKE MY MONEY." —Sara W.
Get it from Amazon for $21.13+ (available in sizes 2–28, three inseams, and eight colors).
12.
A striped beaut in case you like to keep things as comfy as possible. Turns out, we're kindred spirits!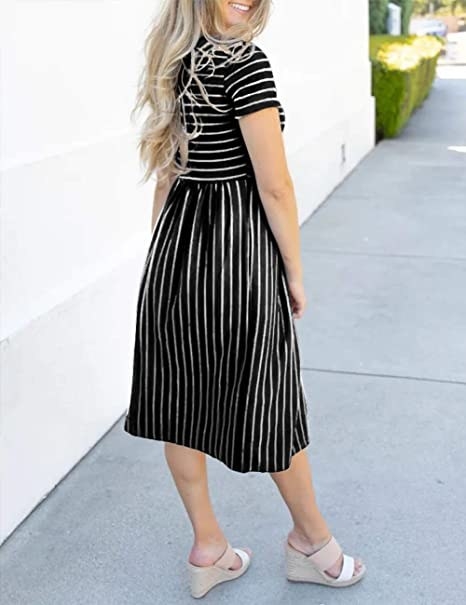 Promising review: "The dress is the perfect length for work and isn't see through at all. I love black and white stripes and this dress, also, pockets!" —Brinna Kerrick

Get it from Amazon for $29.99+ (available in 19 colors/prints sizes and S–XL).
13.
An oversized houndstooth knitted sweater vest as a chic layering option when you're bored of nearly everything else...and the idea of having to dry shampoo your hair to leave the house. 
Promising review: "So comfy and cute! These look great over pleated skirts, they're oversized!" —Kayla Breeze
Get it from Amazon for $25.99 (available in sizes S–L and in 10 colors).
14.
A flowy shift dress here for you now and when it's finally (ugh) tights weather.
Promising review: "I absolutely love this easy care, comfy fit, beautiful dress. The color is pure springtime and the material is soft, requiring no ironing." —Lori Mckenna
Get it from Amazon for $38.99+ (available in sizes S–XL, 19 colors, and two sleeve lengths).