1.
A car seat travel bag to help keep that precious perch protected on your travels. And! It has padded back straps to make your time at the airport a little easier.  
It's universally sized to fit standard infant, convertible, and booster car seats.
Promising review: "This thing was a lifesaver. Only one flight so far but still looks brand new. Would definitely recommend this bag. *Update* After five more flights, the bag still looks good as new, no rips or tears and the car seat is still spotless. I couldn't have navigated the airports I did without this bag. Highly recommend it!" —Alaskan Mommy
Get it from Amazon for $17.99.
2.
A pack of toilet seat covers can create a (colorful) barrier between your toddler's curious hands and airplane toilet seats. MOST of the time airlines have seat covers, but sometimes they run out!
Promising review: "If you're a germaphobe like myself, this is a must-have in your diaper bag. The thought of placing my son or daughter on a public toilet with only a seat liner is disturbing especially since they're both little and still hold onto the toilet seat for support when peeing/pooping. These cover the toilet completely and even cover the lower part of the toilet where dangling legs and pants/skirts touch. My only complaint about these is that they are not flushable. It's difficult trying to gather the liner up (they are rather large) without touching the toilet or the possibly wet liner (because it partially fell in the water) and then scrunching it up to fit into a sanitary napkin bin. Other than that, these are great. Also, I don't use the adhesive strips at all since I have two little ones that usually need to go right away so we don't have the time to remove the adhesive backing. I usually just place the liner on the toilet and then carefully plop my kid on top and all's well." —Ting
Get a pack of 24 covers from Amazon for $9.99.
3.
A Montessori busy board with all kinds of interactive elements like zippers, buttons, laces, and buckles can keep little hands occupied. Plus it has handles so you can easily fold it up and take it on the go.
Promising review: "Absolutely love this busy board! We bought this to keep our 1-year-old distracted on a 3.5-hour airplane ride. She absolutely loved it and couldn't stop playing with it. We tied it to the seat tray so it didn't slide all over. It is easy to carry, fits into a backpack no issue, and I love that it is all one piece —no tiny pieces to misplace!" —LEG 585

Get it from Amazon for $19.99.

4.
An LCD writing tablet to help occupy kids' time in a car or plane as they practice their numbers and letters. 
Promising review: "We bought this pad to take on a long car trip with our 4-year- old granddaughter. She is usually traveling with her nose stuck to an iPad, I was looking for something to get her out of watching iPad all trip. This did the trick! She drew all kinds of things, practiced her numbers and letters, and played games with me. It was great to have something that didn't need to be charged." —Trudie Paschetag
Get it from Amazon for $19.99.
5.
An inflatable airplane bed that'll give your kids a place to nap BUT also helps prevent lost snacks and toys lost to the airplane floor forever. 
The bed — which comes from the woman-run small biz Flyaway Designs — comes in a portable bag and a pump is included. It takes only 90 seconds to inflate and even less to deflate! And — an important note from the manufacturer — "It meets the International Air Transport Association's (IATA's) strict guidelines for inflight comfort devices."
Promising review: "This bed proved to be everything stated in the description. We flew premium economy on a 17-hour flight from SFO to SIN and this product provided a sturdy, flat bed for our toddler across the entire pitch from our seat to the next. It was his first flight ever and he slept comfortably about 10 hours or so (on the return trip as well). The product is also super easy / quick to inflate and deflate. Would highly recommend it." —Sunil N.
Get it from Flyaway Designs for $159.
6.
A collapsible water bottle because the price of water bottles at the airport should be illegal and the cost of this will make up for itself after a few trips. (Psst, it's BPA-free and shatterproof.) And according to the below reviewer, their two toddlers were able to drink out of it unassisted. 
Promising review: "I bought this collapsible water bottle to use on our vacation in Iceland. IT IS FANTASTIC. I plan to use it very often now. It's convenient, seals very well, and I love that it can be rolled up to save space. I have two toddlers and they can both drink from this bottle unassisted. I'm looking forward to using this bottle everywhere we go. I highly recommend it for everyone, and wish they made a smaller version for my toddlers!!" —Lisa L. Jordan
Get it from Amazon for $34.95 (available in eight colors).
7.
Waterproof Uno cards can withstand some tense games at the beach, pool, lake, boat, airplane tray table spills, wherever! After all, is it a family vacation if you don't end up playing some card games. I say absolutely not.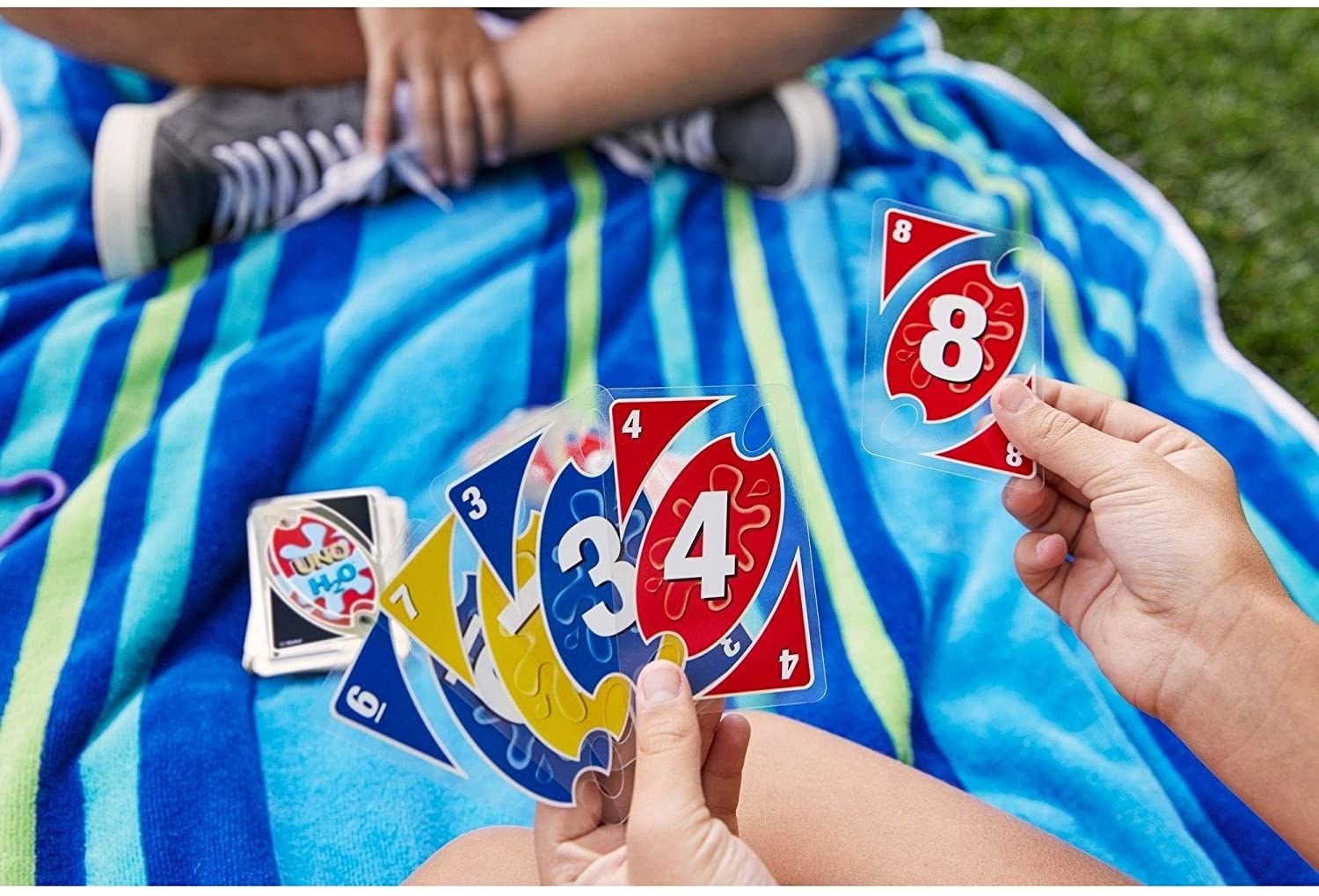 Promising review: "These are great to use at the pool, lakeside, or the beach. They can get wet!!!!! My kids love these! I actually want to buy a set for the house because the cards don't bend easily and they stay in mint condition. Would purchase again and again!" —LuluLoves
Get them from Amazon for $10.99.
8.
A leather passport case complete with a protective side sleeve for your vaccine card so you can have a hold onto everything important while herding your whole party to the security checkpoint, then onto the plane, and then off the plane. PHEW.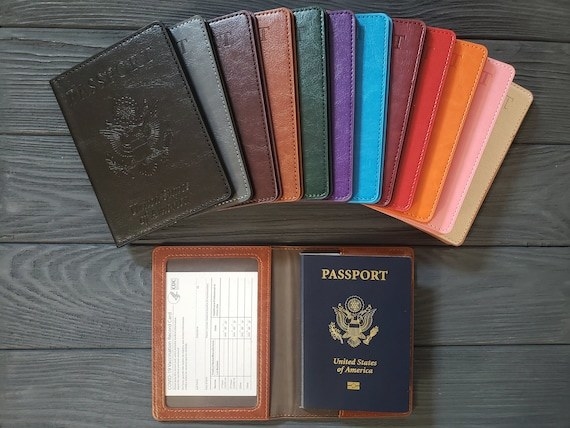 Henney's Boutique is a California-based Etsy shop that specializes in passport holders. 
Promising review: "Glad I got these for myself and my family." —Donna chiz 
Get it from Henney's Boutique on Etsy for $8+ (available in a range of colors). 
9.
An airplane seat back organizer because those seat back pockets are NEVER as big as you need them to be. With this you can actually store your kids' snacks, water bottle, and so much more without having to get up and get stuff out of the overhead throughout your flight. 
10.
Plus a drink holder if you're a window seat person (what a view!) and never have all the room you need during beverage service on that tiny tray table. You can also put your phone, glasses, headphones, and other essentials there too.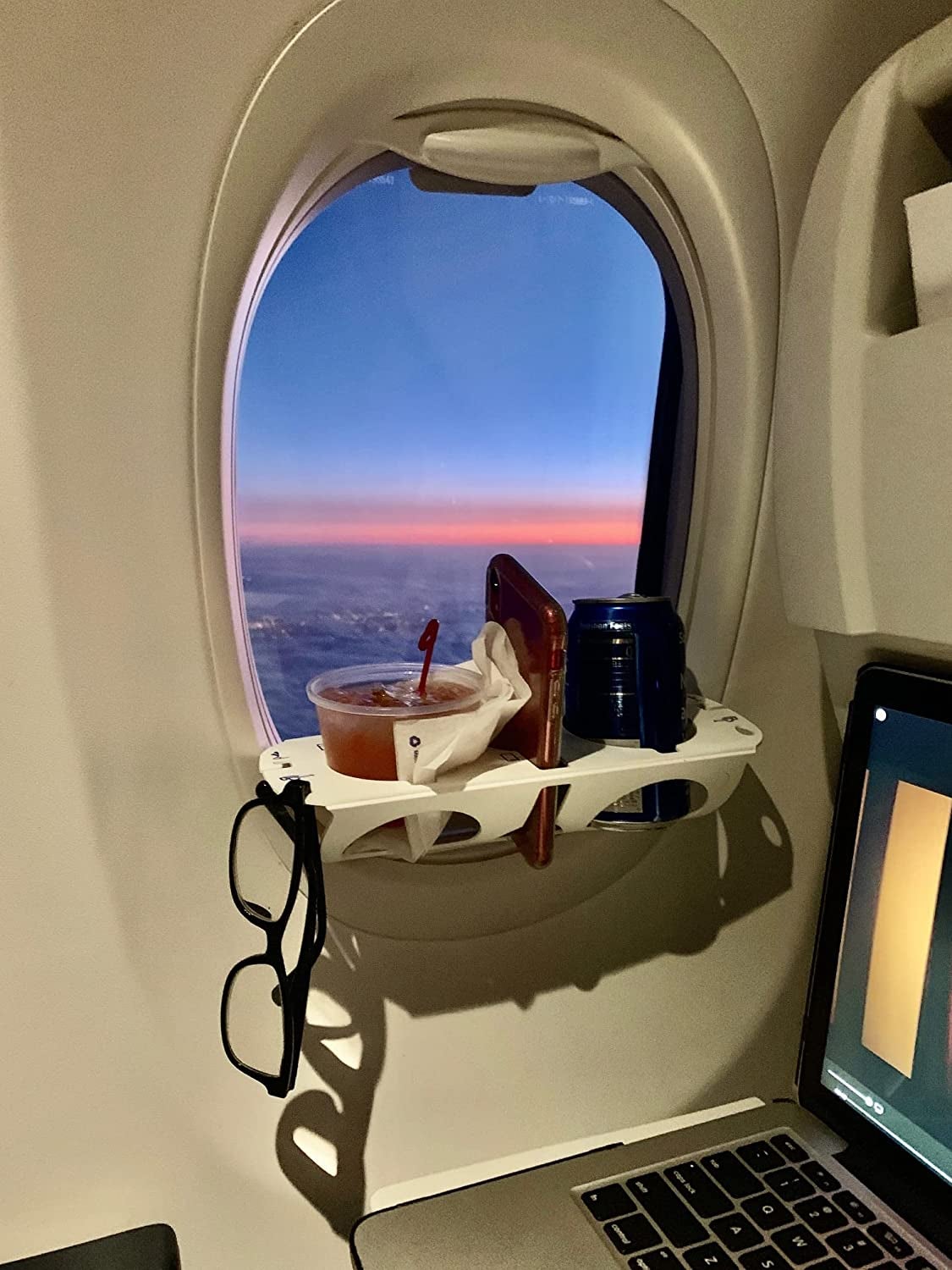 Heads up — you can only use this if you're sitting in a seat that has access to a full window!
Promising review: "I used this for the first time on a 737. It was fabulous! It didn't intrude into my sitting space nearly as much as I expected. Because the actual window is recessed from the side wall, this only sticks out from the side wall about an inch. If you're considering this, you likely fly enough to know that seats aren't always aligned with the windows. If your window happens to be right beside your seat or the seat in front of you, this won't be of much use. But because it doesn't jut out as much as I thought, you can use it in more situations than I expected. And when you can use it, it's great! I love not having to have my entire tray table down just to hold a 3-inch cup. My only suggestion would be to add a place to hold trash until the flight attendant picks it up. This is very small, very lightweight, and very useful. I'll be taking it on every flight from here on." —JBC
Get it from Amazon for $17.99.
11.
An Airfly wireless transmitter that'll let you connect your Airpods or any wireless headphones to your airplane seat...even without Bluetooth!
It also comes with a USB-C charging cable, travel pouch, keychain holder, quick-start guide, and a manual.
Twelve South is a small business that has been creating innovative tech accessories since 2009. 
Promising review: "I was a little reluctant purchasing Airfly after reading the reviews, but I'm so glad I did! It worked perfectly on the plane, and while on my trip, I also used it to listen to music in the car. It acted like a speaker because I had no aux cable. It was great!" —Yamile cardozo
Get it from Amazon for $54.99.
12.
A hands-free (rotating!) phone mount here to go on your tray table or the arm of a chair in the boarding area at the airport. This little tech accessory wil have major payoff for kids on a long (or even short!) flight. 
Promising review: "Essential for traveling with young kids! This thing is clutch. Just traveled with my almost 3-year-old. We used the item for my iPhone so she could watch shows and movies on the flight. Very sturdy, holds its position well. Versatile positions. Highly recommend." —ellierae
Get it from Amazon for $12.97.