1.
A pair of down-alternative cooling pillows will feel super luxurious without the matching price tag. Trust me — I sleep on these and preach about them. 

Promising review: "I have searched high and low for the perfect pillow. All the new memory foam or bamboo pillows were usually too hard or too high and would hurt my neck. These pillows were perfect and just what I was looking for. I would definitely buy these again." —Sylvia L. Williams
Get a set of two from Amazon for $49.99 (and clip the coupon for 10% off!).
2.
A plush blanket that reviewers compare to Barefoot Dreams to wrap up in while you read in bed or scroll for a few hours on TikTok. Maybe even back and forth between the two. 

Promising review: "I saw this blanket on TikTok and I have to say I absolutely love it. I washed it several times now and it's maintained its elasticity and softness after each wash. It's warm enough but not too hot for a throw. Absolutely recommend this blanket!" —Amy

Get it from Amazon for $28.99+ (available in 10 styles and two sizes). 
3.
Suspenders for your sheets that are exactly how they sound so no matter how much you toss and turn, your fitted sheet won't pop you in the face in the middle of the night when it comes loose. It happens! I know!
4.
A nightlight for your bed that'll make you feel like you're staying at a fancy hotel as you step around that pile of clothes that fell off "the chair" in the middle of the night.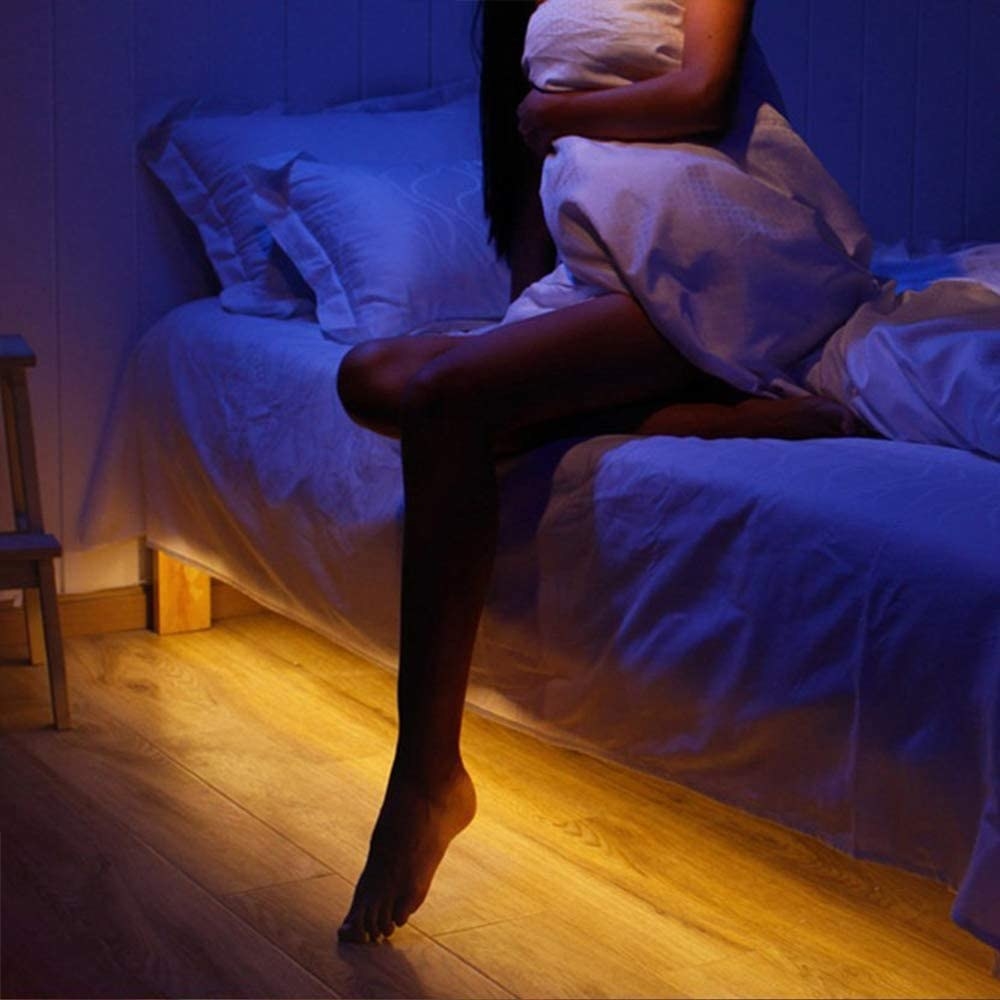 Promising review: "Great light strip. The motion sensor has a good range and then controls for time on and brightness are wonderful. The 3M tape on the back could be stronger, but for the price and motion sensor it is a great buy. Also we have this plugged into a smart outlet so that it only turns on during certain hours of the day. That plus the feature that is there is enough ambient light, the motion sensor doesn't trigger makes this on par with systems that are far more expensive. Works great with Google home as well because of the linked smart plug. Very happy with the purchase. Would be 4.5 stars just because of the tape not being sticky enough, but they do provide a second roll in the box, which helps." —AC
Get it from Amazon for $17.99.
5.
A bottle of non-toxic Folex Carpet Spot Remover can make all sorts of horrific stains disappear quickly. *And* there's no rinsing or vacuuming involved. 
To use, apply to the stain, gently agitate with your fingers, and blot with an absorbent cloth. This is non-toxic and should be non-irritating on the skin!
Promising review: "I had terrible rust and oil stains all over the seats of my car when I bought it. I tried other cleaners to get it out, but they actually made the stains darker. I took it to the dealership to see if they could get it out and they flat out told me no, so I gave up and lived with it for almost five years. I tried this after it was recommended by a friend. I sprayed it on and literally watched the stain run right off my seat. It was amazing! I thought I was going to have to pay hundreds of dollars to replace the seats in my car because nothing else would work. This stuff really is awesome!" —Brittany
Get it from Amazon for $6.65.
6.
And a red wine stain remover you should keep on hand because, well, accidents happen! But you can be prepared for (at least some of) them!
7.
Small cable clip organizers you can stick on as you please because there's no need to see OR trip over the your phone charger cord every time you stand up to fill up your glass of water.
8.
A book-shaped flower vase poised to go perfectly on your side table in your little reading nook. 

Check out a TikTok of the book vase in action. 

Promising review: "The vase was so pretty I bought a second! They're durable and very appealing to the eye. I will be purchasing more." —kayla
Get it from Amazon for $22.99+ (available in four colors). 
9.
A rainbow prism suncatcher that'll easily hang indoors or out to refract sunlight and make your living room look even cooler.
Promising review: "This might be the best thing I've ever purchased. My room looks magical on sunny afternoons. If you love yourself buy these crystals. Not only are the rainbows pretty but the crystals are too." —Tiffany Tyree
Get a set of two from Amazon for $7.99.
10.
A gorgeous glass essential oil diffuser and humidifier as a lil' helper against dryness while giving you something to zone out on while you're doing the mental math about whether you should order Thai or pizza for dinner. 
Check out a TikTok of the diffuser in action.  
Promising reviews: "It's beautiful!! Best oil diffuser I've ever had. Everyone is asking me where I got it at. Gives off a lot of mist, makes my whole room smell wonderful, and it's a great conversation piece. Highly recommend it." —Danielle Martinez
Get it from Amazon for $29.97+ (available in three sizes and 16 colors).

11.
A plug-in color-shifting mushroom light can channel cottagecore vibes...even if you're stuck in a concrete jungle atm. 
Promising review: "I LOVE this night-light. It's in my bathroom and is a lovely addition. It turns off the second the lights go on which is nice that I don't have to worry about accidentally leaving it on. Super cute and the little itty-bitty lighting element does a good job lighting, just enough so I don't have to turn the main lights on in the middle of the night." —1Thand

Get it from Amazon for $5.97. 
12.
An LED cloud light to bring all sorts of ambience to your space and convince you to stay at home and get a little more of your money's worth on rent.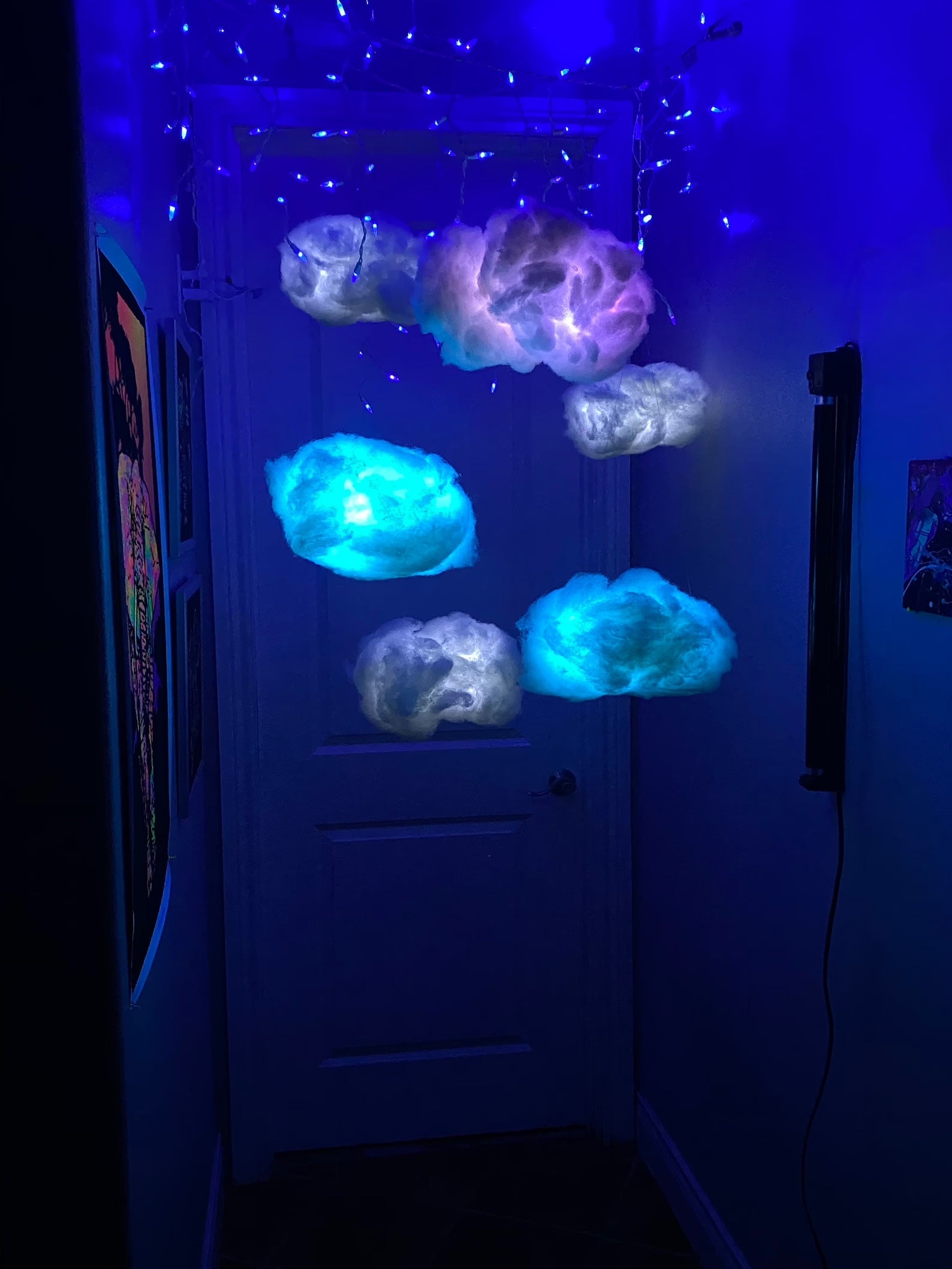 DreamVibeCreations / Etsy
DreamVibeCreations is a small biz specializing in novelty lights. 

Promising review: "This cloud is the PERFECT nightlight for my 6-year-old. We hung it up tonight, and he just loves it! Good size, and bright enough to light up all corners of the room just the right amount." —Hannah Cassar
Get it from DreamVibeCreations on Etsy for $49.50+ (available in white or multi-color).

13.
A moon lamp can give you something gorgeous to gaze upon, even if you're stuck in an apartment with a view of your neighbor who never wears clothes. 
My colleague Emma Lord has and adores this. This is what she has to say about it: "UMMMM I bought this because it was on one of Amazon's top-selling products pages for so long that I was like, "Why are people so obsessed with this moon!!" And now, my friends, I know. First of all, it really does look hyper realistically like a small moon and adds a chill vibe wherever you plant it. But it's also just so soothing to watch and have in the periphery. You can control dozens of different colors for it and either keep it on those colors or have them alternate, fade quickly, or fade gradually. It's super easy to charge and controlled by a remote, so you can move it off its stand and have it light up wherever you want. These days I tend to turn it on for my designed ~me time~ night every week, in which I will light a candle, pour a glass of red wine, read a romance novel, and, of course, light my lil' moon. Definitely one of my favorite "the internet made me do it" purchases."
Get it from Amazon for $19.99+ (available in five sizes).