The Ultimate Guide To The Perfect Winged Eyeliner For Your Eye Shape
Forget Redbull and Victoria's Secret, this is how you get your wings.
We hope you love the products we recommend! All of them were independently selected by our editors. Just so you know, BuzzFeed may collect a share of sales or other compensation from the links on this page if you decide to shop from them. Oh, and FYI — prices are accurate and items in stock as of time of publication.
I don't know about y'all, but I've spent ::cough wasted cough:: countless hours trying to figure out how in the world you're supposed to apply winged eyeliner.
It's, in my opinion, one of the most difficult things to master when it comes to makeup application. So, why is it so hard? And what exactly have I been doing wrong all these years? Well, for one, winged eyeliner is not a one-size-fits-all process. The way you apply is often directly related to your eye shape.

Another major thing to take into consideration is the type of eyeliner being used. There are three major ones to consider — pencil, gel, or liquid. For a winged liner, nearly everything I've researched has suggested a liquid liner.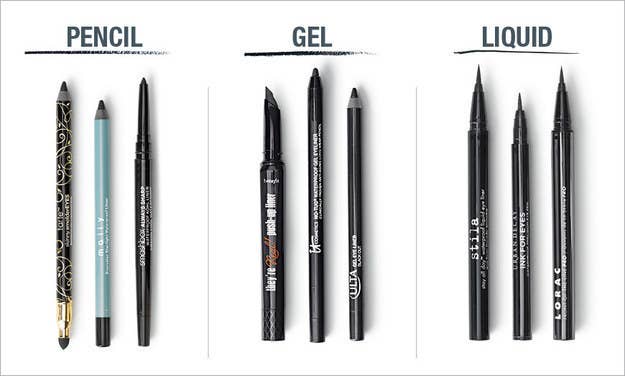 Then start mastering the actual application with a helpful and awesome tutorial on just how to apply winged eyeliner specifically for your eye shape.
Which I can break down for you:
If you have upturned eyes, Destiny recommends using NYX Matte Liquid Liner because it has a super-thin brush and wet formula that makes application a little smoother. To use, start at the corner of your eye, following your lash line as closely as possible while making a thicker line. To get the wing, continue past the lash line and then connect it back by filling it in.
If your eye shape is of the round variety, then you're like Carolina who is using Anastasia Beverly Hills Black Liquid Liner during this tutorial. She starts with little baby strokes across the eye and then a solid line from the end up towards the tip of her brows, which she seamlessly connects back to the lash line.
Joelle guides us through application for demi-monolid eyes, which she explains as an eye shape that is monolid on the inside and creased on the outer end. She uses NYX Epic Ink Liner (which she suggests as a more affordable KVD dupe). She also points out that this particular formula is waterproof making it great for anyone with oily lids. For application, she closely lines her lashes until she gets to the corner where she starts to lift up. Then she draws a straight line from the corner up which is her guide for the rest of the wing.
If you have almond-shaped eyes, Spenser walks us through a bold winged look using TheBalm Schwing Black Liquid Eyeliner. She follows her lower lash line, extending a line to her desired length, then she leaves the "tippy tip of the point alone" and instead begins connecting the wing a little farther down to the middle of her lash line.
For anyone with hooded eyes, there are some quick tips that Megan walks us through using KVD Tattoo Liner. She starts by finding the trajectory of her lower lash line, following it out towards her eyebrow to create the wing. Because of the nature of her eye shape, a small gap is left that she connects with her eye partially closed. To close the wing she suggests looking straight into your mirror and gliding your eyeliner from the tip of the wing to the natural point of connection at the lash line, filling in any gaps after.
If you've got downturned eyes, Chelsea suggests using Transpore Surgical Tape which helps guide your eyeliner application and give you a totally perfect straight line. Placing the tape along the bottom of your lashes allows for a perfect stencil when creating your lines.
Now if you're looking for something a little more fun, Angie walks us through a two-toned eyeliner lid. Like Destiny, she also has upturned eyes which she effortlessly lines with a bright green and blue combination from Fenty Beauty (which are, unfortunately, now unavailable but you might be able to mimic with similar colors from NYX).
For a really dramatic look, Jazzmyne uses Sephora Collection Long Lasting Eyeliner designed with a high precision brush that makes getting all the details and creating an extended wing a little easier. Jazzmyne has one of the only looks that really goes into the inner part of the eye, helping with the overall statement look of her eyeliner and really elongating the width of her eyes.
And there you have it! Everything you need to know so that your eye makeup really takes flight.