For Less Than $25 You Can Have Your Very Own Hogwarts Library
That's barbaric! No, that's Wizard Chess...actually, it's Amazon.
We hope you love the products we recommend! All of them were independently selected by our editors. Just so you know, BuzzFeed may collect a share of sales or other compensation from the links on this page if you decide to shop from them. Oh, and FYI — prices are accurate and items in stock as of time of publication.
Did you ever have something happen, something you couldn't explain? If your answer is yes, I'm gonna go ahead and say it's because you're a wizard!
And if you are a wizard then chances are you know about Hogwarts, know what house you're obvi destined to be a part of (shout out to all my Hufflepuff brethren), and you've probably mapped out your journey through Diagon Alley so you can buy all your supplies for your first day of school.
First thing you should probably check off? Your textbooks! And don't worry if you can't make your way through the shelves of Flourish and Blotts Bookseller to get them — Amazon has the Accio spell that'll bring them right to you.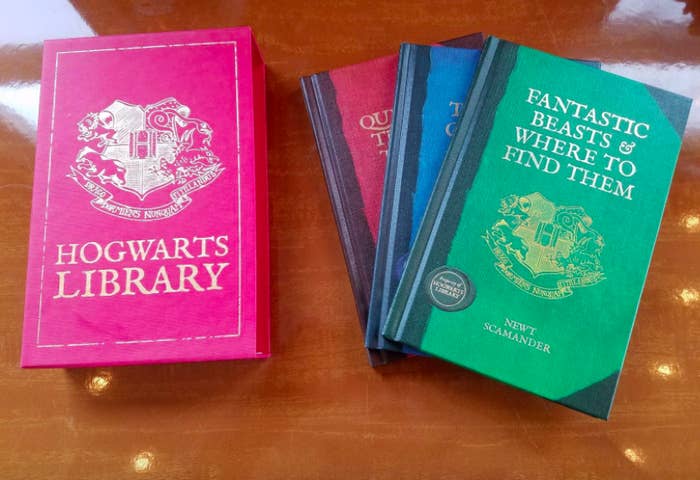 The Hogwarts essential three-piece set includes all books that'll cover the need-to-know subject areas — from a history of Quidditch to a reference guide of all the magical creatures.
These books are spellbinding for anyone obsessed with the Harry Potter universe and will apparate you into the magical wizarding world of Hogwarts.
On top of being just a really beautiful set, they're actually really good books that you just won't want to put down!
Plus they make a really great gift for anyone you're sending off to wizarding school — or regular school.
Okay, what are you waiting for? Jump into the portrait, Harry, and get the fantastic set from Amazon for $24.95.
Looking for the perfect gift for any occasion? Check out all of BuzzFeed's gift guides!