22 Times Celebs Slayed Twitter In 2016
I would very much like to be excluded from this narrative.
by
,
1.
When Chrissy Teigen had this amazing response after people hounded her for going out for dinner without her newborn daughter.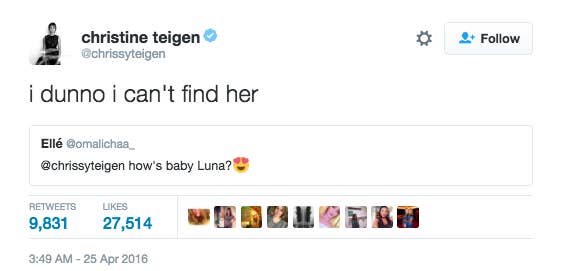 4.
When Kelly Clarkson was so perfectly savage.
5.
When Obama dropped his summer playlist like it was no big deal.
7.
When Adele proved she was the most relatable celeb.
8.
And when she wished Leonardo DiCaprio good luck before the Oscars (which obviously helped him win).
10.
And when Amber Rose really came for Kanye.
11.
When Skai Jackson and Azealia Banks got heated on Twitter, and Skai came out with the best clapback of all time.
13.
When Calvin Harris defined the phrase "took to Twitter", and went OFF on Taylor Swift.

14.
And when Katy Perry herself may have (probably) (definitely) (maybe) responded to the whole drama with a simple dot GIF.
15.
Oh, and when Taylor herself very much wanted to be excluded from this narrative.
18.
When even Evanna Lynch, aka Luna Lovegood, was unhappy with her Pottermore patronus.
19.
When Shonda Rhimes had this response to the election result.
20.
When Louis Tomlinson introduced his son to the world.
21.
When Martha Stewart didn't know who Jonathan Cheban was.
22.
And, obviously, whenever Cher tweeted anything ever.