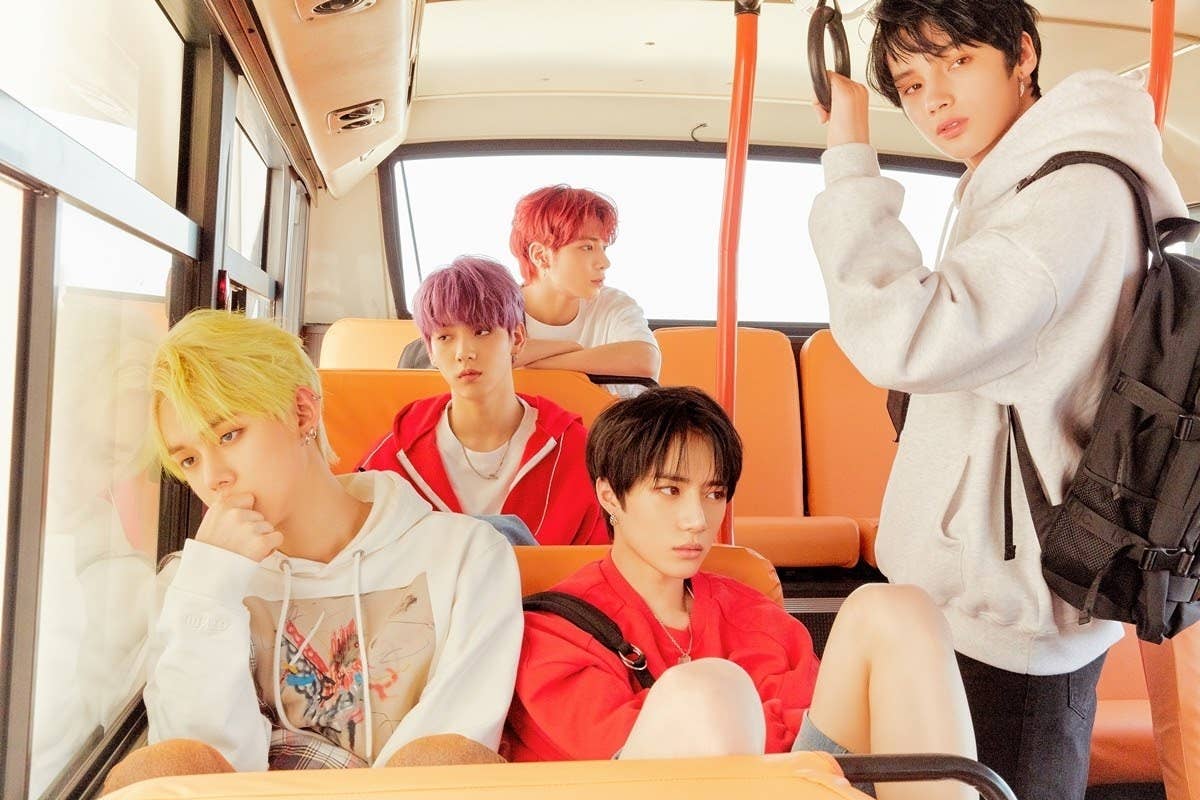 It's been a little over a year since Tomorrow X Together — better known as TXT — crashed onto the music scene with their debut single, "Crown". It was an immediate hit (and an undeniable bop), amassing more than 100 million views on YouTube within its first year, and their follow-up single "Cat And Dog", was nominated for a VMA. It doesn't take a genius to understand why the group has had so many eyes on them since the beginning: TXT remain the only act to debut under Big Hit Entertainment since BTS in 2013. Yes, record-breaking, stadium-filling, biggest-group-in-the-world, BTS. In an interview with NME in January, the members acknowledged the privilege such a position has afforded them, while admitting it does come with some pressure. "We know that BTS and Big Hit Entertainment have given us great wings to soar with and also that in order to soar we must bear the weight of our wings," they said.
It seems that TXT have taken that pressure in their stride. They released their first full album, The Dream Chapter: Magic, in October, and spent the end of 2019 and beginning of 2020 collecting Rookie of the Year trophies at all the major Asian music awards ceremonies. Despite their astronomical and unstoppable rise to success, though, their love and desire for connection with their fans is still what shines most. When I ask them about the most memorable moments of their debut year, they cite their performances at New York City KCON, Wango Tango, and their US debut showcase, but they also reference the moment they named their fandom, MOA.
Another thing that's remained consistent in the 15 months since TXT debuted is their music. It's not just the quality (although that is high — I can confidently say I've never listened to a TXT song I didn't like, and I've listened to them all), but the message behind it that brings fans back time and time again. Their new EP, The Dream Chapter: Eternity, continues to explore what it means to come of age, but is undeniably darker than their previous works. The lead single "Can't You See Me?" deals with feelings of alienation and conflict between friends; the music video is reminiscent of a horror movie. It's something every listener will have experienced, and only reinforces the close relationship the members — who, themselves, are between 17 and 20 in age — have with their fanbase.
Over email, I spoke to Soobin, Yeonjun, Beomgyu, Taehyun, and Hueningkai about the new EP, the momentous year since their debut, and how they, themselves, have dealt with the conflicts they sing about in their music. Here's what they said...
It's been a huge year for TXT! What's the most important lesson you've learned since your debut?
TXT: We learned to be more cautious of what we say and how we act because we now know that we can influence others in the world. We think we've become more responsible and that we're able to keep a more professional mindset. One thing that doesn't change, of course, is the appreciation we feel for our fans, MOA. In fact, we're even more thankful now. Our fans are what motivate us to move forward and give our best at everything we do. Thank you for your love and support, MOA!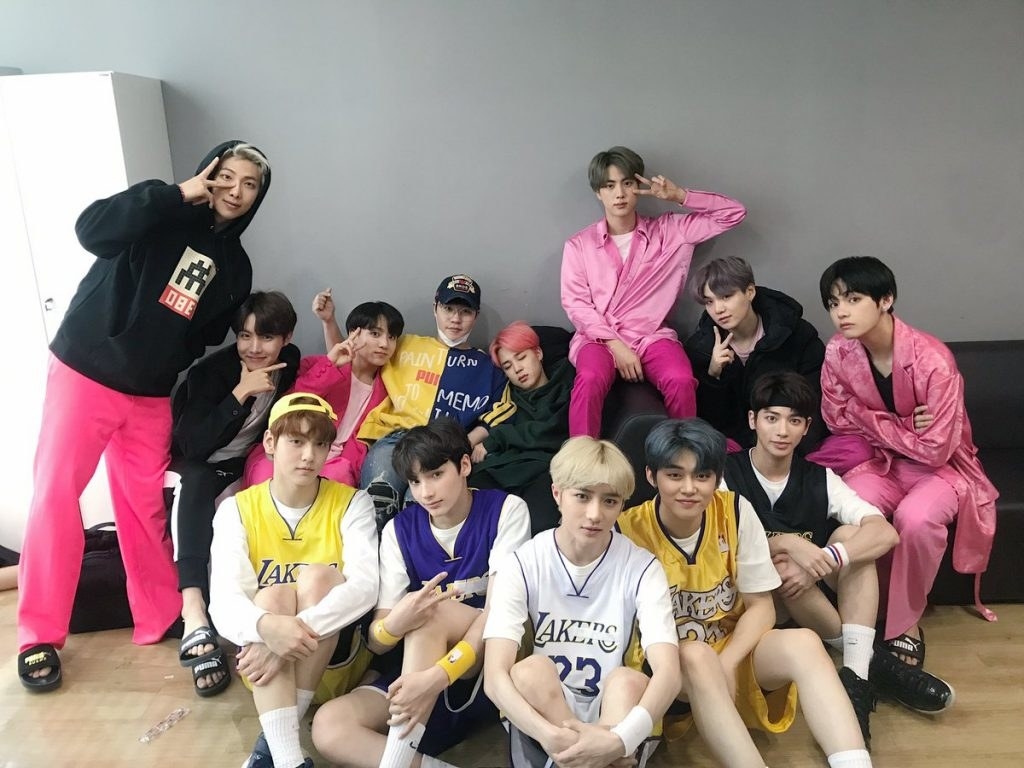 And what's the most important piece of advice you've received?
TAEHYUN: A great piece of advice we've received is from BTS. They told us we should give every performance our all and show the audience what we're made of. Our attitude towards music is the most important of all.

The concept for your new album, The Dream Chapter: Eternity, deals with a rift between friends. Is that something you've experienced as a team? How have you overcome those challenges?
SOOBIN: Of course, there are times when we don't always agree on the same topic. When that happens, we try to reconcile the differences and talk it out as a team. We're used to solving problems together as a team through discussions because we've been doing that for years since we were trainees.
You've all been participating more and more in writing and even producing TXT's music. What has that experience been like? What have you learned from each other and your collaborators throughout that process?
HUENINGKAI: Working on "Maze in the Mirror" as a team was a really great experience. I feel like working on this piece as a team really helped me to mature through music, and I'm really glad we got to share our story with our fans through this song.
BEOMGYU: Exactly! "Maze in the Mirror" is really meaningful for us because it talks about everything we've gone through as a team. It was great to finally release a song we wrote together for the first time. I even came up with the song's title myself!
YEONJUN: All our members are consistently working on making music. We hope to continue to make great songs in the future!
This EP includes a remake of a classic Light and Salt track. Why did you decide to include it on the album? What was the process of remaking it like?

YEONJUN: Well, we decided to include it on the EP because the song is a Korean classic; it's still very loved even though it was released a long time ago, before I was even born. But we did still want to add our own colours to this song, so we decided to include a rap part, which I wrote, as well as new sounds from various instruments such as horns and a capella. We tried to add some dream-pop elements to the original city-pop based song.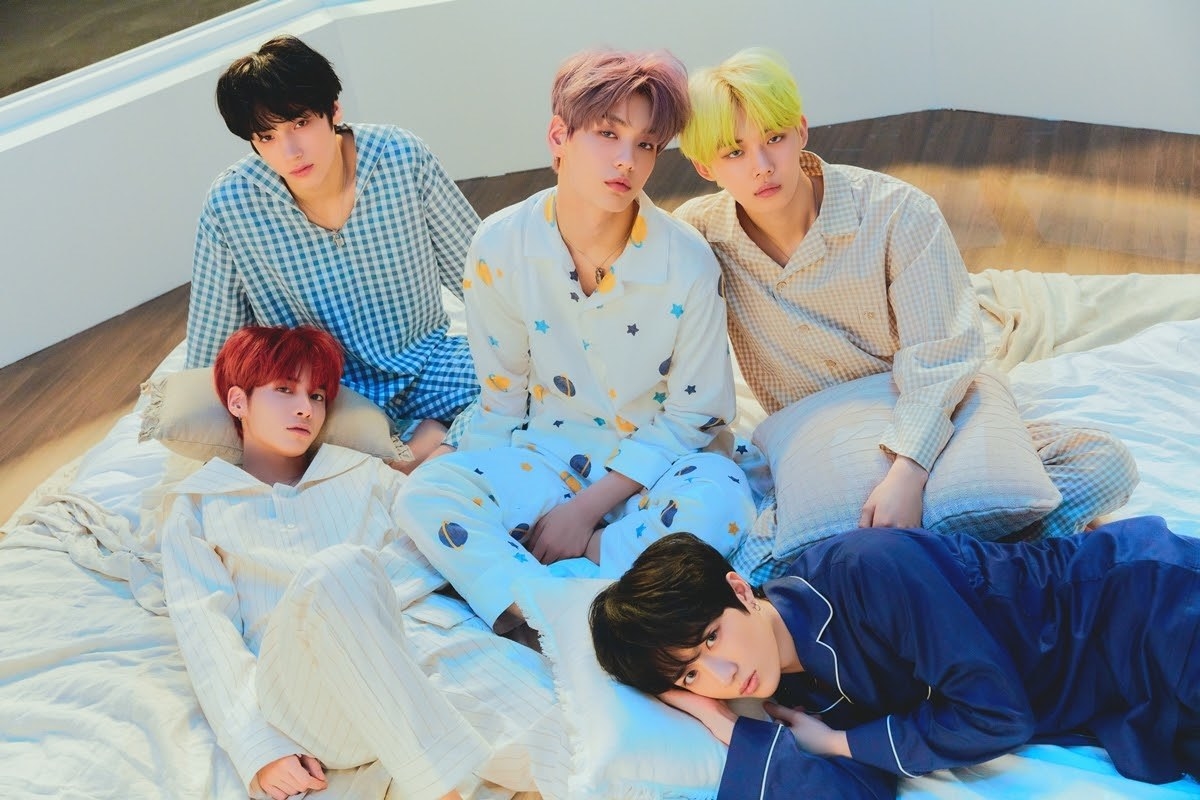 Dreams have been a running theme in your music since you debuted. What's one dream you still want to achieve?
HUENINGKAI: It feels amazing to finally achieve the goals of debuting and receiving rookie awards. A dream we'll always continue to strive for is to continue to make and perform music that will comfort and encourage more people everywhere in the world.
What's your favourite memory from working on this album? Which song was the most fun to write and record?
TXT: Working together on "Maze in the Mirror" was probably our favourite memory because the song is personal to us. We all had our ups and downs, and those moments are reflected in the song. It's essentially a story about our past two years, so it's great to finally have it out there.
[It] holds a special place in our hearts because it's about the time we spent together as a team, and our members all wrote it together. Working on the track was enjoyable because we were able to positively influence and motivate each other. We're glad we can share this song with our fans!
What is each member's favourite song from the new album?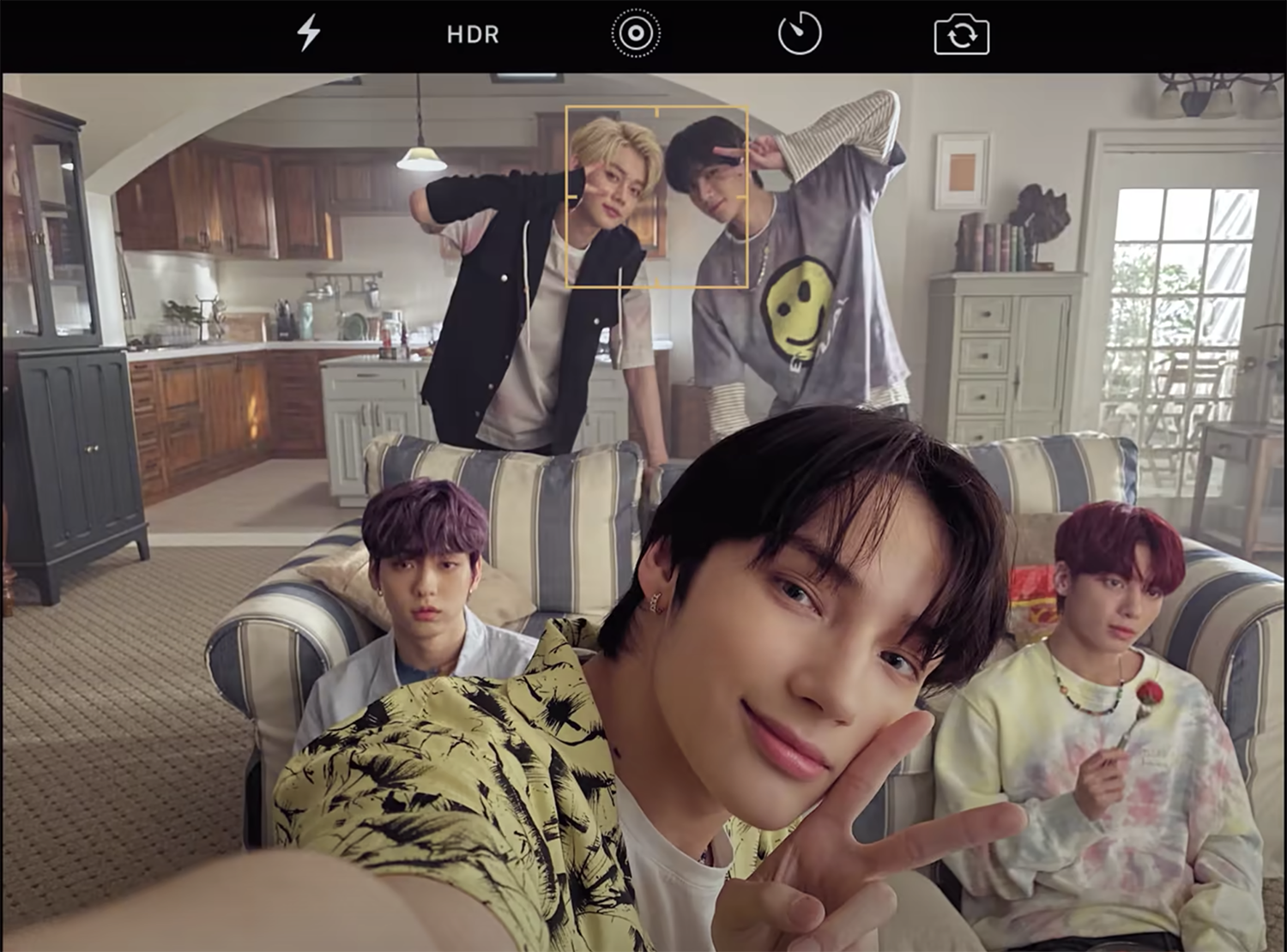 SOOBIN: "Drama" because I like the bright mood of the song! It goes really well with the choreography.
YEONJUN: "PUMA" because it's such a powerful song that's really fun to perform!
BEOMGYU: No doubt, "Maze in the Mirror." It includes all of our struggles that we've gone through as a team.
TAEHYUN: "PUMA" because I love the instruments.
HUENINGKAI: "Can't You See Me?" because it represents the theme of the EP well!
How would you describe The Dream Chapter: Eternity in one word?
SOOBIN: Versatile.
YEONJUN: Awesome.
BEOMGYU: This is it!
TAEHYUN: Refreshing.
HUENINGKAI: WOW!
And finally, what's one message you want MOA to take away from your new music?
TXT: We really hope that MOA will like the new approach we took for this EP, because we wanted to share something different for our fans. Thank you as always MOA!