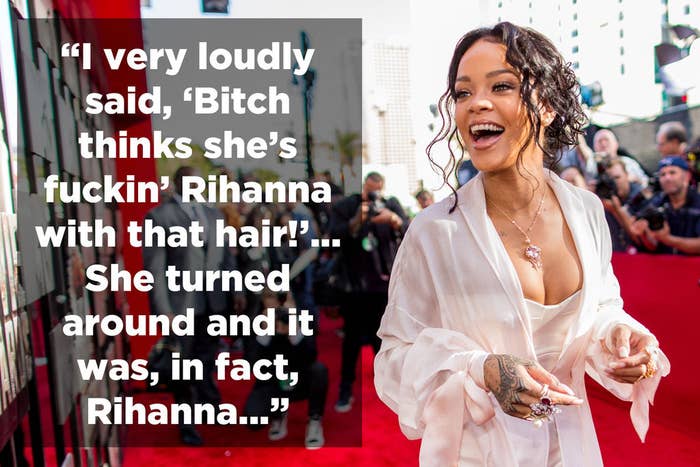 2. "When I was about 10, my family and I took a trip to New York and we were stuck in traffic in Manhattan. There was a limo next to us, and being a nosy kid, I took off my seatbelt, opened my window, and stuck half of my body out to see who it was. The window rolled down, and Bill Murray proceeded to yell at me to put my seatbelt back on."
Submitted by cynthiar487d3d628.
3. "My family and I were at dinner in New Orleans and realized halfway through dinner we had been seated next to Blake Lively and Ryan Reynolds. After many drinks my mom excused herself to use the restroom. After about 10 minutes, I decided to check on my mom… I found her cornering Blake Lively in the restroom, telling her how beautiful she was and how amazing she and Ryan were as a couple."
Submitted by maddieleel.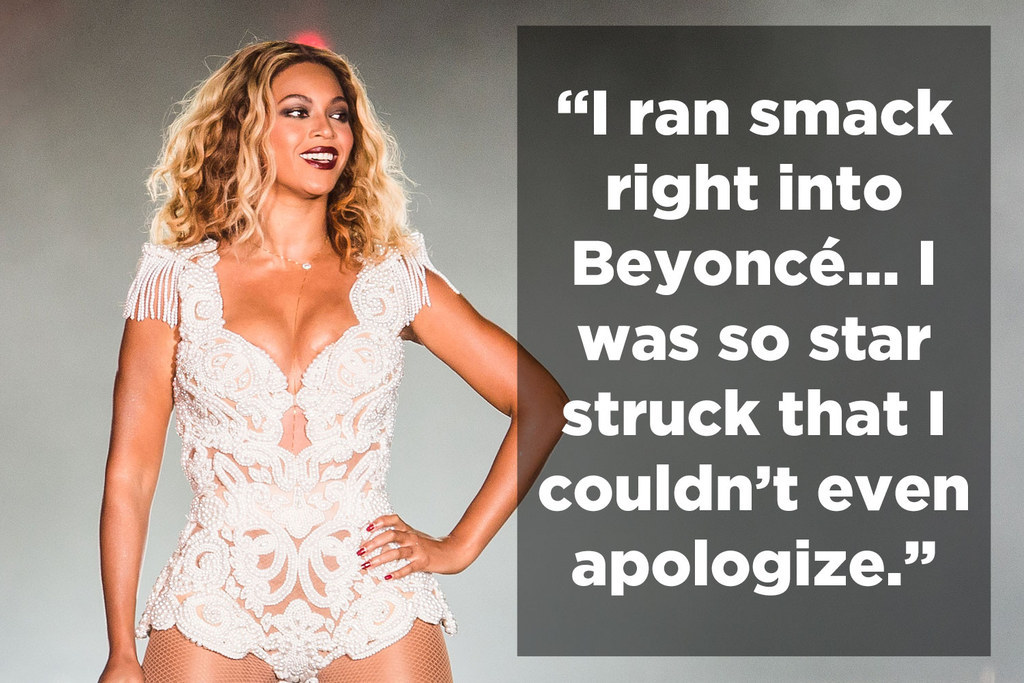 5. "I once went to Mastro's for dinner, and was waiting for my car to return from valet. A Phantom pulled up and I jokingly told my friends my car was there. I pretended that I was going to get in. All my friends were laughing, and then their faces turned very serious. Dr. Dre did not find my joke funny."
Submitted by meowmeowmeow.
6. "I was honored before a Heat game in 2009. Towards the end of the game, the Heat were winning by a substantial margin, so my date and I went to the Grey Goose lounge inside the arena. After mingling for a few minutes and running into a few notable athletes, I ran right into Gabrielle Union. I was in my dress blues, so she said, 'Oh hi, you're a Marine! Gotta love Marines! You drinking?' I said I was, and she replied with, 'Would you like to do a shot of Patrón?' I replied with a smooth, 'Gabby, I'd do a shot of heroin with you if you wanted.' At that moment, she spat out her drink and most of it landed on my uniform..."
Submitted by eveliod.
7. "I met Marina from Marina and the Diamonds. She went in for a hug while I went in for a handshake, causing me to awkwardly touch her boob."
Submitted by meganl4fdde973e.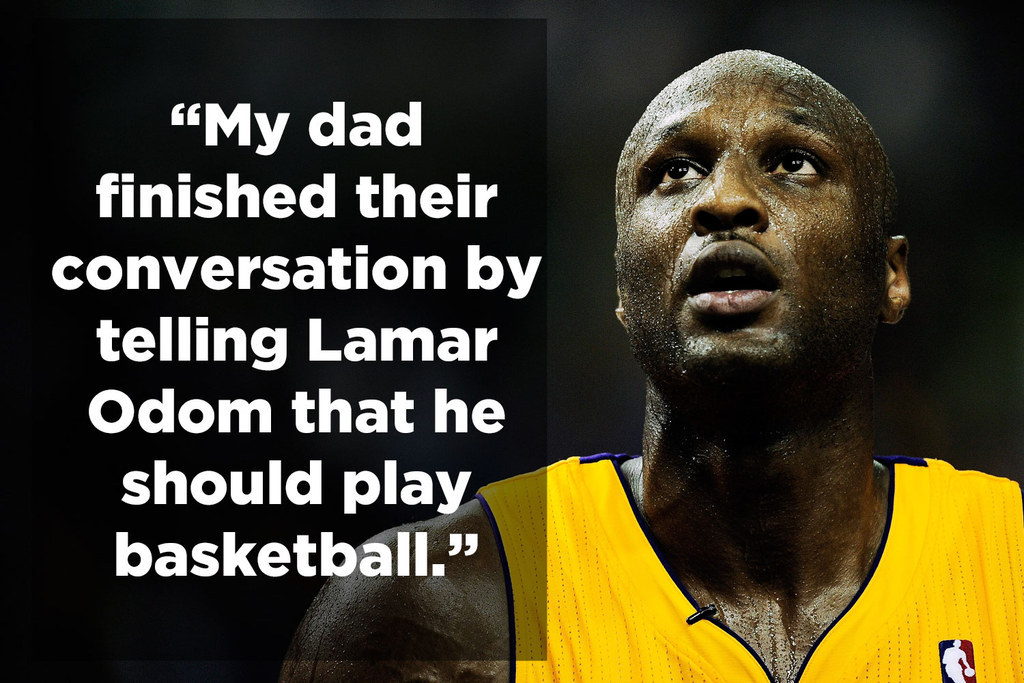 9. "I drove three hours to attend a Justin Bieber concert and meet-and-greet. He was only 17, and I was 21. I debated what I would say to him once I met him, since it would be a really brief meeting while a picture was taken. I walked up to him and asked him if he farted. He gave me this weird look and then I told him, 'because you just blew me away'... I left the room and security followed me out and told me I had creeped him out."
Submitted by erikak49d1ff3be.
10. "A friend of mine was getting surgery in LA. We went to pick her up and saw Sofia Vergara wheeling Joe Manganiello out in a wheelchair. The friend later told us that Joe Manganiello was so doped-up after the surgery that while they were both in the recovery room, she overheard him asking the nurses if they wanted him to do his 'doctor stripper routine'."
Submitted by Rebeccah Sylvia Glaser, Facebook.
11. "I confused Larry David for my friend's dad at our local Agricultural Fair and had a full five-minute casual conversation with him until I realized I was talking to Larry David and immediately felt like a total nub."
Submitted by yespleasebro.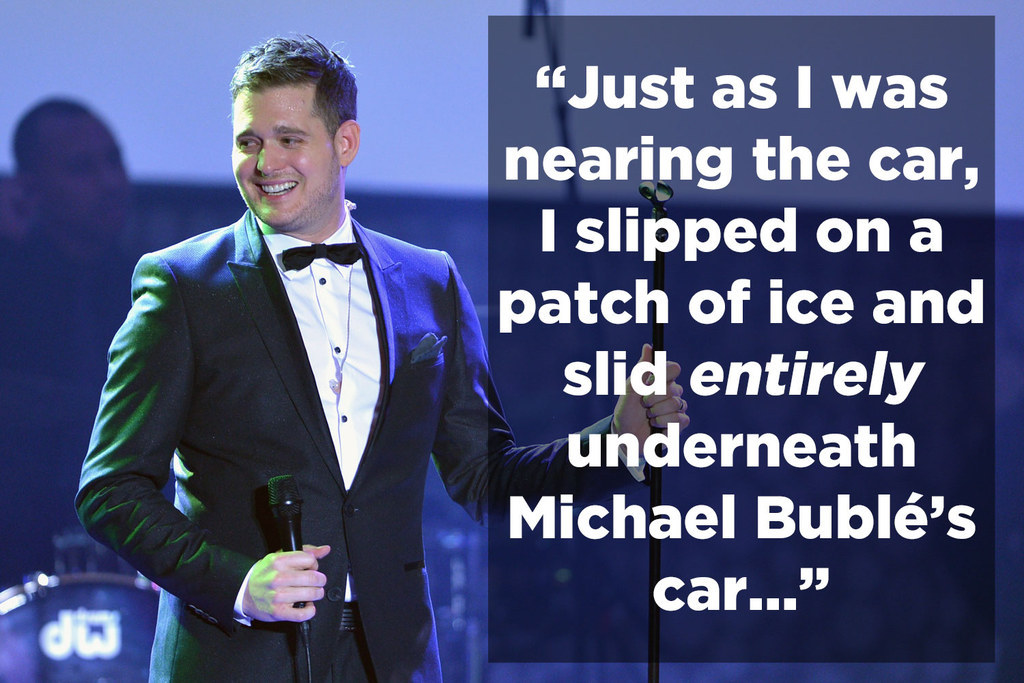 13. "I met Katy Perry at Warped Tour in, like, 2008, when she was promoting her album One of the Boys. She was walking around and came up to me and my friends and was like, 'Hi, I'm Katy!' and at the time we all only knew she had one single and weren't that impressed, so we were like, 'We know.' And she was like, 'I'm playing at 4:00, do you want to take a picture?' And we were like, 'No, that's OK, we'll come see you play,' AND WE DIDN'T SEE HER PLAY AND NOW I'M OBSESSED WITH HER."
Submitted by Anna Catherine Kopsky, Facebook.
14. "I was at a Keith Urban concert once and waited for an autograph out back after the show. As he drove by in his car, he slowed down and rolled down the window. Instead of asking for an autograph, I yelled, 'YOU MAKE LOVE TO YOUR GUITAR!!!' Needless to say, no autograph. I'm still not quite sure what I was trying to say…"
Submitted by kristib4059a075e.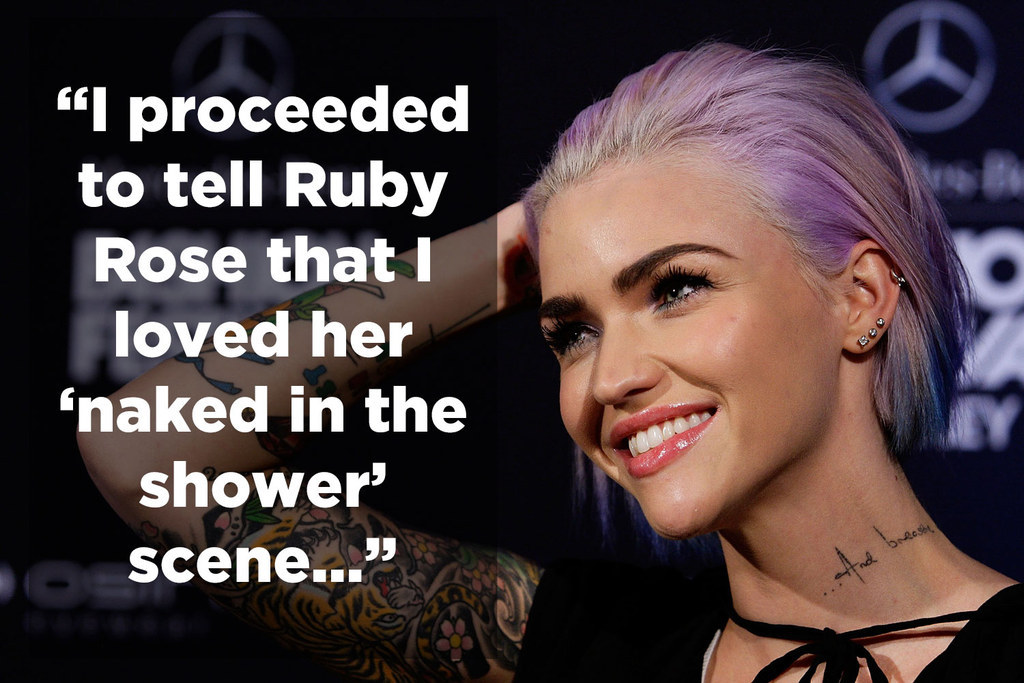 16. "I went and saw Elf on Broadway in New York about two years ago and five minutes in, One Direction plus Danielle [Peazer], Eleanor [Calder], and Perrie [Edwards] walked in and sat down right in front of me. Naturally, I burst into tears and was inconsolable for a good 15 minutes. My friend feigned having to go to the bathroom just so she could get up and touch Louis' hair as she walked behind him. I'm so sorry."
Submitted by maddiec4e00dea1f.
17. "I had the awesome opportunity of meeting my idol, Orlando Bloom – I'm a massive Lord of the Rings fan and have been kinda obsessed with him since I was like 11. When I saw him, the first words out of my mouth (completely unintentionally) were 'Omg, when I was young, you made me realize I was heterosexual.'"
Submitted by smalldee.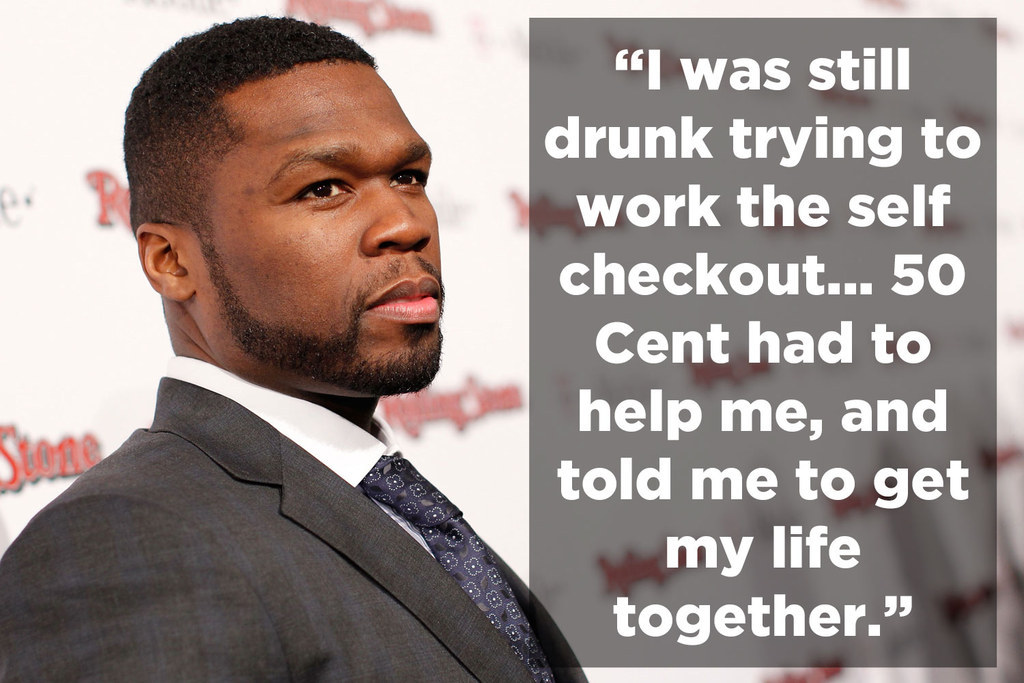 19. "I saw Raven Symoné outside of my office building while I was going out to get lunch. After I noticed it was her, I shouted, 'Hey! That's So Raven!' She didn't like it. She didn't like it at all."
Submitted by James Lane, Facebook.
20. "I was working at McDonald's when I was about 15. The McDonald's is the last sort of fast food you can get until you reach the Hamptons, so we did get our fair share of famous people either coming in or driving through. One day, Sarah Jessica Parker and her husband, Matthew Broderick, were in the drive-thru and I looked over and said, 'Oh my god, it's Sarah Jessica Parker and Michael J. Fox!' They both laughed and drove off. It didn't hit me until I got home and told my mom what happened that I mistook Matthew Broderick for Michael J. Fox."
Submitted by lauraw4edf4a79d.