It's been less than a week (lol, I know, right?) since Taylor Swift announced her sixth album, Reputation, will be released on 10 November.
But seeing as hardcore Swifties moonlight as professional detectives, we already knew that announcement was coming.
And since the video for Reputation's lead single, "Look What You Made Me Do", dropped on Friday, fans have gone into overdrive with their theories and speculations.
HOWEVER, as every good stan will know, Taylor Swift has spent the last few days lurking and liking posts on Tumblr, and now's the time for me to put my detective hat on, because I have been stalking her likes and I have THEORIES TO EXPLORE.
First and foremost, let's establish that according to the iTunes preorder page, Reputation will consist of 15 tracks, and "Look What You Made Me Do" is track six.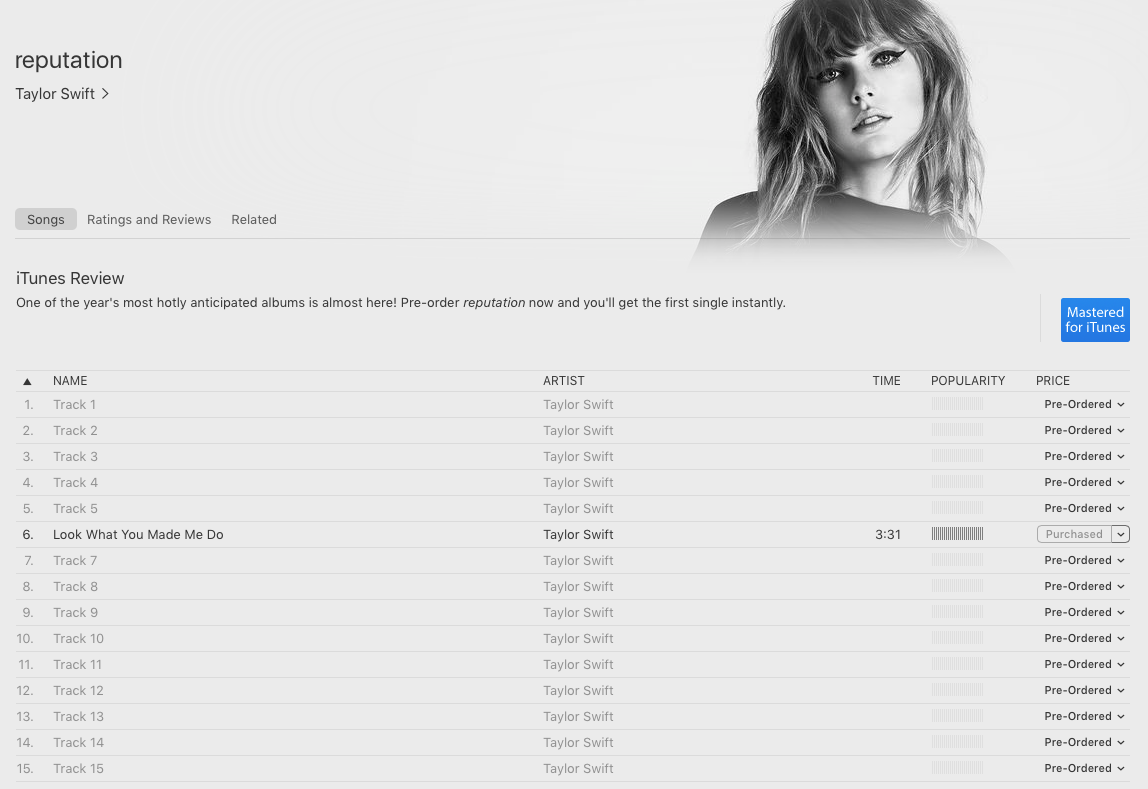 And seeing as we haven't been given the option to preorder a ~deluxe edition~ of the album, fans were like, "holy shit, are we not getting a deluxe edition of the album?"
But Taylor has since liked this post on Tumblr, indicating that there won't be a deluxe version after all – because all the songs are so amazing that "they all deserved to be on the standard version".
I'm lowkey upset about this because the bonus tracks are always some of the best songs on the album, but I'm not going to cry about it, because New Taylor would probably mock me.
And anyway, the most exciting theory comes from this post, which Taylor herself liked, and therefore it is confirmed. Don't @ me, I don't make the rules.
Remember how we established that there will be 15 tracks on Reputation? Well, fans have been speculating that the 15 Taylors taking their bows at the end of the "LWYMMD" video each correspond to a different track on the album.
Based on what we already know about the album's track list, that would make "Look What You Made Me Do" the sixth Taylor in the lineup – aka the ~receipts~ Taylor, who many think is an amalgamation of Kim Kardashian and Katy Perry.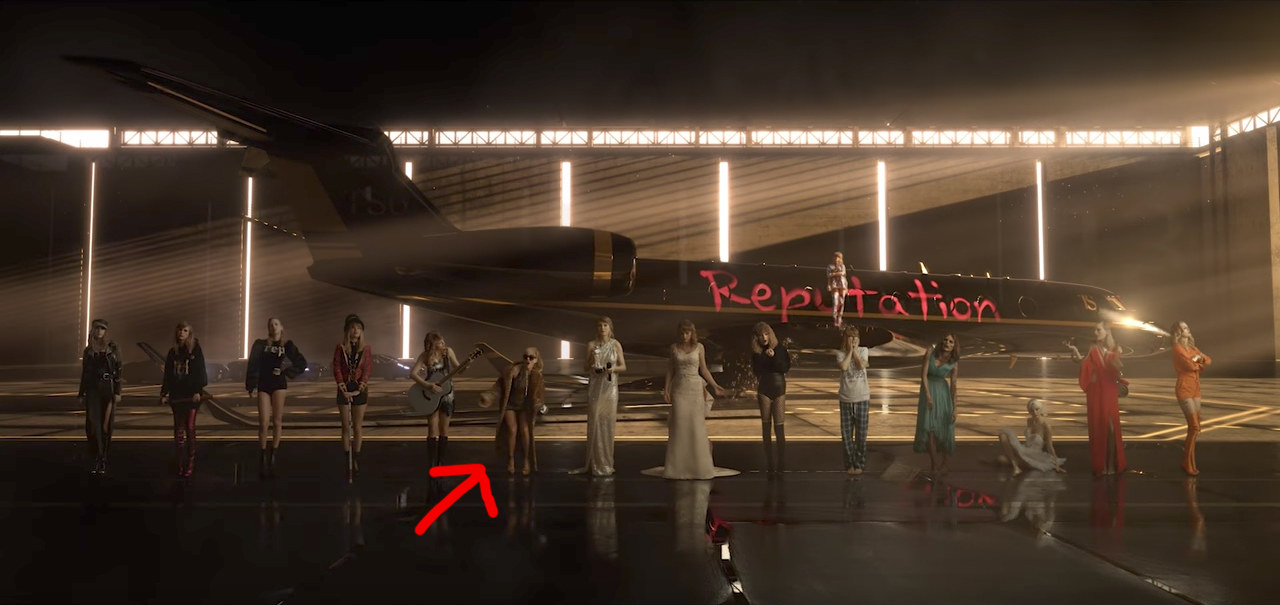 But, if that's true, what do the rest of the Taylors represent? Some fans have latched on to an in-depth theory about the fourth Taylor – who is wearing an outfit from her Red era. FULL DISCLOSURE: Taylor didn't like this post, so this is one theory that isn't confirmed.
It all stems from an alleged leaked tracklist that listed the fourth song as being almost nine minutes long.
So, if we're going with this theory (which we are, because it's awesome and because this is Taylor Swift and there are no coincidences, especially when it comes to numbers), there are seven songs on the album from the perspectives of her past personas.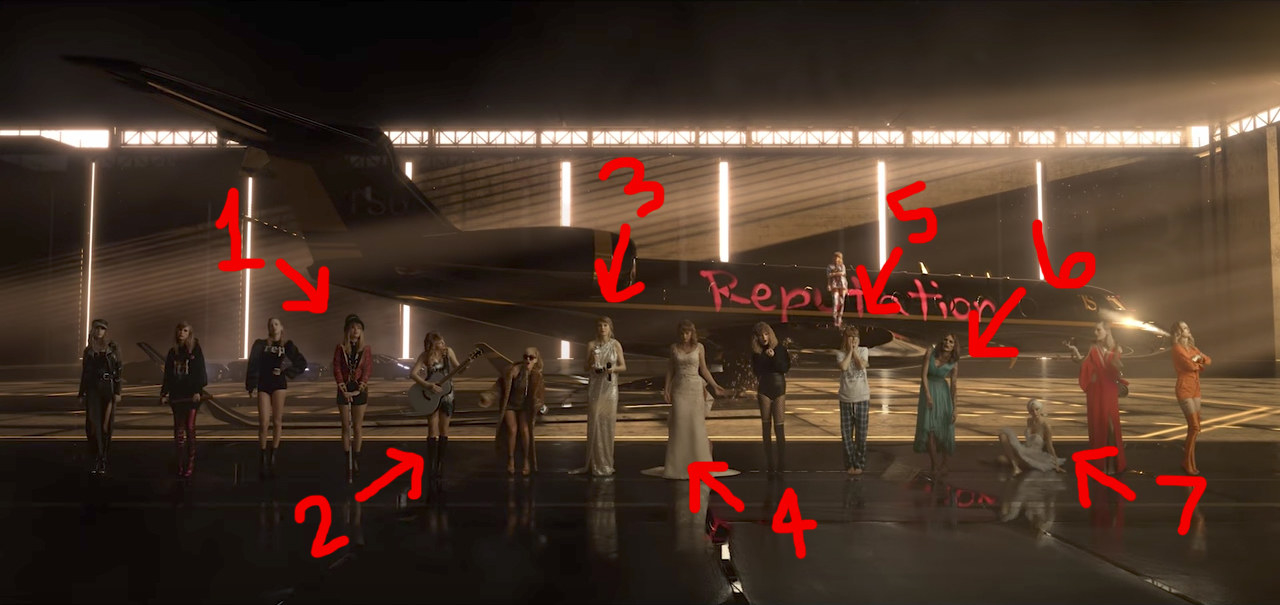 Some of the references are pretty obvious – like the seventh Taylor, who is wearing her 2009 VMAs dress and exclaims she wants to be "excluded from this narrative", referencing her ongoing feud with Kanye West.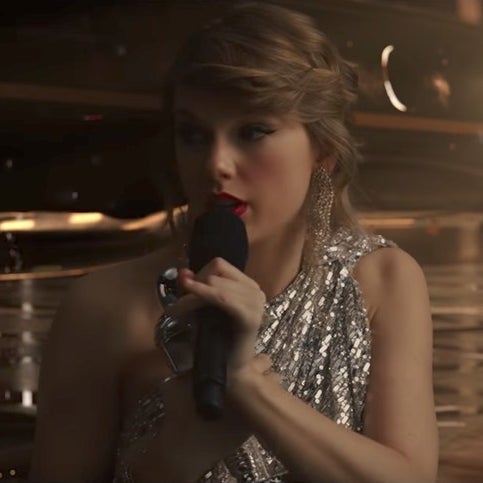 In that case, the seventh song on the album could be about the infamous Kanye incident – and, judging by "Look What You Made Me Do", it may not be as forgiving as "Innocent", the song she wrote about it in 2010.
The Taylor of "You Belong With Me" is also in the track list lineup, but this time her shirt is covered with the names of her current ~squad members~ rather than the signatures on the original shirt.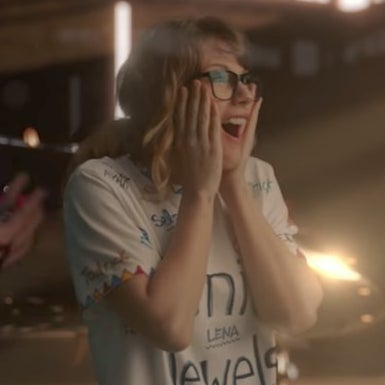 There's been a lot of speculation about the names that are missing from the shirt: squad leaders Karlie Kloss and Lorde aren't present, and there are a lot of "Bad Blood" stars missing. But maybe song 10 could be about exactly that – the media's constant speculation about the legitimacy of Taylor's many friendships.
Or maybe it'll be about her fake friends. [sips tea]
But some of the Taylors are wearing outfits that don't seem to have any ~huge~ significance, like the 2014 Met Gala Taylor. And, frankly, I can't wait to know what this particular track is about.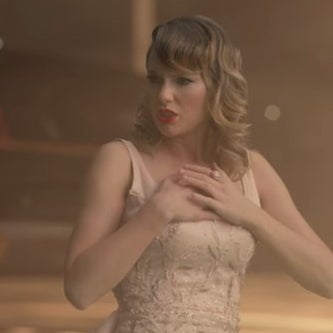 Because Taylor also liked this Tumblr post about the theory, suggesting we'll be getting songs from the point of view of each character.
The use of the word "character" is particularly important when it comes to this specific Taylor, who only appears for a few seconds and who doesn't seem to be dressed up as any persona at all.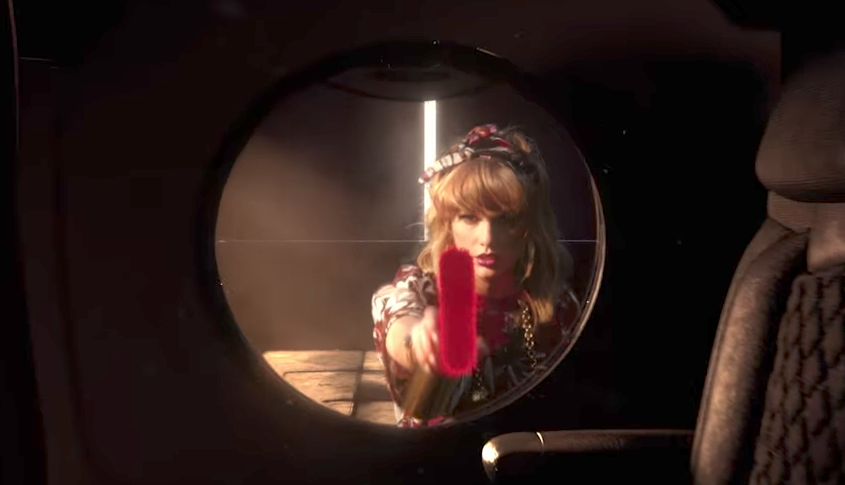 And that Taylor is the one writing Reputation. Literally.
People are theorising that this Taylor isn't a character, but the real deal – and she's standing behind all her meticulously created personas, watching it all play out from behind the scenes.
The theory goes that, as this Taylor is standing behind all the rest, she represents the 15th and final track on the album – one where we are finally blessed with the perspective of the real Taylor.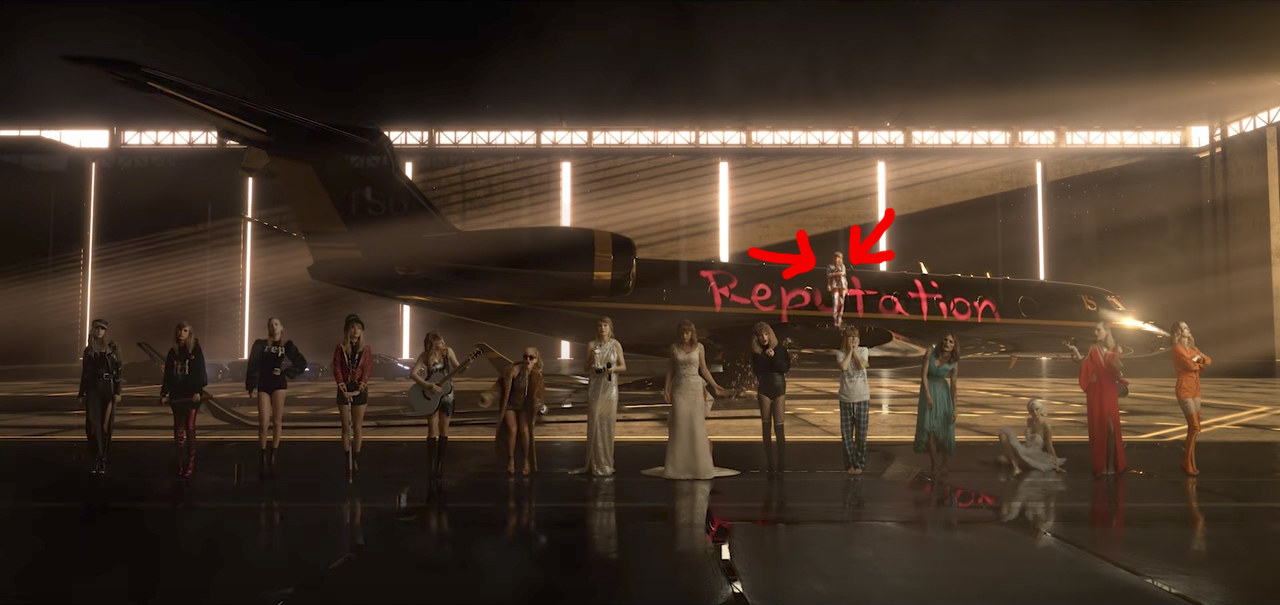 This would follow Old Taylor's tradition of concluding her albums with songs about new beginnings. (Even though Old Taylor is dead, her traditions live on.)
And that just makes me excited for TS7.