Miley Cyrus's New Tattoos Seem To Hint At Her Breakup From Liam Hemsworth And Relationship With Kaitlynn Carter
"My head was feeling scared, but my heart was feeling free."
On Monday night, Miley Cyrus took to the stage at the MTV Video Music Awards to give the first live performance of her latest single, "Slide Away".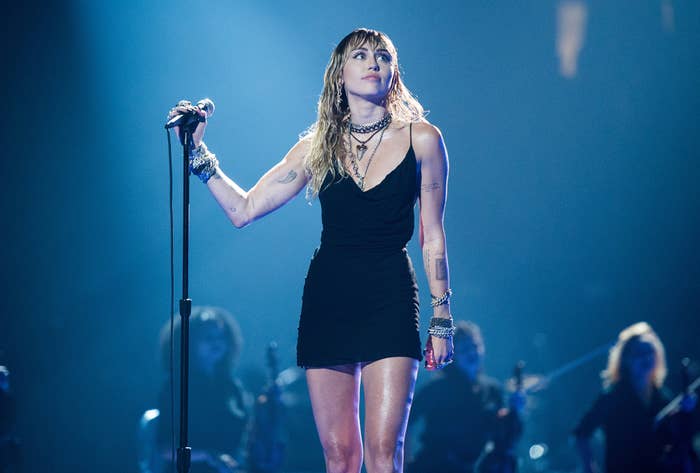 The tattoo reads: "My head was feeling scared, but my heart was feeling free". It's a lyric from the Pixies song "The Thing".
But that's not the only new tattoo Cyrus's gotten recently — a few days ago, LA tattoo artist Dr Woo posted a photo of some ink apparently inspired by Cyrus's recent trip to Italy.
The trip is significant because it's where Cyrus was spotted appearing to kiss her rumoured new girlfriend, Kaitlynn Carter, just a few hours after her split from Hemsworth became public knowledge.
Fans noted that, although the person in the sculpture looks like they're being devoured by the snake, it actually symbolises a rebirth.
And that idea is something Cyrus has been very vocal about recently. In her first Instagram post since her split from Hemsworth became public, she wrote: "Don't fight evolution, because you will never win ... change is inevitable."
She also wrote something similar in a candid Twitter thread where she discussed the end of her relationship with Hemsworth and denied ever cheating on him.
"I had to make a healthy decision for myself to leave a previous life behind," she wrote. "I am the healthiest and happiest I have been in a long time."
And it looks like she decided to tattoo that idea for life! ❤️