I think it's safe to say Khloé Kardashian has been having a pretty rough time on the internet in recent weeks.
And last week, she faced backlash for her response to a fan who tweeted that she had to work extra hours to be able to afford a pair of Khloé's Good American jeans.
When the fan, Kaelynn, said she had to work 20 hours to afford a single pair of the jeans and that she'd be "picking up extra shifts", Khloé replied saying it was "so cute".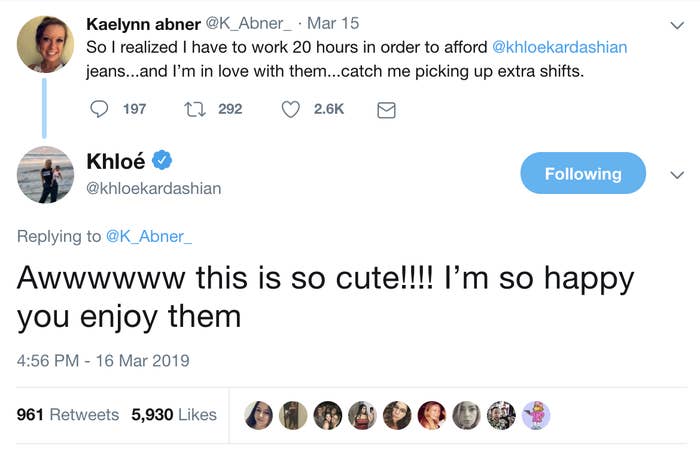 Khloé immediately came under fire for the tweet, which people said was "tone deaf" coming from someone who has an approximate net worth of $40 million.
Some people said she should send Kaelynn a whole box of free clothes, or at least slip her a Good American coupon code.
Well, the whole situation took a turn on Tuesday when Kaelynn tweeted again, revealing Khloé did more than slip her a coupon code and, in fact, sent her a huge care package of Good American clothes.
Khloé herself popped up again in the replies, thanking her for being "such a positive soul".
But it didn't end there — Khloé also replied to another fan, revealing how she felt about the backlash to her original tweet.
Khloé said she had always intended on surprising Kaelynn with the package, and added she "never thought her tweet would be taken so negatively".
And, in another tweet, she suggested the whole situation had been "toxic" and made her want to distance herself from social media.
Well, I guess that's one situation handled, at least.