Here's How Celebrities Are Reacting To Kamala Harris's Election As The First Woman Vice President Of The United States
"'Madam Vice President' is no longer a fictional character."
BuzzFeed News has journalists around the US bringing you trustworthy stories on the 2020 elections. To help keep this news free, become a member.
Joe Biden was officially elected president of the United States on Saturday, beating Donald Trump in a tense race that lasted several days.
And that means his running mate, Kamala Harris, will in January become the first woman, the first Black person, and first person of South Asian heritage to be elected vice president.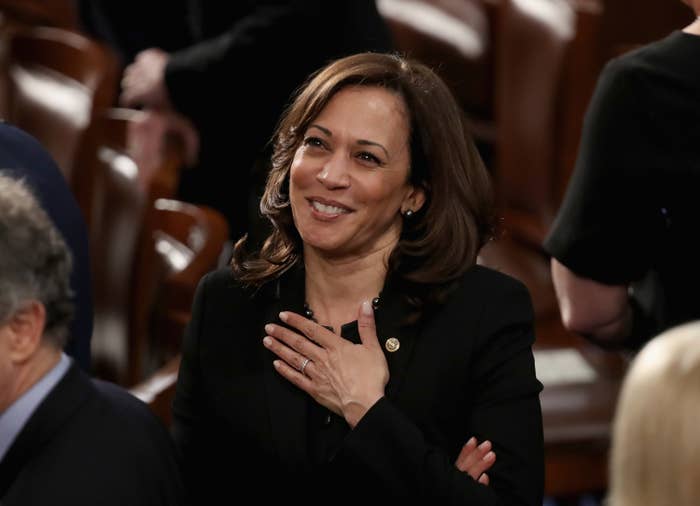 On Saturday, shortly after the race was officially called, Harris posted a video to Twitter of a phone call she had with Biden, congratulating him on winning the presidency.
But Harris isn't the only one celebrating. Plenty of celebs are posting messages of congratulations and praise for Harris and her historic election.
"'Madam Vice President' is no longer a fictional character," Julia Louis-Dreyfus wrote alongside a photo of Harris in a tweet that quickly racked up hundreds of thousands of likes.
Mindy Kaling, whose parents are Indian immigrants, tweeted her joy that she is able to raise her daughter in a country with a VP who looks like them.
Kaling also retweeted a post from Harris's younger sister Maya, who tweeted her pride for her sibling.
Chrissy Teigen quote-tweeted a list highlighting Harris's historical election with a simple: "!"
And she also posted this strategically cropped photo of herself with the vice president-elect.
And director Ava DuVernay also celebrated the significance of Harris's election with a quote tweet.
Reese Witherspoon posted a lengthy caption on Instagram, calling it "a monumental day" and calling attention to the woman who paved the way for Harris's achievement.
Lady Gaga said she had "nothing but love" for both Biden and Harris, who she shouted out as the "1st female VP elected to the White House."
Zooey Deschanel posted on Instagram celebrating "democracy, equality, and a woman in the White House."
Nicole Richie posted a photo of a young Harris to Instagram alongside a simple American flag emoji.
Selena Gomez, who campaigned for the importance of voting in this year's election, simply retweeted a post from Harris with: "YES!!!"
And Michelle Obama congratulated both Biden and Harris, whom she highlighted as "our first Black and Indian-American woman Vice President," saying she was "beyond thrilled" by their election.