Taylor Swift Is Revealing Her New, Darker Image And People Are Into It
So here for Snakelor '17.
SO. If you've missed the screaming for the last 48 hours, Taylor Swift has made her return to the world in a big way since completely wiping all her social media accounts last week.
It all kicked off on Monday, when she posted this mysterious video of what looked like a snake tail, but nobody was sure, and everybody was confused AF.
Swifties the world over immediately donned their detective hats, zooming in on videos to prove various points and debating what the creature could ~actually~ be, because goddammit, sometimes it's fun to be extra.
But, guys, she just dropped the third mystery video and we now have one solid piece of the puzzle to cling onto and desperately theorise over: IT'S A SNAKE.
This is currently what Tay's Instagram account (and Facebook cover photo) looks like.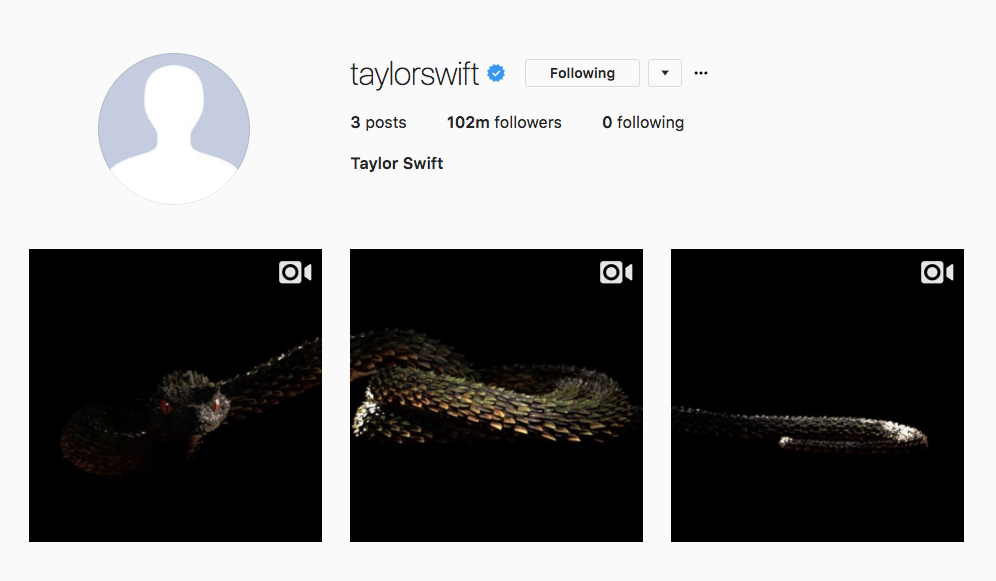 And I think we can safely say that this means Taylor is reclaiming the negative snake imagery she's been bombarded with for the last year-and-a-bit.
Ever since it became apparent that Taylor was posting snakey videos all over social media, her fans have been totally living for it, praising her for ~reclaiming the snake~.
She's basically taken all the insults and hate that have been thrown at her for the last year, and turned it completely around on her haters.
This isn't the first time she's done that: After years of being called a "serial dater" by the media, Taylor released "Blank Space", a song written from the perspective of a love-crazed woman who dates men just to torture them for fun.
But since she seemed to fall off the face of the Earth after all the drama last year, and fans have been waiting not-so-patiently for her reappearance ever since, people have been loving the new snake-y image even more.
YOUR 👏🏻 FAVE 👏🏻 COULD 👏🏻 NEVER 👏🏻
Basically, Swifties can't wait for Taylor to go full Medusa.
And now they have even more evidence to help with their investigative pursuits.
IT IS OFFICIALLY THE YEAR OF THE SNAKELOR. DON'T TRY TO RESIST.