J.K. Rowling Apologised For Killing Off Another Character And Wow, It's A Big One
Please don't start flame wars.
Hey, Potterheads! Today, 2 May 2017, marks the 19th anniversary of the Battle of Hogwarts, during which lives were lost and hearts were broken irreparably.
And it's become kind of a tradition in recent years for J.K. Rowling to apologise, on the anniversary of their death, for killing off one of the characters who died during the battle.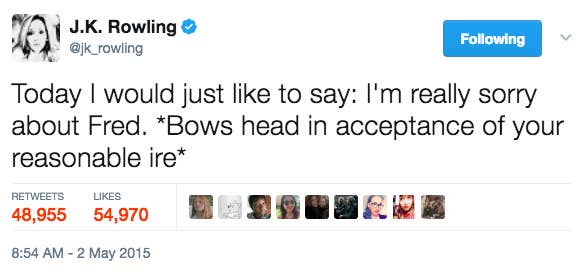 HE HAD SO MUCH MORE TO OFFER. 😭😭😭
And the tradition lives on, because J.K. just tweeted an apology for another death. And, oh my god, it's a big one.
"WHO COULD IT BE?" I hear you cry. "IS IT COLIN CREEVEY, WHO SNUCK BACK INTO THE CASTLE AND DIED BEFORE HIS TIME BECAUSE HE WANTED TO FIGHT ALONGSIDE HIS HERO?"
"PERHAPS NYMPHADORA TONKS, WHO HAD JUST BECOME A NEW MOTHER TO HER SON BUT COULD NOT LIVE WITHOUT THE LOVE OF HER LIFE?"
And, OK, some people love Snape and were sad when he died.
But mostly people just think, in that case, justice was served. And there are characters more deserving of apologies.
[Waits patiently until next year, when someone more deserving of an apology will be remembered.]
Oops. Something went wrong. Please try again later
Looks like we are having a problem on the server.
What do you think? Is Snape deserving of an apology, or did he get what was coming to him?
Yes! I was devastated when Snape died!

No, he was an awful person and he deserved everything he got.

JUSTICE FOR LILY POTTER!!!!!!