We Asked GFRIEND All About Their New Album "回:Walpurgis Night"
The K-pop girl group told us all about their latest full album, their most meaningful tracks, and what they've learned from each other since their debut.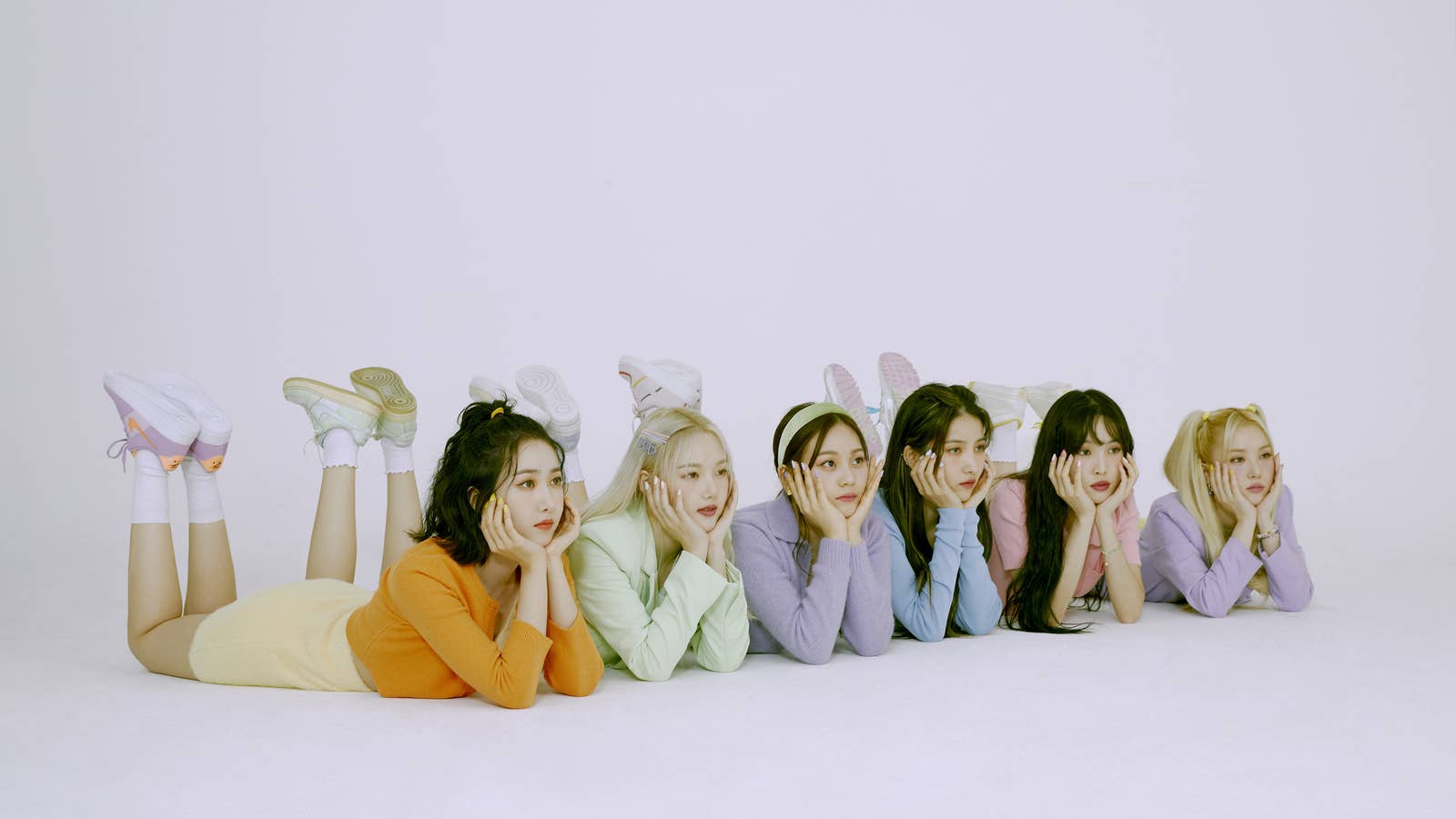 In January, K-pop group GFRIEND's six members will be celebrating the sixth anniversary since their debut — but that doesn't mean they've stopped evolving. In fact, the release of their latest album, 回:Walpurgis Night, only symbolises the completion of yet another transformation for the team.
The album — which was released on Monday following their February EP, 回:Labyrinth, and their July release, 回:Song of the Sirens — marks the conclusion of the group's 回 trilogy (回 is a Sino-Korean word meaning "spin"). Their latest offering takes its title from a traditional German celebration also known as "festival of the witches" that, as leader Sowon explained in an interview with MTV News, "celebrates a new beginning upon welcoming spring, clearing away the remnants of winter with campfires and fireworks."
This message of reincarnation is reflected in 回:Walpurgis Night, a 37-minute-long celebration of female empowerment, friendship, and confidence in the pursuit of one's desires. Throughout the album's 11 tracks, the group explore new genres, putting their own unique, witchy twist on K-pop's current disco-pop trend with title track "MAGO," and even try out new partnerships among themselves with never-before-seen subunit tracks "Secret Diary," "Better Me," and "Night Drive." Every one of the group's six members contributed to writing lyrics for the album.
Their ability to adapt to new styles and challenges is something GFRIEND's members consider their greatest source of pride. "We feel the proudest when we hear words like 'GFRIEND is continually developing' or 'we look forward to your next journey,'" they told BuzzFeed News. Main dancer and vocalist SinB elaborated: "It's amazing that we've been able to pull off various concepts that we once didn't know how. I feel so proud of it."
Over email, I asked Sowon, Yerin, Eunha, Yuju, SinB, and Umji all about their work on 回:Walpurgis Night, their most meaningful tracks, and the lessons they've learned in their six years as a team...
You'll be celebrating the sixth anniversary of your debut as a group this coming January. What's the most important lesson each member has learned over the past six years of working together?
SOWON: Although it's not easy for six different individuals to gather together as one, we've learned to respect and understand each other.
YERIN: Together, everything is possible! I think I was able to go through all these years thanks to such great members.
EUNHA: The fact that our members are so precious! I'm so used to our six members now, and it's extremely important for me to support and rely upon each other as we continue our path as GFRIEND.
YUJU: The energy emitted when we are as six members gives me great strength.
SINB: I've learned that there's almost nothing that can't be accomplished if effort is put into it. It's amazing that we've been able to pull off various concepts that we once didn't know how. I feel so proud of it.
UMJI: That a person constantly develops through all kinds of influences. And the fact that we're able to receive positive influences and fill each other's shortcomings is truly valuable. I've learned to perform as a unison under one team, but not lose my own color and personality at the same time.
It's only been four months since you released 回:Song of the Sirens, and you said you wanted to show a dramatic transformation for GFRIEND with that EP. How did your fans respond to that transformation? Did that response influence your process while making 回:Walpurgis Night?
GFriend: We're sure a lot of fans and the audience in general felt the massive transformation that GFRIEND went through with 回:Song of the Sirens. As we prepared for the recent album, we wanted to show GFRIEND's aspects that continue from the previous series, encouraging ourselves to try a variety of new concepts that we haven't tried in the past in terms of visuals or music.
If 回:Labyrinth told the story of girls facing a choice, and 回:Song of the Sirens was about temptation, what does 回:Walpurgis Night represent? If this album is the conclusion of your 回 series, how does that story end?
GFRIEND: While 回:Labyrinth expressed the mixed emotions a girl faces at her moment of choice, 回:Song of the Sirens captured the girl's state of mind as she was swayed by the "unchosen" option she discarded. It finally leads to a realisation of what the girl truly wants, becoming bold and honest with her desires.
You've spoken before about using your own personal experiences and even diary entries as inspiration when songwriting. Is that something you continued with 回:Walpurgis Night?
GFRIEND: Absolutely. The new album reflects ourselves exactly the way we are today. Not only does it include aspects of GFRIEND as a girl group in its sixth year, but also freely expresses the various emotions and thoughts women feel in their twenties on a daily basis. All of us participated in the album making process with our own stories.
Which songs from this album are most meaningful to you individually?
SOWON: "Better Me" since this is the first time I wrote lyrics for a song that ended up being released, and it's also based on our stories in general.
YERIN: I believe it's "Secret Diary," for which I worked together with SinB.
EUNHA: It's so difficult to choose just one since every song is meaningful and precious to me. "MAGO" is a song that I participated in the creative process, and "Love Spell" has a different kick to it. I love the genre and melodies of "Three Of Cups," and "GRWM" is a song I recorded a long time ago.
YUJU: "Night Drive," because the precious emotions I felt throughout the process makes it more special. The fact that I didn't bother to push myself hard to make it memorable and that the melodies and lyrics came from a relaxed state means a lot to me.
SINB: If I have to choose a meaningful song, it'll have to be "Secret Diary" that reflects my thoughts and opinions.
UMJI: "Wheel of the year"! I think it's meaningful for various reasons, because it's the last song of the last album from the 回 series, and also provides a closure to all the conflicts and time feeling lost with a promise that we always move forward. If I listen to it side by side with the song "Compass" from our first studio album, I feel overwhelmed because it seems to show the growth of GFRIEND so far.
Is there a lyric you wrote on this album that you're particularly proud of?
SOWON: "Sway sometimes trapped in pitch darkness / Steady down again and clear your mind" (from "Better Me").
YERIN: "Our transparent heart going round and round / Now I know it all" (from "Secret Diary").
EUNHA: I participated in "Night Drive," in which I expressed the driveway at night with pretty street lamps but also getting stuck in traffic.
YUJU: "Raise a glass for me" (from "MAGO"). It's not fancy, but the expression fits well with "the festival of the witches." Also, "If they don't let go, the thoughts block your way" (from "Night Drive") expresses the scene from inside the car while getting stuck on the highway.
SINB: Working on "Secret Diary" brought me back in time, reminiscing on what the relationship between Yerin and me was like during the trainee years. I remember that I tried to include a message of, "We're so lucky to have each other, as you have me and I have you" in the lyrics.
UMJI: "No doubt you'll shine and bloom" and "A flor de flor, aun mas bello, no tengas miedo" (from "Better Me"). It feels amazing to come up with lyrics in a foreign language that fit well with the melodies.
You experimented with subunit tracks on this album for the first time since your debut — how did you decide on the three units? What was your experience working within those units like?
GFRIEND: Units were formed naturally based on our music preferences. We discussed a lot and worked on every detail of the song, including genre, theme and lyrics together as a couple. The process was difficult at times, but we felt proud of ourselves as we ended up with songs that well represent the charms and unique personality of each unit.

Your concept photos for this album are all very different from each other — was that contrast intentional? How do your concept shoots relate to the music on 回:Walpurgis Night?
GFRIEND: The most important message we wanted to deliver in this album is the bold and candid attitude of the girl who later became a witch. Through these three different concepts, we hoped to express the key messages in various ways, including the concept of a career woman who values friendships and feels confident in facing her desires, further expressing the "Modern Witch" aspects.
I'm interested in your "My Room" concept specifically — while the other concepts highlight GFRIEND as a group, these photos are striking in their individuality. How do your "My Room" sets represent each of you personally?
SOWON: Walking my own path in life, unbothered by what other people say or think.
YERIN: I represent "beauty" in this concept. I contemplated how this desire relates to me and realised that my job is to be in front of a camera, trying hard to take good care of myself and stay healthy.
EUNHA: While I contemplated on what I could do to best represent myself, I tried a tattoo that I've always wanted. The overall atmosphere of the room well reflected myself who's more awake at night than day, as well as enjoying watching movies.
YUJU: 외유내강 [being gentle in appearance, but sturdy in spirit]. Pole dance seems pretty and easy, but it requires a great amount of effort for strength and balance.
SINB: I wanted to show a side of myself that I wasn't able to reveal as a group. That's why the room and outfit was minimal, which helped me to stand out even better.
UMJI: Willingness to protect myself and prevent myself from being shaken in this complicated world.
The "My Girls" concept photos show each member framed by a single descriptive word. Did you choose those words yourself? What do they mean to you?
SOWON: I chose "perfect" because I want to become a perfect person!
YERIN: I chose "adorable" because I always want to remain a lovely person.
EUNHA: I think "simple" fits me well. If I could expand a little bit more, I think "simple yet nice" is more preferred.
YUJU: "Pearl." I once visited a music academy wanting to learn how to sing for the first time when I was in middle school, and the director described me as "a pearl in the mud." This influenced me a lot to start singing.
SINB: I chose "tomboy" thanks to the recommendations from the members. I think the word describes me well.
UMJI: I tend to pay attention to other people's feelings along with my mood and emotions as well. I also agree well with other people's emotions and I consider myself as both an emotional and sensitive person, so I chose the word "emotional."
Do you have a favourite memory or story from preparing this album — maybe shooting for music videos, practicing choreography, or recording?
GFRIEND: Being at the filming of the music video was the most memorable. It felt like we were traveling with the time machine as we entered the set filled with retro moods and fancy colours. Also, we did synchronised dance moves with a lot of dancers, which was so fun and exciting.
We hope the energy and fun vibes that we felt at the time could be delivered to the audience watching our music video!
How would you describe GFRIEND to a new fan who is just discovering your music through 回:Walpurgis Night?
GFRIEND: "Variety" is the key word we'd like to use to describe ourselves. Thus, the new album includes various music genres than ever before such as disco, city pop, EDM, garage rock, and many more. We hope that people could view GFRIEND as artists who can digest a wide range of music and discography.
And finally, the last few months have been a difficult time for all of us, and often music is a way to connect and escape. What message or feeling do you want your Buddies to take from this album?
GFRIEND: We're all going through difficult times right now. As we prepared for this album, we were sad that we were not able to meet our fans in person, and also sad due to the abnormalities of our daily lives.
The lead single "MAGO" is a fun and exciting disco-genre song with bold and candid lyrics. We hope that a lot of people could enjoy while listening to our song, and that it could provide opportunities to refresh from difficult situations.
回: Walpurgis Night is available to buy and stream now.