Ariana Grande's Fans Are Rallying In Support Of Her After A Deadly Attack At Her Concert
"Their hearts were full of joy and happiness and that was because of you. Remember that."
Fans around the world are rallying in support of musician Ariana Grande after a terrorist attack during her concert in Manchester, UK, on Monday left 22 dead and 50 more injured.
While a statement from Ariana's representatives told Billboard that she was "okay", the singer tweeted that she was "broken", saying "from the bottom of my heart, I am so so sorry."
Celebrities – like Lena Dunham, Manchester-based comedian Jason Manford, and YouTuber Ricky Dillon – have led touching tributes to the victims and support for Ariana.
And an incredible influx of support has come from her fans, many of whom have changed their profile pictures on social media to pay tribute to the victims of the attack.
Tens of thousands of fans responded to Ariana's tweet with messages of love, support, and condolences.
And her Instagram account has been flooded with support too. Her latest photo – posted the day before the attack – has over 100,000 comments from fans sending their love.
Thousands of fans have commented urging Ariana to "stay strong", and shared their prayers and thoughts for the victims of the attack and their families.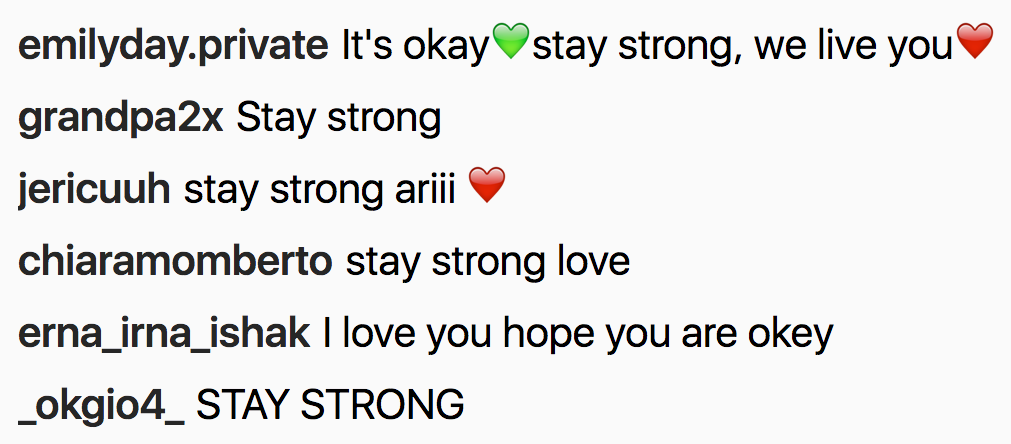 Comments on her Facebook status are also overwhelmingly supportive. Fans around the world sent their love, with some sharing their own experiences of the event.