Hey there, fellow Swiftie (don't lie)! I'm sure you, like me, can't wait for Taylor Swift to release her future Grammy Award-winning album, Reputation, on 10 November.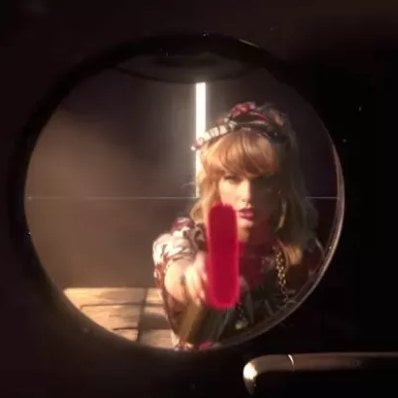 WELL, buckle up, because yesterday Taylor released this 60-second ad for an AT&T thing, and Swifties immediately went into overdrive on their search for Reputation-based clues. 🔍
They found something in what is basically the first shot of the video, and I am forever in awe of their detective skills.
There are a bunch of iconic Taylor guitars randomly placed throughout the video – and all of them correspond to a different era of Taylor's career.
This is important when it comes to another theory about the new album's tracklist, which basically says that the Taylors lined up at the end of the "LWYMMD" video each correspond to a song on the album.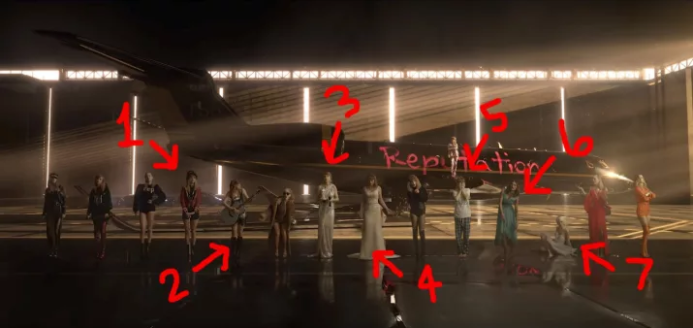 The only guitar in the video we've never seen before is the acoustic guitar Taylor picks up to play the ~new song~ in the studio. Of course, this has fans freaking out.
Because when "Look What You Made Me Do" and "...Ready For It?" were released, it seemed like Taylor had taken a totally new direction with her music – but fans are taking this to mean we'll be getting at least one acoustic song on Reputation.
This all leads back to an old theory about the song "All Too Well", which is a fan favourite from the album Red.
This Tumblr user has pointed out that the singles from Reputation are following the same pattern as 1989, suggesting that the next single Taylor releases will be track four...and therefore could be the extended version of "All Too Well".
However, other fans have come up with a brand new theory about Taylor's next single based on the final few seconds of the AT&T video.
Of course, Swifties were left screaming after Taylor teased us with the prospect of a new song.
But then immediately began speculating about hidden meanings in that final few seconds – namely that there'll be a song on Reputation that starts with a breathy "one, two, three..." and that it ~could~ be called "Out of Time".
Especially considering that, when she released "Look What You Made Me Do", the teasers on Instagram contained a sneaky clue to the name of her second single:

And, if one of the songs ~is~ called "Out of Time", that would correspond to another old theory that the new album deals with the concept of time.
So now we have a whole bunch of new theories and mysteries surrounding Reputation, and I am basically like this:
But at least we know one thing for sure: Old Taylor may claim to be dead, but she's actually as alive and well as ever.