1.
When someone suggested the Trump kids and Jared Kushner would've been in Slytherin, and J.K. shut it down immediately.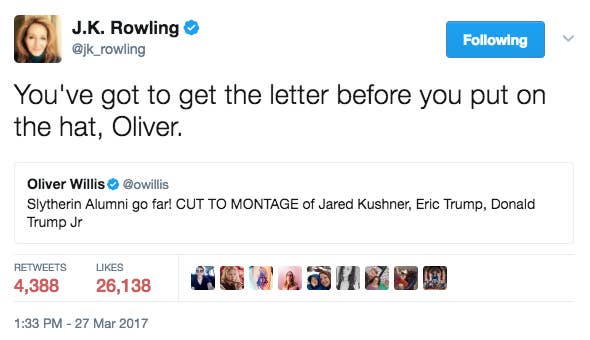 2.
In fact, just every time she brutally burned Trump. Which happens a lot.
3.
...And not only to the president himself.
4.
When this guy came up with the idea of men wearing "penis hats", and she saw her chance and ran with it.
5.
When someone tried to dictate what she can and can't discuss on Twitter, and she was having none of it.
6.
Seriously. For some reason, people do this a lot.
8.
And, when he tried to clap back, she reminded him exactly why she is the undisputed Queen of Twitter.
9.
She even opened up old wounds. Because she's savage AF.
10.
When this guy tried to shame women who watched the Fifty Shades movie, and J.K. just felt sorry for him.
11.
Basically just any time a man says something stupid, actually.
13.
When someone called her a "buttsniffing welfare queen", which deserves points for creativity, I guess.
14.
When someone tried to go all ~mark of the beast~ on her, and she just laughed.
15.
...And then came back with this incredible quip an hour later.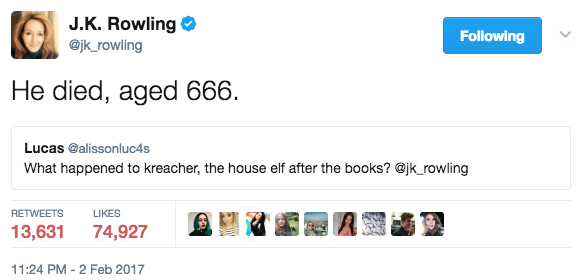 16.
In fact, just every time someone makes reference to burning the Harry Potter books.
17.
Which happens a lot, apparently.
18.
Come on, guys. That debate is sooo 1997.
19.
But, of course, J.K. still managed to keep her sense of humour about it.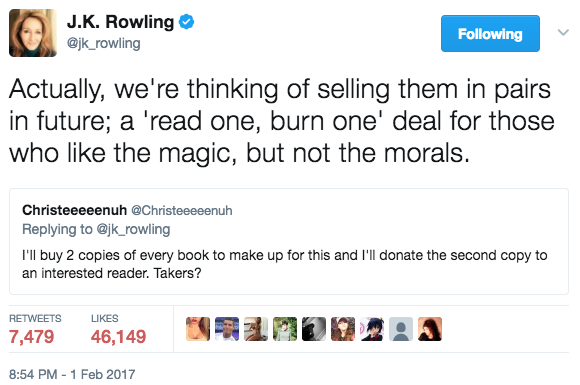 20.
When someone claimed she "grew up on the queen's dime", and she gifted us with this beautiful mental image.
21.
When there was a rumour that Warner Bros. was making Cursed Child into a movie based on info from her evil twin, J.K. Radcliffe.
22.
When someone asked her for the billionth time how you make a Horcrux, and she somehow managed to come up with an original answer ~after all this time~.
23.
When someone called her a nerd, and she was just like, "...yup".
24.
When she was asked where she'd like to visit, and she jumped on the opportunity to out-troll the trolls.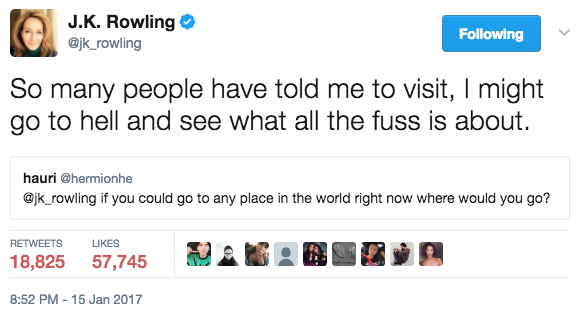 25.
When she went with the classic "well, actually...".
26.
And, finally, when the simple response was the best.