With "Life Goes On," BTS Expresses The Importance Of Togetherness In Isolation
The lead single from BE (Deluxe Edition) offers fans a sense of comfort and healing through togetherness.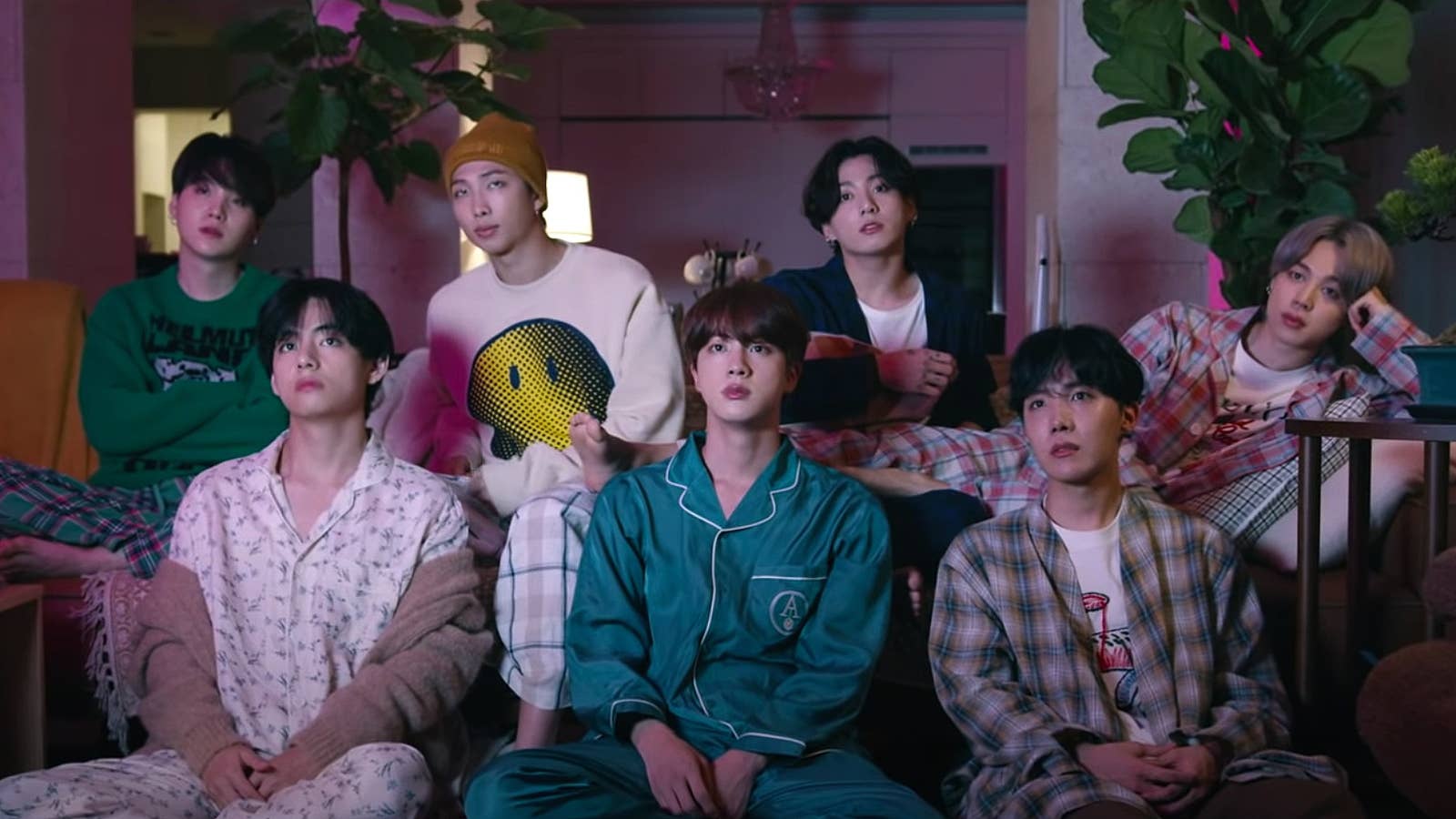 In September, South Korean pop sensations BTS were invited for a second time to the United Nations General Assembly to make a speech.
Filmed from their home of Seoul, the group's seven members imparted a heartfelt message encouraging youth around the world not to let the events of 2020 — and, in particular, the COVID-19 pandemic — cause them to lose hope in their future. They made a connection with their audience in the way BTS does best — by openly and sincerely relating their own experiences to those of people far, wide, and varied.
"I felt hopeless," vocalist Jimin recalled of the beginning of the pandemic, his eyes wide and his voice sombre. "Everything fell apart. Yesterday, I was singing and dancing with fans around the world, and now my world had shrunk to a room."
Of course, the experience of performing on stages in stadiums around the world isn't one shared by many, but for fans watching, the BTS members reflecting on the indefinite postponement of their should-have-been worldwide Map of the Soul stadium tour was all too familiar. After all, many of us had been excitedly looking forward to and organising our summers around the exact same plans — although, admittedly, experienced from the opposite side of stadium barriers. What BTS offered in that speech, though, was not only comfort in relatability, but a message of hope — a promise that they, personally, would try their best to help in any way they could.

"The room itself was small, but my world and our world reached far and wide," rapper Suga followed Jimin. "In this world, we had our instruments, our smartphones, and our fans."
And so, the members explained, they turned to writing music. When faced with looming depression and frustration over feelings of loneliness, V said he "took notes, wrote songs, and thought about who he was." "We embraced all those emotions, and the seven of us began to make music together," J-Hope added. "This is where the music came from. And this made us honest."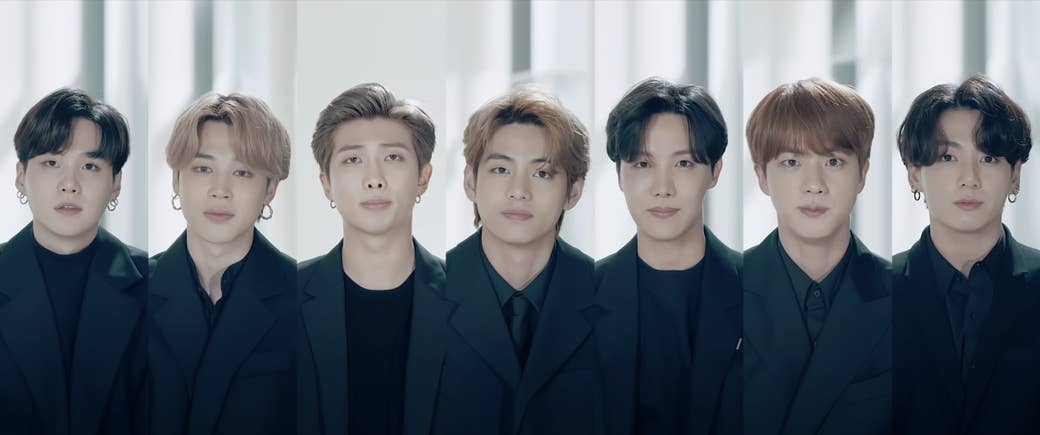 It's been almost two months since BTS made that speech, and the music they spoke about so passionately has finally been shared with the world in the form of their latest album, BE (Deluxe Edition), released on Friday following much anticipation among their fans, known as ARMY. The BTS members have all actively participated in the creation of their music ever since their debut in 2013, but alongside a sudden and unexpected influx of free time came the idea that for this album — which, like many things in 2020, was never in their original plans — they should be more involved than ever before. Each member took on new roles within the creative process, including concept planning, music video production, and album artwork and visuals, and they shared what felt like every moment with ARMY through livestreams on YouTube in an attempt, as leader RM explained in a press conference prior to the album's release, to avoid becoming disconnected from fans while they were unable to meet in person.
The result is a collection of tracks that grapple with the realities of existence in the midst of the COVID-19 pandemic; with despair, and exhaustion, and a longing for connection, and also with tentative hope for the future. Uniting it all is lead single "Life Goes On," the first for BTS since their chart-topping, record-smashing summer hit, "Dynamite."
The single, RM explained at Thursday night's press conference, is "a little more weighty" than "Dynamite," whose goal was to bring a welcome distraction in the form of unbridled joy to everyone it reached. Instead, "Life Goes On" takes a different tack, offering a lifeline to fans going through a difficult time amidst the isolation and uncertainty of COVID-19 with the reassurance that people all over the world — including seven of the most well-known and well-loved men in South Korea — are going through it right alongside them.
"For everyone, life has stopped because of COVID-19," the group's eldest, Jin, said on Thursday. "We feel frustrated and sad, but these emotions aren't always melancholic. It seems like the world has stopped, but life goes on."
In the single, the BTS members sing and rap about a summer lost to lockdown and a never-ending rainstorm — though not a literal one. "One day the world stopped without warning," Jungkook sings at the song's beginning. "Spring didn't know how to wait / Showed up not even a minute late."
It's a perhaps unintentional (although likely not — BTS are known to be self-referential kings) allusion to their 2017 single "Spring Day," a fan favourite and notably a mainstay on the group's live setlists throughout the last few months. That song uses the metaphor of a seemingly eternal winter to describe the anguish of missing someone so desperately, and the fear that they will leave before the eventual warmth of spring. "The morning will come again," they sing on "Spring Day." "No darkness, no season is eternal." It's a message still reflected, three years later, in "Life Goes On."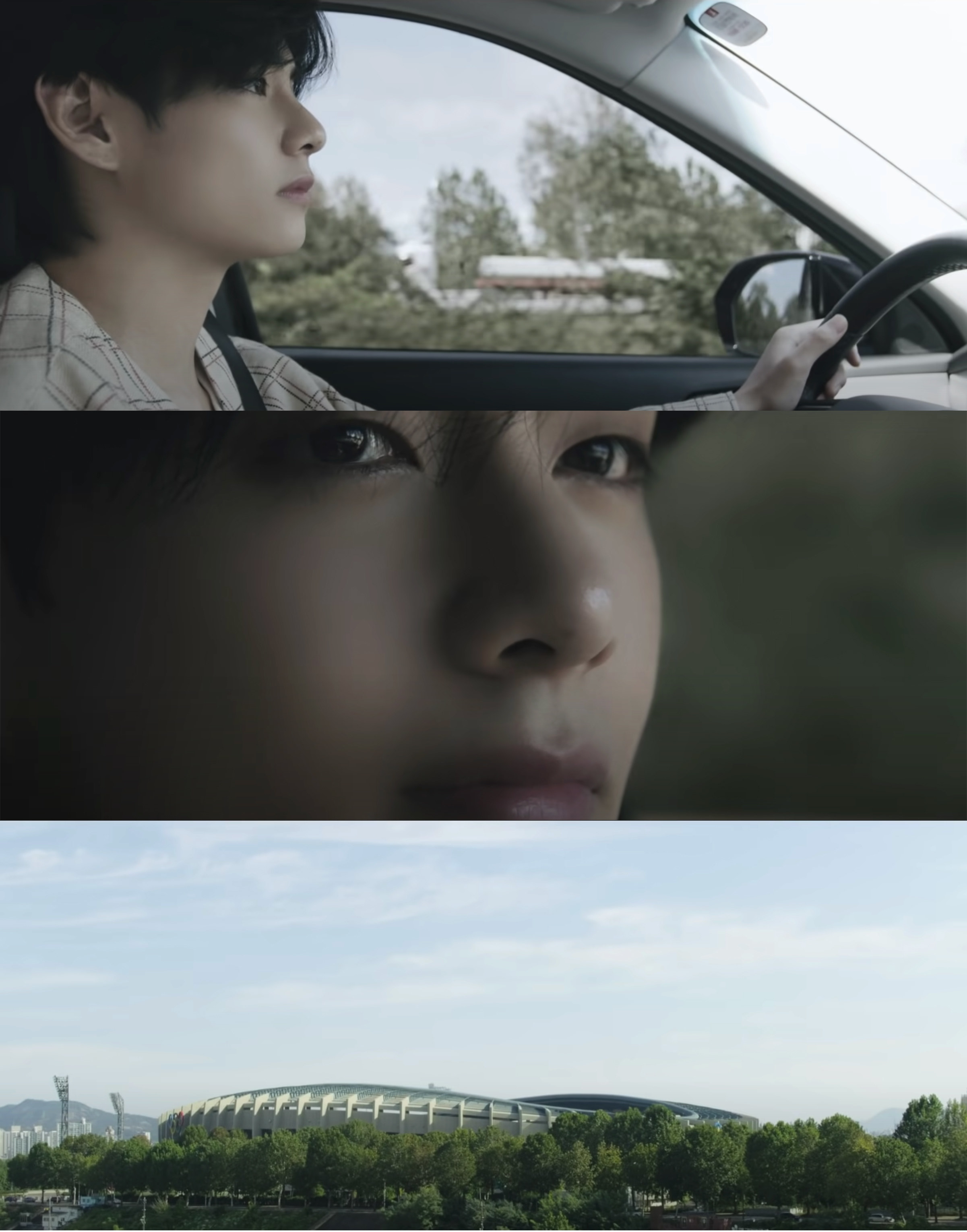 The song's music video was directed by the group's youngest, Jungkook, and in it, we see the members confront their new reality of life in isolation from the rest of the world. It feels intimate and personal in a way that may not have been possible if the person behind the camera wasn't a member of BTS himself: They wear pyjamas, and play video games, and cuddle in a giant pile on the sofa in a shared apartment. During one scene, they sit in the dark and watch home movies of a trip taken when trips were a thing we were allowed to take. They're also seen packed into a car and driving past an empty Seoul Olympic Stadium — the last place they performed a full concert in front of ARMY last October, and the would-have-been first stop on their 2020 tour — in a moment that was fleeting, but no less heart-wrenching for fans who want little more than to meet BTS in concert again.
As always for BTS, though, looking back in sadness doesn't come without also looking forward in hope. In a scene where the group are transported to a stage in an arena of empty seats, they hold out a hand, and offer an opportunity to escape for just a little while. "Close your eyes for a moment / Hold my hand," Jin sings before the final chorus. "To the future, let's run away."
The message of the video — and the song itself — is clear: There is power in togetherness, and no matter how far apart we may be physically, we are all experiencing this isolation together. It's a feeling I've expressed countless times over the past months with friends who I have not seen and cannot see because of COVID-19 restrictions, but who I talk to every day online. There is strength in our ability to communicate our shared experiences, whether that be the loneliness and frustration of necessary isolation, or the fear of living through an unprecedented pandemic, or even simply the excitement of our favourite band dropping a new album.
With "Life Goes On," BTS serves us that necessary reminder — and along with it, a sense of strength, comfort, consolation, and healing.
"If there's something I can do — if our voices can give strength to people — then that's what we want," Jungkook said at the conclusion of the group's UN General Assembly speech two months ago. "And that's what we'll keep on doing."