As all good Potterheads will know, today is 1 September, aka the day the young witches and wizards of Britain head from King's Cross to Hogwarts for the beginning of a new school year.
But this year is particularly special – because it's 2017, and that means it's the exact day we saw Harry return to Platform Nine and Three Quarters for the epilogue of Deathly Hallows.
Of course, J.K. Rowling tweeted a message to celebrate Albus Severus Potter's first day at Hogwarts.
And she also told everyone to give Teddy Lupin and Victoire Weasley some space.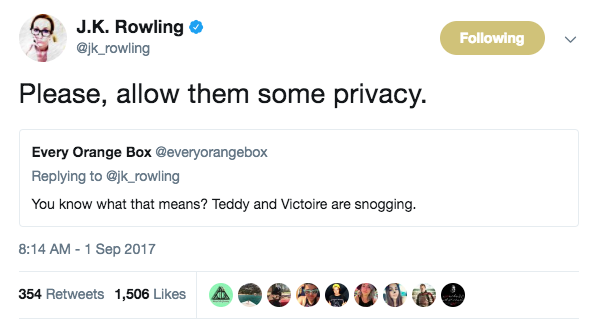 Fans are getting seriously emotional about it, tweeting their messages of thanks to Jo, and sharing their fond memories of the series using the hashtag #19YearsLater.
One fan called it "the beginning of the end", and I really can't deal with these feelings.
And here's an early morning gut punch for you...
But at least we know one thing: All is well.