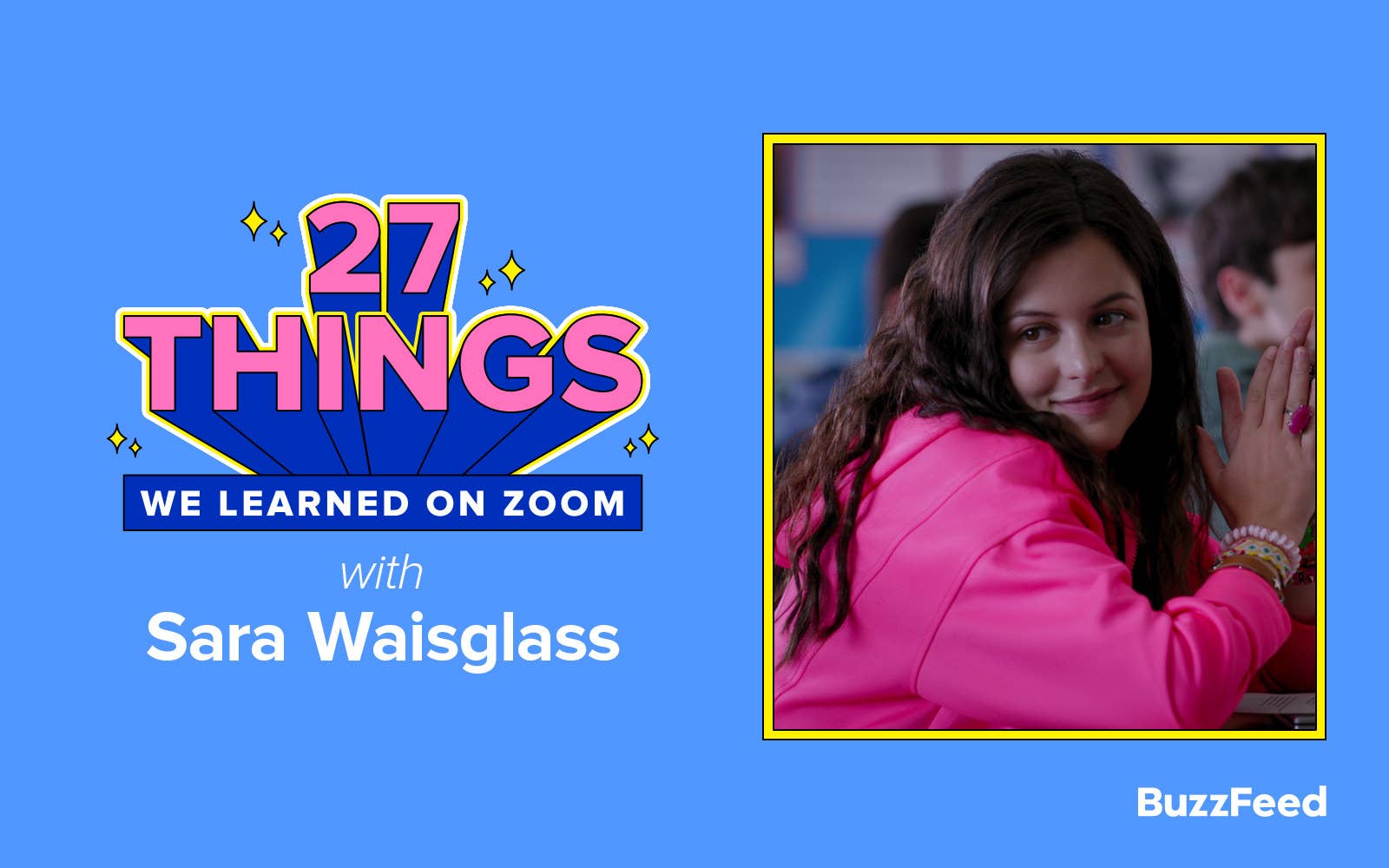 Not too long ago, the vivacious Sara Waisglass squeezed us into her schedule to talk about her role in the Netflix hit Ginny & Georgia. As a long-time fan of Sara's — #TBT to Degrassi — talking to her about her love of spin, baths, and YA dystopian novels was a perfect way to spend an afternoon. Here's everything we learned:
1. What is the first thing you do in the morning?
I check my phone. I wish I didn't, but I do [Laughs]. It's mostly because I go to sleep so early, so sometimes I get texts from people at, like, midnight, so I have to get back to them. [Writer's note: Sara and I bonded over the fact that our phones are on DND from 11 p.m. until 8 a.m.]
2. What are you currently binge-watching on Netflix?
I JUST binge-watched Arrested Development. I'd never seen it before, and it has so many actors that I love in it — I'm a huge SNL buff — so seeing all those incredible comedians was great. I'm on Season 4 now and I started like two weeks ago. I also watched Dead to Me and it was *chef's kiss*.
3. Name a celebrity on your bucket list to work with on a project.
J.K. Simmons. ALSO, Tom Hanks. And Kate Winslet.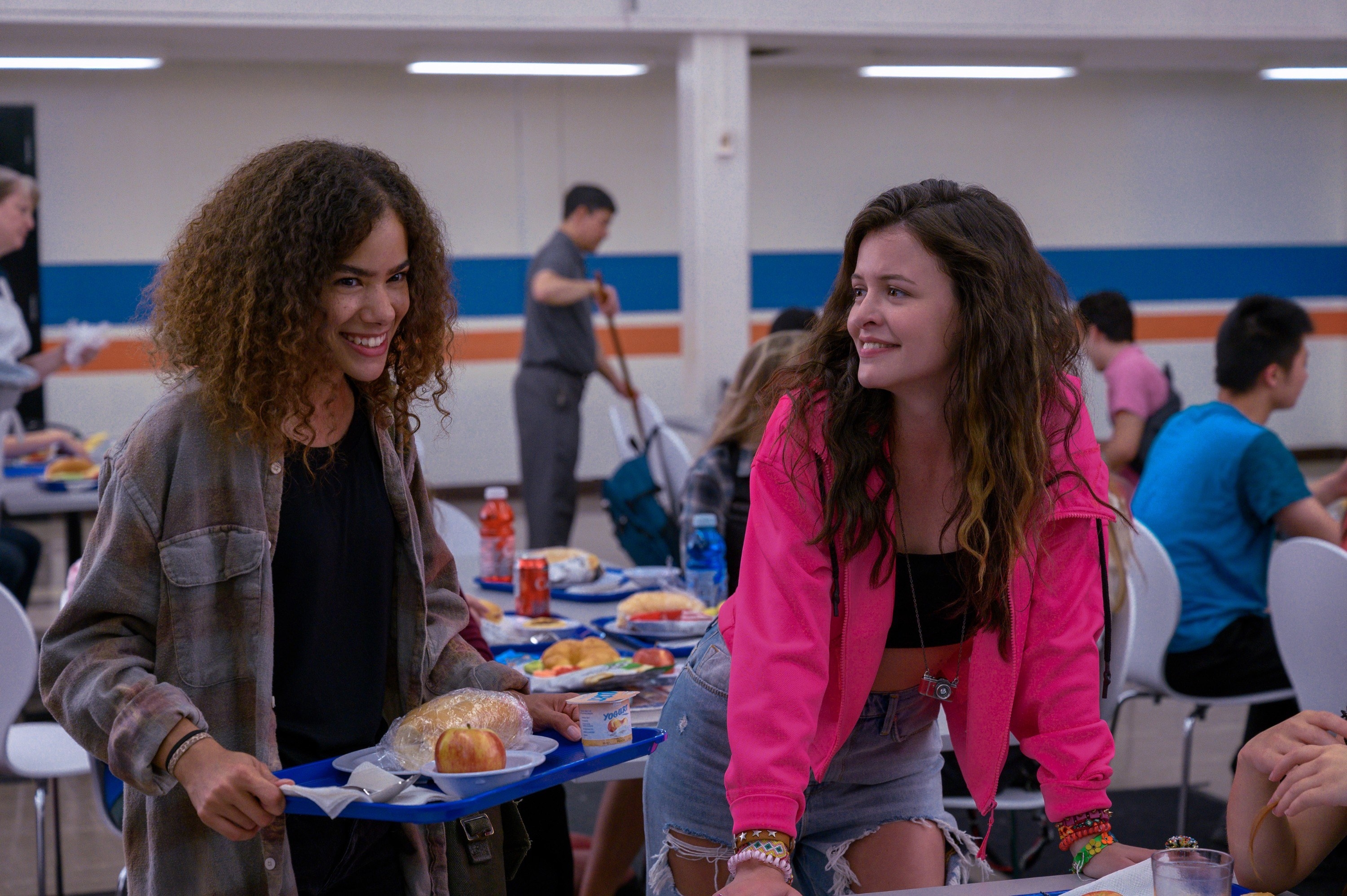 4. What is your go-to karaoke song?
"Tiny Dancer" by Elton John.
5. If anyone could play you in a TV show, who would you pick?
Oooooo. I'm gonna say Leighton Meester because everyone says that we look alike and I'm also a huge fan of hers and think she's gorgeous, so the fact that people think we look alike...*squeals.*

6. Pick one, Toronto edition: Drake, Shawn Mendes, or The Weeknd.
Drake. That one was easy. I gotta rep my old Degrassi bro.
7. Who was your childhood celebrity crush?
Zac Efron. I mean, he's my Troy!
8. What was a typical day like on the set of Ginny & Georgia?
OK, so I'd wake up and they would pick me up — which was awesome, 'cause sometimes we'd shoot until 6 a.m. and I would never have to worry about driving home. Then I would come to set and I would order chocolate chip pancakes — made FRESH — which was great, and then I'd go to the hair and makeup trailer and have some great conversations with the artists, and then I'd run over my lines. I'd talk to Toni (who plays Ginny) and everyone, and then we'd shoot and then have lunch, and then we'd shoot and then we'd be done. It was a whirlwind. Especially since every scene was so different. It was so high-energy and so fun. Then Bernard, my driver, would drive me home and I'd UberEats McDonalds. Then I'd go to bed and do the same thing all over again. [Writer's note: Sara revealed that the final scene the cast shot together was the epic fight scene in the hallway during the musical — which took 10 hours to film.]
"good morning world let's get HAPPY," aka proof that Sara loves spin:
9. Have you picked up any new quarantine hobbies?
Yes, I have! I started playing the drums. My dad's friend got him a drum set, so I've been using it and teaching myself how to play. Also, I'm training to become a spin instructor. [Writer's note: We then spent several minutes talking about how the SoulCycle bikes are so close to one another and how that's gonna change post-quarantine.]
10. What was the last thing you searched on Google?
"Actor award nominations" because my friend got nominated for one this year and I wanted to take a screenshot and show it to everybody. [Writer's note: the friend in question was Amir Bageria — fellow Degrassi alum — who was nominated for the ACTRA Toronto Award for Outstanding Male Performance for his work in Grand Army.]
11. What is the most used emoji on your iPhone?
👅

12. What is your current iPhone wallpaper?
I made a mood board — it has like a sunset and strawberries and denim. I've been trying to convince myself to get back into wearing jeans, but it's been a struggle.
13. Who was the last Ginny & Georgia cast member to text you/is there a MANG group chat?
We do have a MANG group chat! We don't use it often, though. We mostly use our big group chat on Instagram. But the last person who texted me was Toni (aka Ginny), and we were talking about vaccines [Laughs].
14. What was your favorite on-set memory from Ginny & Georgia?
There was a day when Toni and I were filming a scene outside and we ended up holding hands and skipping all around the set. But my absolute favorite was when we filmed the Halloween party and we were all in our Britney Spears costumes. I remember when Sarah (Lampert, the creator) said we were doing Britney for our costumes, I thought "I hope I either get 'Oops I Did It Again' or 'Slave 4 U,'" And I GOT TO BE BOTH!
15. Are you more similar to Frankie from Degrassi or Max from Ginny & Georgia?
Sara: Well, I don't wanna say I'm like Frankie because she was really entitled and kinda racist, so I don't wanna be associated with someone like that. BUT, Max is way more confident than me, though we do have very similar senses of humor, so I'm gonna go with Max.
Ehis: Frankie, you know, had some growing to do, but I feel like after some time, she eventually got there. [Laughs]
16. What was it like reuniting with former Degrassi costar Chelsea Clark?
The best. Chelsea and I were super, super close on Degrassi, so when we got to work together again, it was so exciting. Also Katie, who plays Abby, we all have the same agent, so when we went to our chemistry read before we booked the roles, we all went out to lunch afterwards. It was such a good base, because when Toni came in from America, she felt like a fish out of water and that helped — because we were building our friendship both on and off screen. But yeah, Chelsea's amazing and I friggin' love her and she knocks it out of the park on the show. [Writer's note: In case you didn't know, the show filmed in Canada, where Sara, Chelsea, and Katie are from.]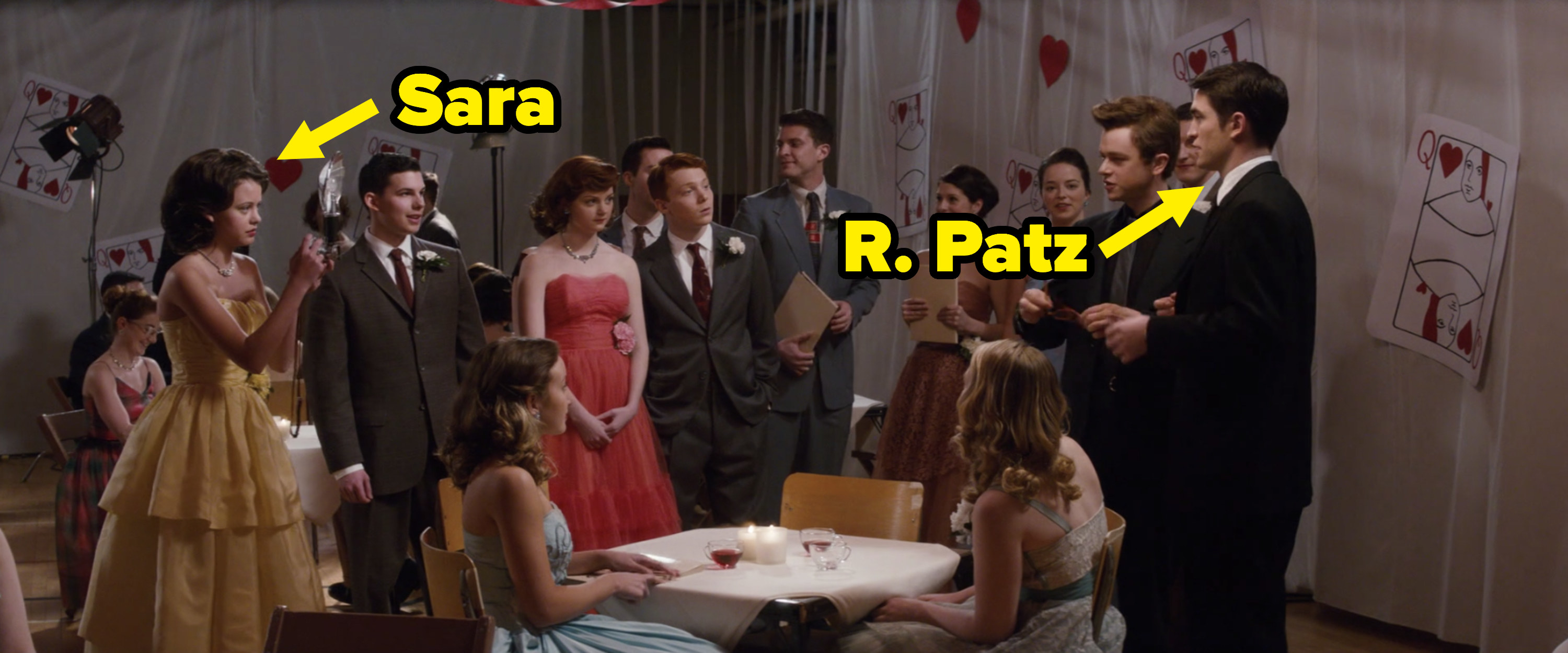 17. Desert island: name three movies you cannot live without.
Walk Hard: The Dewey Cox Story, How to Train Your Dragon, and Parasite.
18. If you could have dinner with anyone — living or dead — who would you pick?
Gilda Radnor.

19. What is your most starstruck moment?
I actually don't get starstruck easily, but I did shoot a movie in 2015 where I had a scene with Robert Pattinson, and I grew up in peak-Twilight years, so when I looked at him, I was like, "Whoa, you're Edward Cullen." In one scene, he hands me his camera, 'cause I'm supposed to take a picture of him and his friend, and his line to me was "Turn it sideways," which I do, but on one take, he forgot to say the line, so I did it without him asking, and afterwards he was like, "I'm so sorry, Sara," and I was like, "MANS KNOWS MY NAME!" [Writer's note: The film is called Life and it's a biopic detailing the friendship built between Dennis Stock and James Dean as Dennis photographed him for Life magazine ahead of the East of Eden premiere.]
20. What is one thing you cannot leave your house without?
Like, saying my phone is dumb, but...the answer is my phone. But also, my ID, because I'm afraid that a cop is gonna pull me over and ask, "WHERE'S YOUR ID??"

21. Do you have any guilty pleasures?
I take way too many baths. Like, way too many. There was a point this winter where I was taking, like, five a day. So, that's my guilty pleasure. Sweet, simple, me time.
"✨my second favorite kind of bubbly✨" aka proof that Sara likes baths: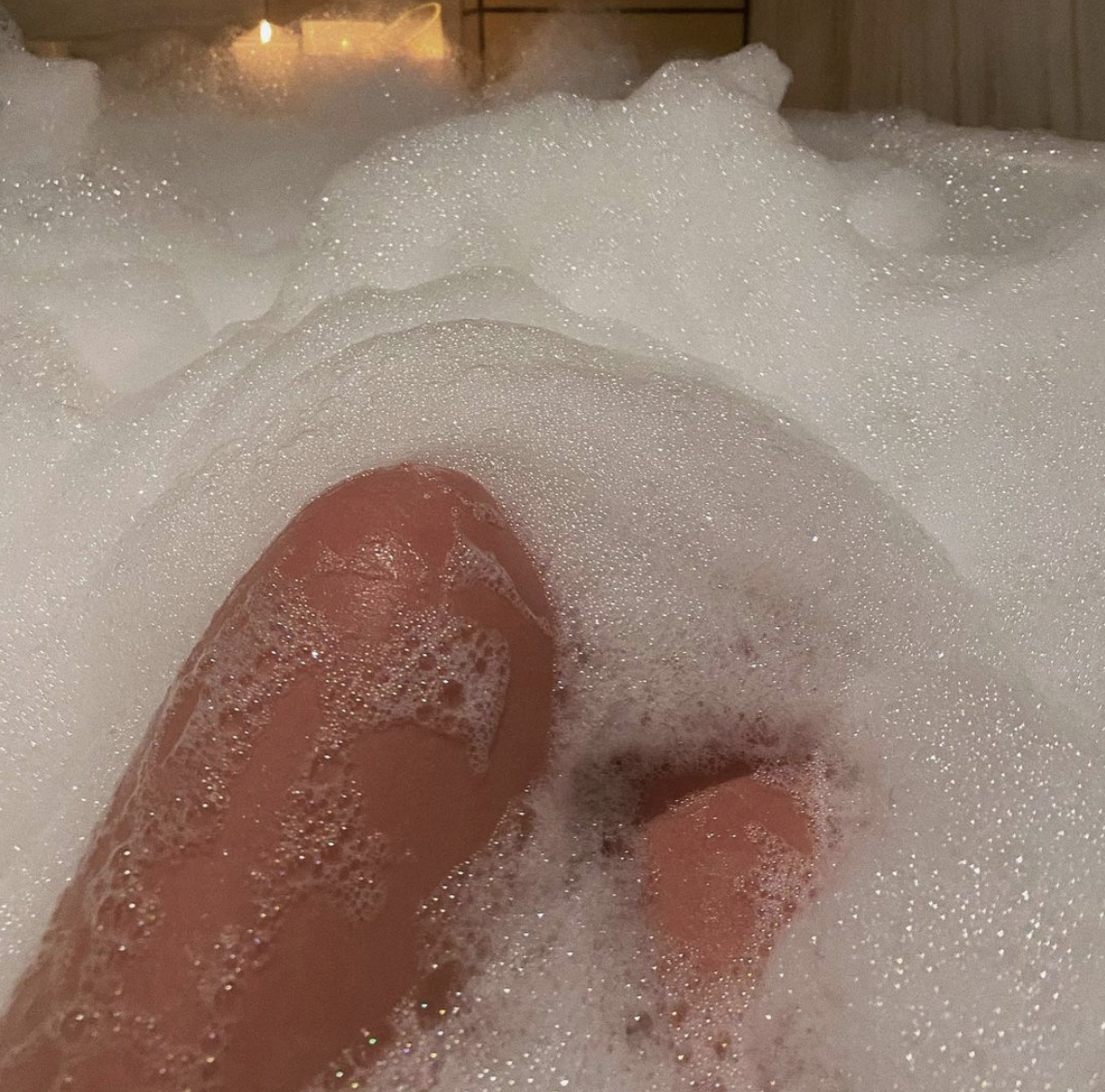 22. What is your go-to comfort food?
A warm Nutella and strawberry Belgian waffle.
23. What was the last book you read?
Three Dark Crowns by Kendare Blake.
24. What is a role that people would be surprised to find out you auditioned for?
The two in my mind that stick out are Sabrina in The Chilling Adventures of Sabrina and Kimberly/the Pink Power Ranger in Power Rangers. But honestly, the women they cast for those roles were perfect, so I can't even be upset. Sometimes, you gotta just take the L.
25. What would you want to see happen for Max in Season 2 of Ginny & Georgia?
I'd really love to see Max and Ginny repair their friendship, simply because female friendships are so important, and it was so awesome to see it bloom, and I'd hate to see it end because of stupid, dumb Marcus. [Writer's note: Sara was being glib, but also girls rule and boys drool.] I'd like to see Max find another girlfriend, because she's so deserving of love and had so much love to give.
26. What is the best piece of advice you've ever received?
A therapist once told me, "Lead with compassion and you can't be wrong."
27. Last, but not least, #TeamMarcus or #TeamHunter?
#TeamMarcus. Sorry Hunter, but Marcus learned so much and had such a cool arc. He really loves Ginny, even though he was dumb in the beginning.
Thanks so much for chatting with us, Sara! Be sure to catch her in Ginny & Georgia, now streaming on Netflix.