Ever spend an inordinate amount of time thinking about an outfit from a movie or show or pop culture in general? Yeah, me neither.
Well, luckily for you, Cinema Studies student Sydney Urbanek asked her Twitter followers about an outfit that they think about a lot. The replies came in DROVES, I tell you.
So, here are some of the most fashionable responses:
1.
Villanelle's pink dress from Killing Eve:
2.
Cecilia's green dress from Atonement:
3.
Cher's MANY iconic red outfits from Clueless:
4.
Also, all the coordinating black and white gym outfits from Clueless:
5.
Britney Spears and Justin Timberlake's matching denim ensembles:
6.
Fran Fine's candy wrapper minidress from The Nanny:
7.
Zendaya's pink boob plate and matching skirt outfit:
8.
Sean Connery's Bond suits from Goldfinger:
9.
Lupita Nyong'o's purple gown from the Black Panther premiere:
10.
Betty Draper's black dress from Mad Men:
11.
Jackie Kennedy's infamous pink co-ord:
12.
Ali's green "Bound to You" gown from Burlesque:
13.
Corey Mason's periwinkle sweater and plaid miniskirt from Empire Records:
14.
Harry and Sally's respective chunky sweaters from When Harry Met Sally...:
15.
Jules' metallic halter top from Bend It Like Beckham:
16.
Lady Gaga's multi-part Met Gala gown:
17.
Billy Porter's tuxedo dress:
18.
Claire's red ball gown from Outlander:
19.
Andy's post makeover outfit — with the Chanel boots — from The Devil Wears Prada:
20.
Summer's baby blue day dress from (500) Days of Summer:
21.
Emily / Hope's masculine chic wardrobe from A Simple Favor:
22.
Alexia's matching sets from Wish Upon a Star:
23.
Finally, Normani's custom "Motivation" ensemble: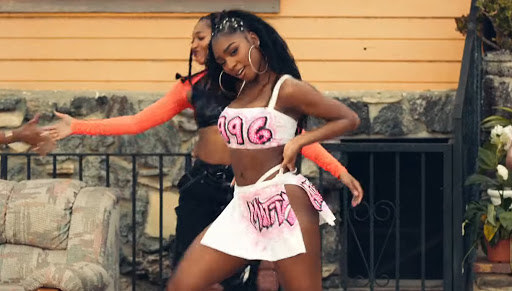 What are some outfits that you can't stop thinking about? Sound off in the comments below!