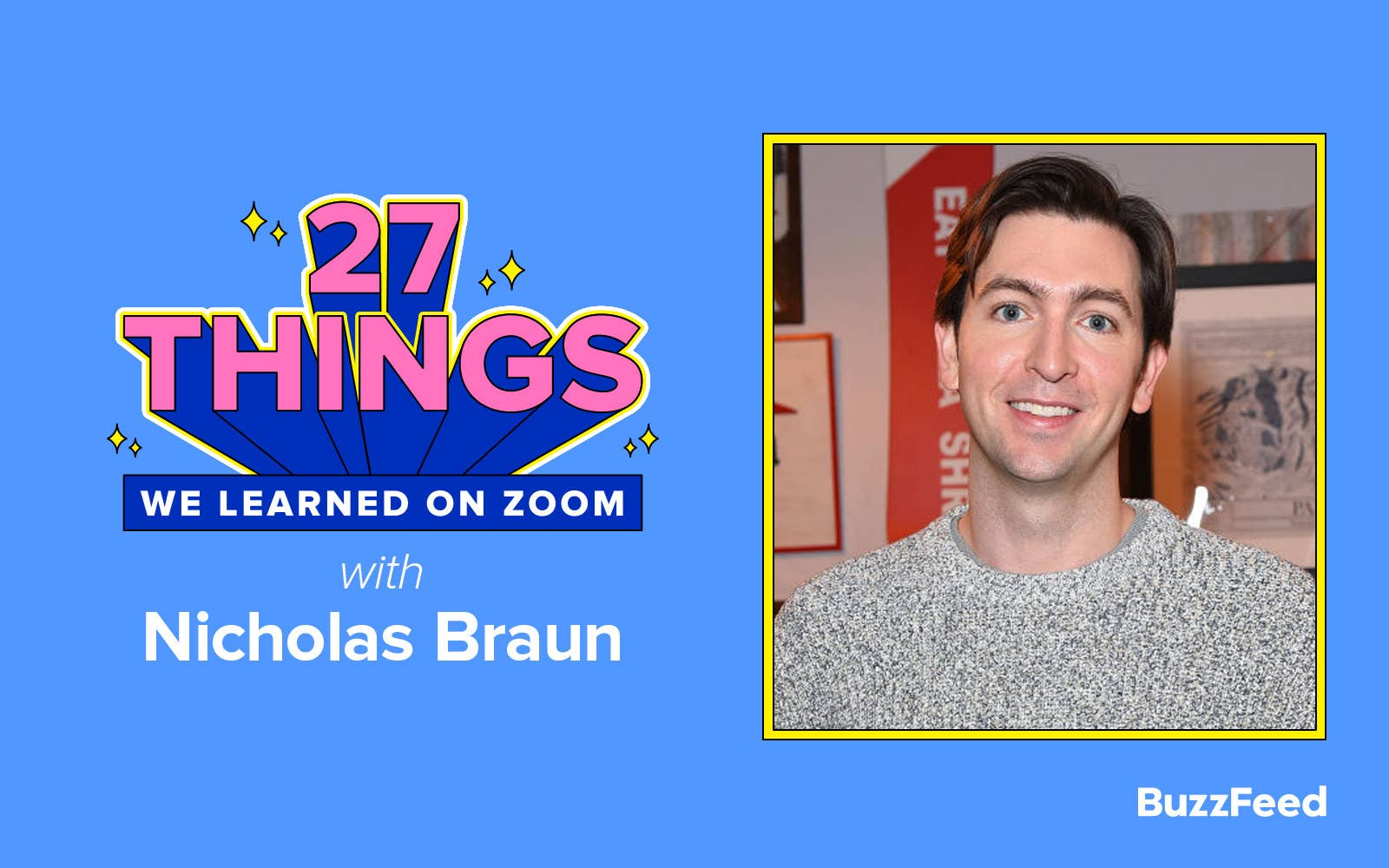 Not too long ago, Nicholas Braun — aka my 6'5" king — joined us on Zoom to talk to us about his new film, Zola, his obsession with trashy reality television, and his love of early '00s R&B singers. I don't wake up early for a lot of people, but I gladly got my butt out of bed at 7 a.m. for this interview. Here's everything we learned:
1. What is the first thing you do in the morning?
Unfortunately, check my phone. I can't help it.
2. What was the last TV show you binge-watched?
Most recently, Terrace House. But I got bored...like, I watched 20 episodes! But after 20 episodes, nobody even [held] hands! [They're] all there to find love...but I just needed something to happen. [Writer's note: Nicholas and I then chatted about our obsession with realty TV shows where the main objective is hot singles finding love.]
3. If you could work with any actor, living or dead, who would you pick?
Philip Seymour Hoffman.
4. Describe your style in three words.
Comfortable. Earth-tones. Slim.
5. Who would you cast to play you in a movie?
A young Tom Hanks. [Writer's note: I inquired about Colin Hanks versus Tom, but Nicholas admitted he wasn't as familiar with his body of work, so in his perfect world, he'd go with sticking Tom Hanks in a time machine.]
6. What was your favorite memory from the set of Zola?
One day, at the end of a very long week — we had been shooting all night long to get this one specific shot at dawn — I wasn't eating a lot personally, but we all were just so dead, so we ordered Chick-fil-A at 11 or 12 at night and spread it out all over our hotel room. We had milkshakes and sauces ... and it was just great, the four of us eating together, and then we all just took a nap in that room. We cleared off all the sauces and then passed out.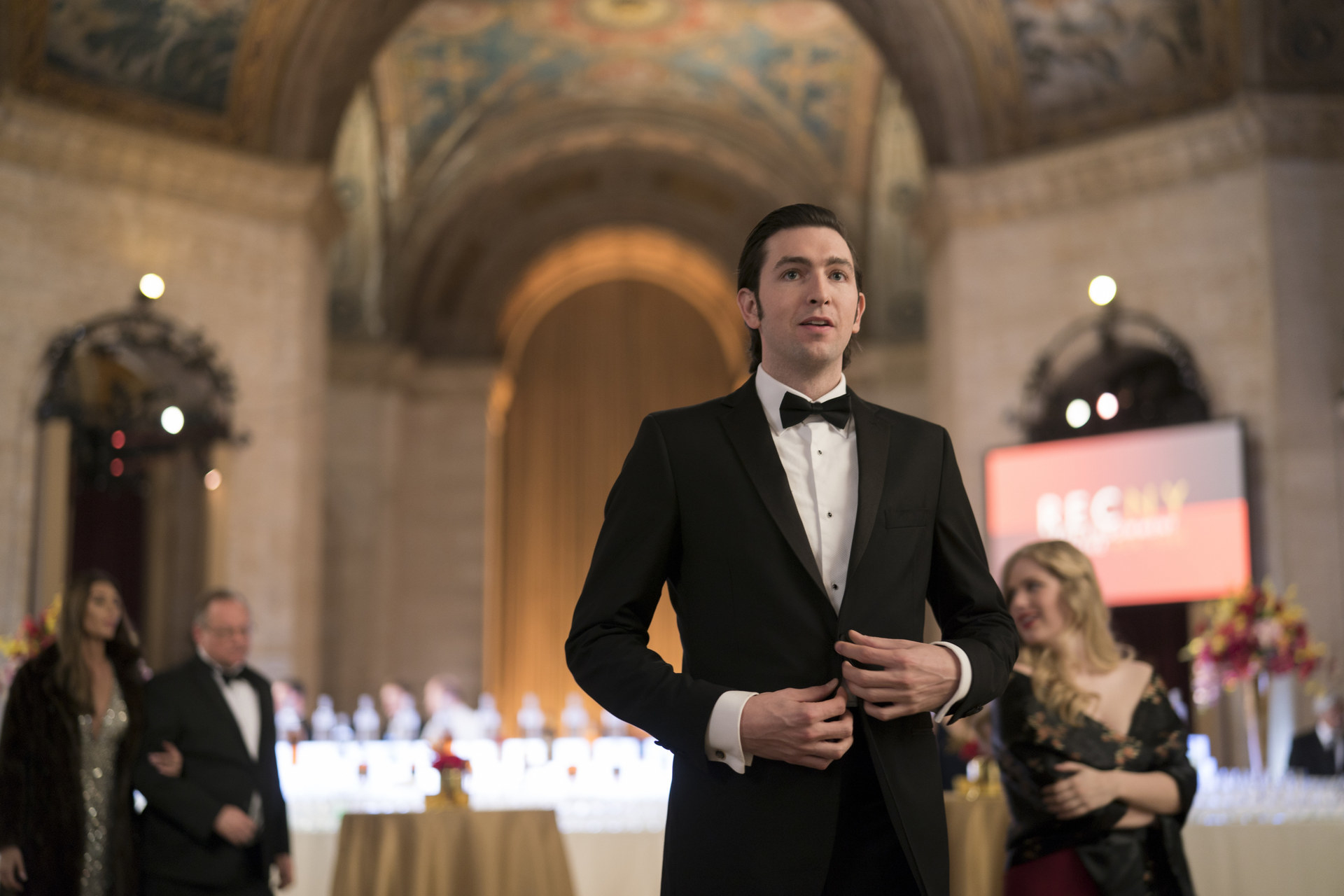 7. What was your favorite memory from the set of Succession?
In Season 1, it was the first time we had traveled out of the country — we were shooting in the castle in England for Tom and Shiv's wedding — and when we first arrived we did a table read for the last two scrips in this big, beautiful dining room in this castle with paintings from the 17th century and mahogany furniture...it felt like, "Wow." The show hadn't come out yet, but we knew we were making something wild.

8. How did you prepare for the role of Derrek in Zola?
When I read the script, [my character] speaks a certain way — Jeremy [O. Harris] and Janicza [Bravo] wrote his dialogue with a specific cadence — so I started, you know [speaks in a slow drawl], and I wasn't sure what the facial hair should be, but I felt like that should be a part of it, so I'd grow my facial hair out and send pictures to Janicza until we settled on the chinstrap.
9. What was your favorite scene in Zola?
I think when they first bring Derrek to the motel room and we're all walking in and the door closes and we're in this dark room. We were in a real motel in Tampa — it wasn't a nice motel; there were bullet holes and bodily fluids on the walls — and it was really hot and the shades were drawn, and it just felt like, "This is the movie — this is where it starts." It's hot, it's sticky, it's claustrophobic, and everyone is in their element: Colman['s character] is in his swaggery pimp mode, Riley's character isn't paying attention to my character, Taylour's character is seemingly indifferent ... I just think all the energies of our four characters are in that room.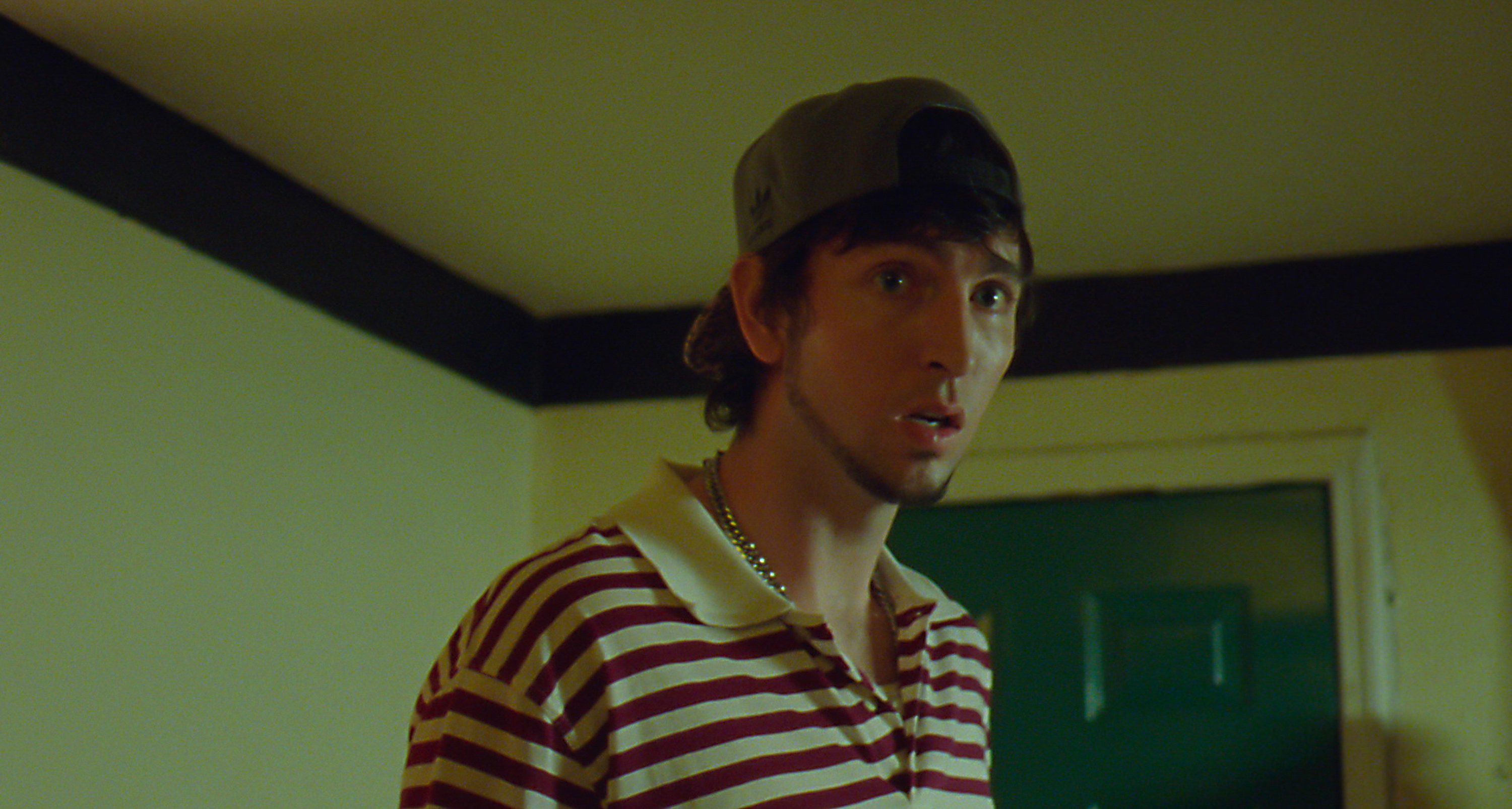 10. What were your first impressions of Taylour Paige, Riley Keough, Colman Domingo, and Jason Mitchell?
Riley: Super cool, smart, easy to hang out with.
Taylour: Funny, light, spiritual.
Colman: Attractive — we met in the gym, and I walked in and thought, "This handsome, ripped dude with great facial hair..." He also has a great laugh.
Jason: I loved his acting style because it felt similar to mine. I remember that he wanted to have real money on him, not prop money, and I loved that.
11. What was a typical day like on the set of Zola?
Wake up, weigh myself — I wanted to stay around a certain weight, so that would dictate what I'd eat that day — then I'd tune up my chinstrap with a really good razor, go to set, eat egg whites, and drink LOTS of iced coffee. The cast wanted to have fun with one another, so there'd always be music playing and dancing and laughing.
12. Who was your childhood celebrity crush?
Mariah Carey. Aaliyah. Brandy. All of the early members of Destiny's Child...I was big into female R&B singers.
13. Did you pick up any new quarantine hobbies?
I got into baking sourdough. I got a starter from a friend, but my starter recently died, so the hobby died. [Laughs]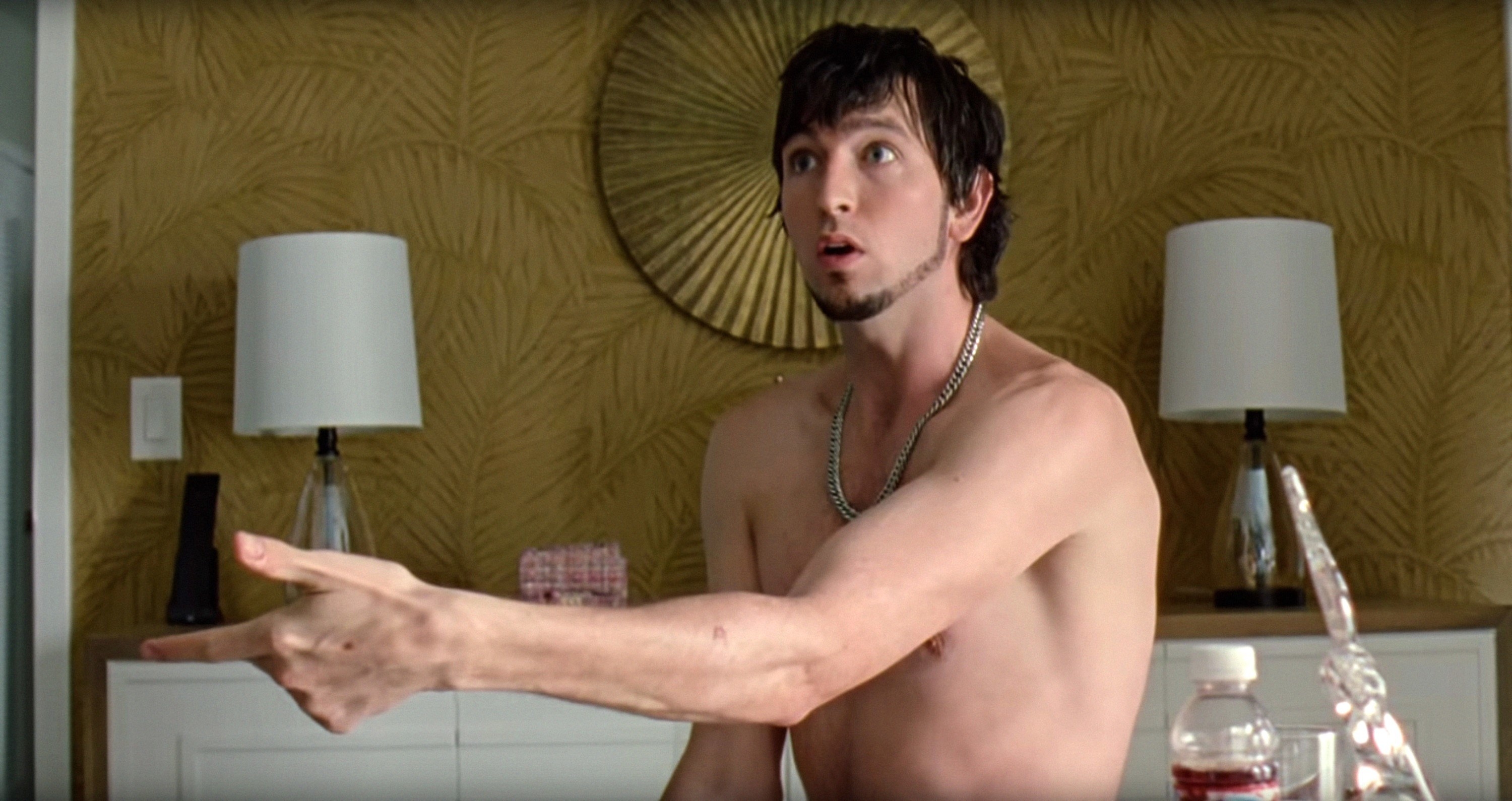 14. What was the last thing you looked up on Google?
It was the phone number for the place I got my ham, egg, and cheese sandwich this morning — I called ahead to put my order in.

15. What is the most used emoji on your iPhone?
Either 😬 or 🤙.
16. What was the last book you read?
Billion Dollar Loser: The Epic Rise and Fall of WeWork by Reeves Wiedeman.
17. What is your go-to adult beverage?
Tequila soda with a splash of lime.

18. What was your most starstruck moment?
I think meeting Leonardo DiCaprio at the 2020 Golden Globes.
19. Desert island: three shows you can't live without.
Are You the One?, The Office, and Formula 1: Drive to Survive.
"There are a lot of parts of me that are 'Greg-y."
20. Do you have any guilty pleasures?
The Bachelor — I am now a citizen of Bach Nation. It's good to be here. [Laughs]
21. What can you not leave your house without?
A mask and a hat.
22. What is your go-to comfort food?
Pizza — I eat it four times a week. My favorite pizza at the moment has banana peppers, onions, mushrooms, and dollops of ricotta cheese.
23. Who do you think you're most similar to: Derrek from Zola, Greg from Succession, Cameron from 10 Things I Hate About You, or Zach from Sky High?
I guess...Greg. I mean, there's a lot of me in all of my characters. I think as a teenager, I was most like Zach, definitely, and maybe Derrek is Zach in the future. [Laughs] Just kidding. But yeah, Greg. There are a lot of parts of me that are "Greggy."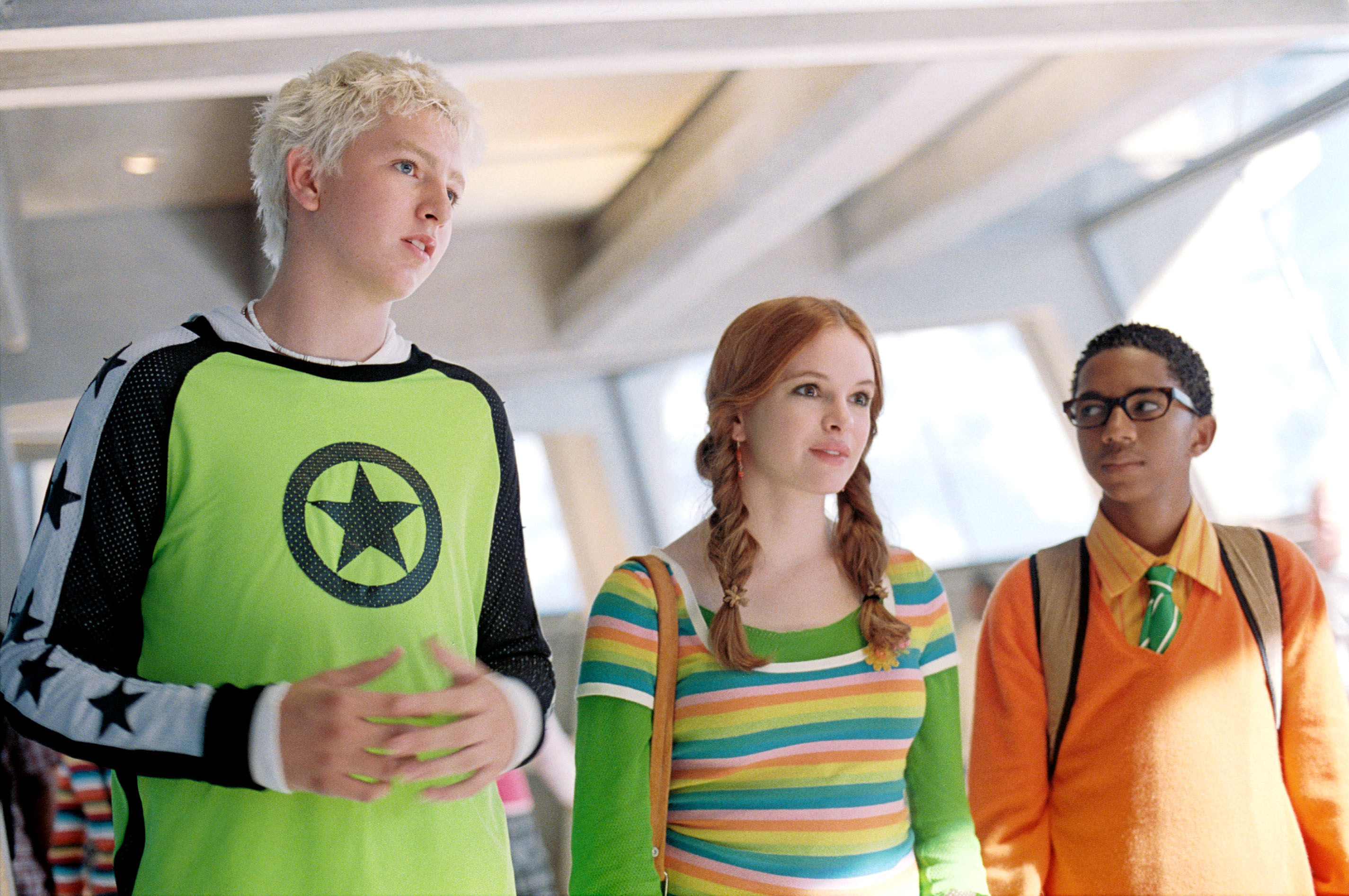 24. What was your initial reaction when you got cast as Zach in Sky High?
Oh, my gosh. I screamed and yelled — I was with two friends in Pennsylvania when I got the call, and I felt the most excitement. I still feel that way, though, when I get a part; I think, "Wow, I cannot believe I won this part." And then I immediately thought if they were going to let me out of boarding school in the fall to film — my dad pulled a lot of strings to make it happen.

25. What was your favorite memory from the set of Sky High?
Wow, well that was 17 years ago, so not quite at the forefront of my mind, but I remember walking into the soundstage one day and seeing the Sky High bus on this huge hydraulics system, which we used to film the scenes of us flying through the sky to get to school.
26. What is the best piece of advice you've ever received?
It was from a director who cast me in my first film — Walter and Henry — I was 11 or 12 at the time, and I remember him telling me to make sure that I lived a life outside of acting, so that my whole life isn't acting and getting famous as a kid.

27. Finally, who do you think deserved better at the end of Zola?
I mean, Derrek goes through a lot and isn't treated the best, but at the end of the day, Zola gets roped into something she didn't sign up for, so I think she's the one who's the most manipulated and traumatized and deserved better.
Thanks so much for chatting with us, Nicholas! Be sure to catch him in Zola, now playing in theaters.