Last week, Kelvin hopped on a Zoom call with us to talk about everything from reality TV to his fear of the ocean despite wanting to learn how to surf and his personal connection to Fred Hampton that made his casting in The Trial of the Chicago 7 that much more impactful. Here is everything we learned:
1. What is the first thing you do in the morning?
Right now, I get up and I eat breakfast. My breakfast comes at 7:30 a.m. So yeah, I eat my eggs and my plum and drink my juice.
2. If you could cast anyone to play you in a movie, who would it be?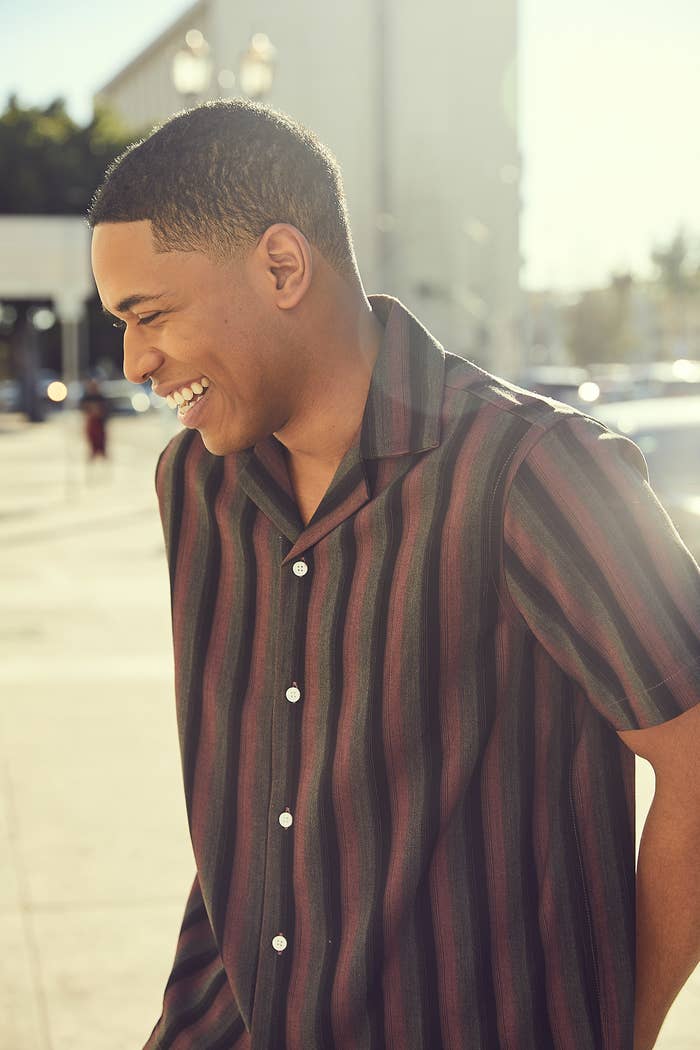 Asante Blackk.
3. What are you currently binge-watching on Netflix.
[Laughs] Marriage at First Sight.
4. Name a celebrity on your bucket list to star with in a project.
Tilda Swinton. 100%. I don't know what movie it would be, [but] I feel like it would be cool and she'd just be a lot of fun.
5. Desert island: what are three albums that you cannot live without?
The Piano Album by PJ Morton and Rick Wakeman, Kind of Blue by Miles Davis, and Believe by Yolanda Adams.
6. Who is your childhood celebrity crush?
Brandy [Norwood.]
7. What is one thing you cannot leave your house without?
Lip balm. I have to have my lip balm. [My publicist] Brandi actually got me this thing for Christmas, the Jack Black [Balm Squad lip balm kit], and I still use it.
8. What is a typical day like for you in quarantine?
I would wake up in the morning, I would meditate — like a 30-minute mediation — and then I would write in my journal. Whatever I saw in my dream or my mediation, I would [write] a poem; I started writing these little poems based on the visuals I saw in my dreams. It was always weird. Then, I would make my breakfast, do a workout, read for a couple of hours, catch up with some friends [on FaceTime], and then I would decide if I wanted to watch a movie or binge-watch some TV. And then paint, and then go to sleep. That was literally what I did every day [before I returned to work].
9. Have you picked up any new quarantine hobbies?
Honestly, like everyone else, cooking. I mean, I cooked before, but it wasn't like I loved doing it. But, I got some new pots and pans and some cookbooks, and I started buying a bunch of groceries. I would actually get my groceries from Jon & Vinny's and then I started getting all these sick flowers [that came with] these little cards [with instructions on] how to water them... So I started, like, a garden, but like a weekly garden because the flowers would die and then I'd get new ones.
10. When you walk into a bar, what is your go-to drink?
I don't drink anymore, but if I were to drink...when I was younger, [I would order] gin and tonics because Joel Edgerton drank gin and tonics. Then after that, I would order what everyone else ordered. Like Brandi [my publicist] would drink Sauvignon Blanc, so then I started drinking Sauvignon Blanc. I don't know; I'm a copycat. I have no go-to drink; that's why I don't drink anymore [laughs].
I'm glad you assumed I had an iPhone. There are no green messages here.
11. What is your current iPhone wallpaper?
Waves.
12. What is something you've always wanted to learn how to do?
Surf. I guess that's why my wallpaper is waves.
13. Do you have any guilty pleasures?
I do love Flavor of Love and I Love New York. I can put them on any time and place, and just watch them. It's so problematic now...and when I watch I do cringe, but some things that are said are just classic. The culture is enriched because of [Tiffany Pollard].
14. What is your go-to comfort food?
Anything with butter.
15. What is your most starstruck moment?
I used to watch American Idol religiously. All Rise (aka Monster) was one of the first movies I ever did, and it was Jennifer Hudson and A$AP Rocky and Jeffrey Wright. And I remember when they finally said [I] could meet Jennifer...I literally started shaking.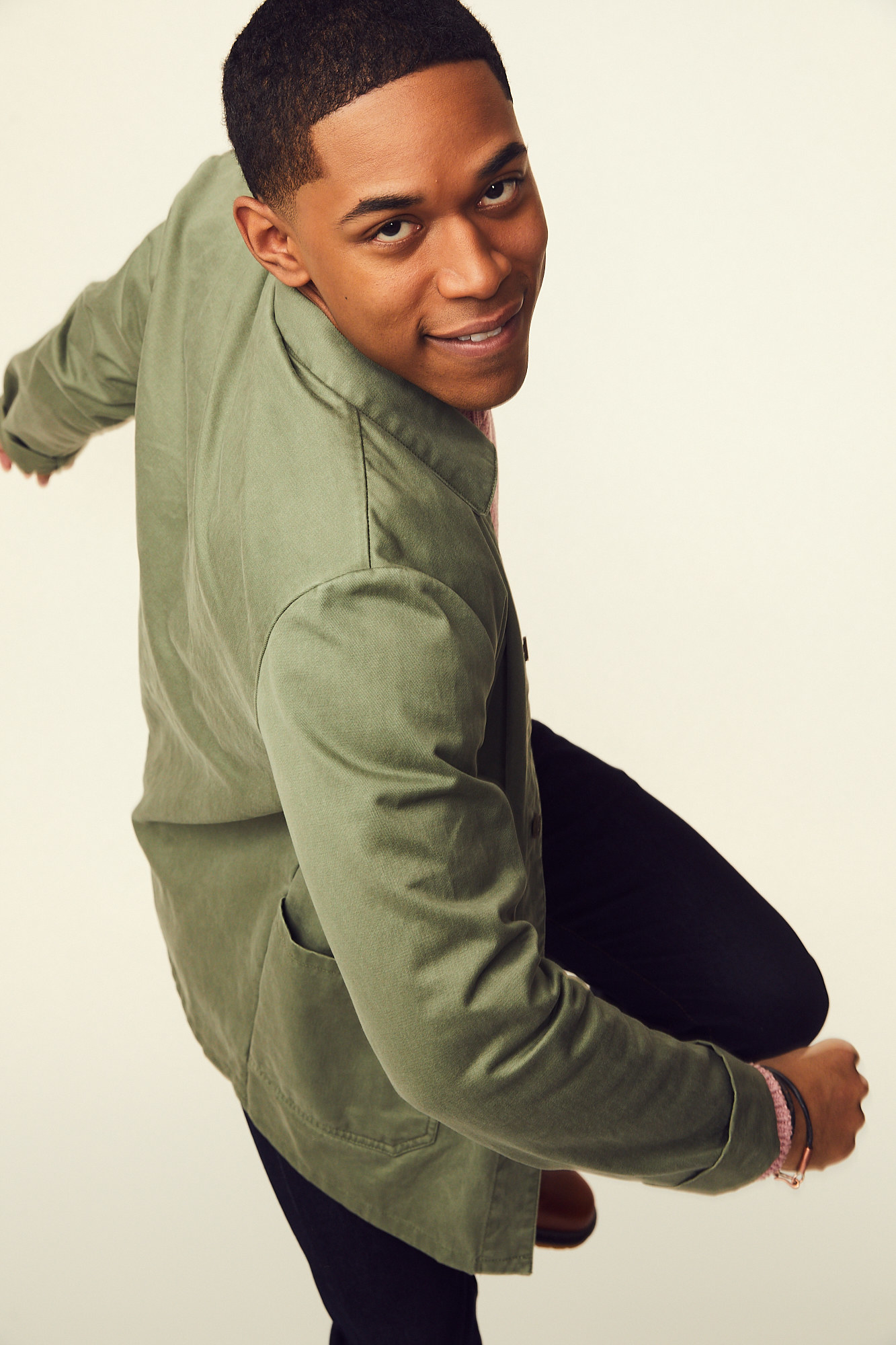 16. What's your biggest fear?
My first thought was the dark [laughs]. Second one? Drowning. I love how I want to learn how to surf, and I'm afraid of drowning.
17. What's the last book you read?
All About Love by bel hooks.
18. What is a movie or show that people would be surprised to learn that you auditioned for?
Empire. I auditioned to play Hakeem. I can't rap, but I came up with a "freestyle." I actually prepared three different preplanned freestyles and acted like I was coming up with them on the fly. Yeah, they definitely saw through that.
19. What is the last meal that you cooked?
Red beans and rice. We always made red beans and rice on Mondays in New Orleans.
20. What is your favorite on-set memory from The Trial of the Chicago 7?
Mark Rylance (who played civil rights lawyer William Kunstler in the film) used to bring this foosball table; so between big setups, he would break it out and we would all get around it and start playing. I was just shocked because he's such a serious actor — like he's a proper actor — and he wasn't sitting there, burying himself in the script 24/7. It was the most refreshing and exciting thing. The sense of community he was able to create among [the cast] was so beautiful and rare to me. It felt really special that I got to be included in [something like that]. Mark Rylance is my favorite memory from the movie.

21. Describe your style in three words.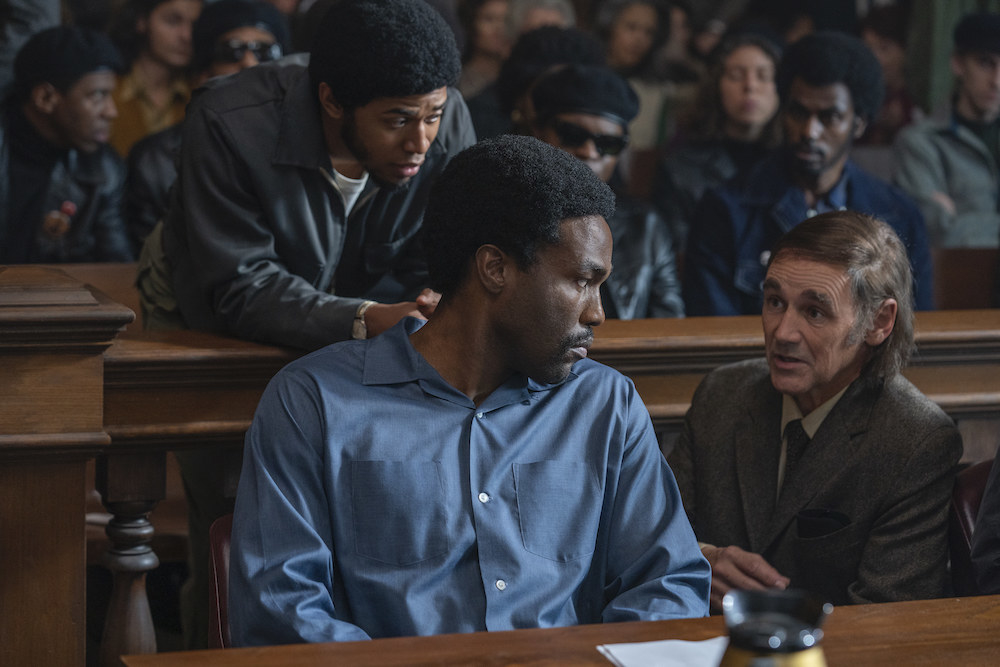 Crop tops. Cargos. Keychains. That is my uniform.
22. Which of your roles was the hardest to prepare for: Tyler from Waves, David from The High Note, or Fred Hampton from The Trial of the Chicago 7?
The thing is, since I was 17, I've only every played 17, and that was the first time someone asked me to play 25.
Probably...David from The High Note. With Fred Hampton, there was so much research, and with Waves, since I was a part of the process for so long — from the beginning with Trey [Edward Shults] — it was a bit easier to jump into it. But, trying to play some rich kid who had a dream to be a musician in LA... I was like, "I've barely lived in LA. I definitely don't have that money." The thing is, since I was 17, I've only every played 17, and that was the first time someone asked me to play 25.
23. What is the last thing you looked up on Google?
[Laughs] "Documentaries about friendship." [Writer's note: he did not find one.]
24. If you could invite anyone — living or dead — to dinner, who would you pick?
Nina Simone, Maya Angelou, James Baldwin, and Billie Holiday. I wouldn't want to say anything. I just want to hear them talk to each other. What are they thinking? How do they feel about what is happening now? Would they be stressed? Overwhelmed? At peace? Proud of some of the progress?
25. What is the most used emoji on your iPhone?
😭
26. What drew you to The Trail of the Chicago 7?
This was a beautiful opportunity to learn and be a small part of the historical retelling of one of my heroes' life.
When I first moved to LA, my grandfather, right before he passed, gave me this journal...and I don't know why — maybe because I first heard about Fred Hampton through my grandfather — but I wrote "This journal is for Fred" in it. A few years later [after a previous project about Fred Hampton fell through], Aaron Sorkin was making a movie and they said there was a role [for me], and I asked what they role was and they said it was Fred Hampton. I was like, I have to do it. Whatever it takes.
27. Finally, what is the best piece of advice you've ever received?
Jennifer Ehle told me on the set of All Rise (aka Monster) to just be kind. You may not always be the best actor in the room all the time or the most talented or the most skilled or the most technical, but if you're kind, people will still want to work with you and then you'll have the opportunity to learn and grow.
Thanks for chatting with us, Kelvin! Be sure to check him out as Fred Hampton in Aaron Sorkin's The Trial of the Chicago 7, now streaming on Netflix.