If you've been on Twitter recently, you've probably seen all the "cultural reset" tweets that are hilarious and accurate.
ICYMI, a "cultural reset" is a term that was coined by Rose McGowan during an interview regarding the #MeToo movement. And, since we live in these times, the internet has used the term to define any moment that they feel has influenced the zeitgeist and changed pop culture as we know it.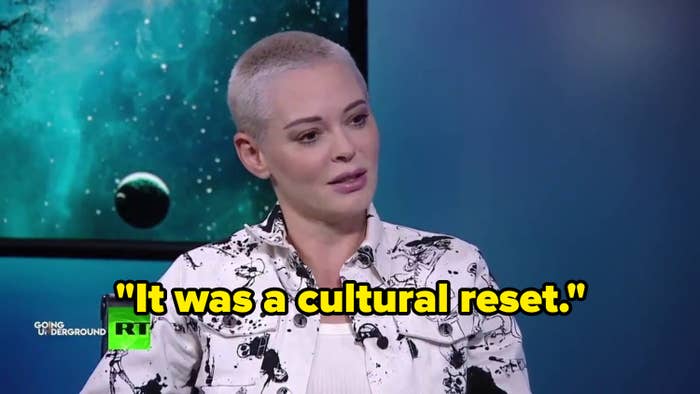 So, here's a collection of some of the funniest "cultural reset" jokes:
1.
The summer of 2015 #keystosuccess:
2.
The scene where Moose revealed he could dance in Step Up 2:
3.
The page number reveal in Portrait of a Lady on Fire:
4.
This exchange between Justin Bieber and Maria Menounos:
5.
The feud between James Charles and Tati that resulted in him losing millions of subscribers:
6.
This captured moment:
9.
This improvised masterpiece from Parks & Recreation:
10.
This moment from Gypsy:
11.
This grand entrance during the 2015 Met Gala:
12.
This call between Audra McDonald, Meryl Streep, and Christine Baranski:
13.
This episode ("San Junipero") from Black Mirror:
14.
This fight scene from Scooby-Doo (2002):
15.
This performance from Cheetah Girls 2:
16.
This music video ("Whip My Hair") by Willow Smith:
17.
The mise-en-scène from BTS music videos:
18.
These moments from Pride & Prejudice (2005):
19.
This captured moment between Ashley Benson and Cara Delevingne:
20.
The clandestine dance scene from Another Cinderella Story:
21.
The relationship announcement by Cedric Diggory and Cho Chang in Goblet of Fire:
22.
The "coming out" scene from Jennifer's Body:
23.
This reaction from Chris Messina during the Birds of Prey press tour:
24.
This performance by Sharpay and Ryan in High School Musical:
25.
This performance by Donkey and Puss in Boots from Shrek 2:
26.
This groundbreaking announcement:
27.
These out-of-context photos of Sandra Oh:
28.
The iconic performance by Gabrielle Union in Bring It On:
29.
This lip sync battle from Tom Holland:
30.
This episode ("Britney/Brittany") from Glee:
31.
Finally, the scene when Hot Priest caught on to the audience in Fleabag:
CORRECTION
Audra McDonald did a call with Christine Baranski and Meryl Streep, not Oprah Winfrey. My bad! No disrespect to this icon!