Drake And Adele's Unlikely Friendship Is The One Celeb Friendship I Didn't Know That I Needed Until Now
I love these two.
They spent the day kickin' it around L.A., having a grand ol' time.
The only sad thing about this blessed union is that no pics were taken. But, then again, maybe they were just living in the moment, enjoying each other's friendship.
Drake and Adele's admiration of each other – that we know of! – goes back to October when Adele tweeted her love of Drake after seeing him perform:
Drizzy then took it to IG to reciprocate his appreciation for her: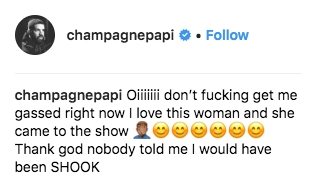 So yeah, Drake and Adele are friends and my day has been made. Maybe they'll be more public during their next hang, maybe they'll keep it private 'cause that's their right. All I know is, if we get an Drake x Adele collab out of this, I will fucking implode.